You can eat well on any budget. Grab a copy of my new book, Good Cheap Eats.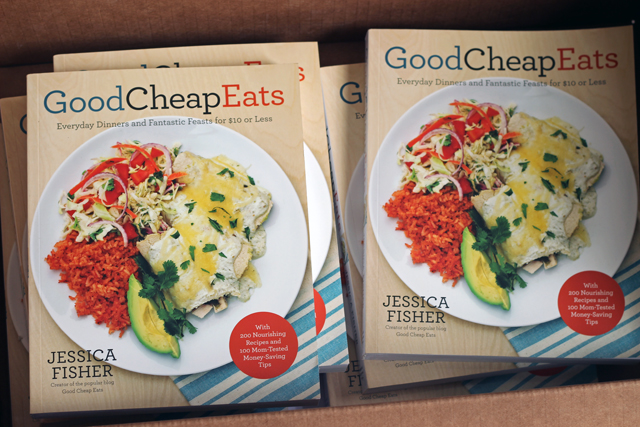 Today's the day! My third cookbook is officially published. If you preordered Good Cheap Eats: Everyday Dinners and Fantastic Feasts for $10 or Less, THANK YOU! I hope you've already got it in your hot little hands.
I can't tell you how much I appreciate your support. It means so much to me that you trust me with your family's meals. I think that's a big deal. I don't take it lightly.
I hope that the past five years of Good Cheap Eats (the blog) have been a help to you in the kitchen. May Good Cheap Eats (the book) be a continuation of that.
May there be more and more good cheap eats (the dishes) in our future.
If you're so inclined to help out with this book launch, I would be forever grateful. I've tried to find that fine line of sharing the book often enough so that folks know about it and how to get it, without being overly aggressive or worse, annoying.
But, honestly, it's so much better when a lot of people with real experience with something are talking about it; folks tend to tune out the same voice — especially if it's the author.
Would you share Good Cheap Eats?
If you'd like to help promote Good Cheap Eats (the book or the blog, for that matter), here's what you can do:
Buy the book. My cookbooks are available at Amazon, B&N, Walmart.com and indie booksellers.
Write an honest review. Review can be so helpful to someone trying to find a good fit. Would you write an honest review on Amazon?
Request that your library buy the book. Libraries are always looking for good suggestions. I was never so thrilled as when my own library had seven copies in their possession! That means that the love and learning can be spread exponentially. Ask your library to purchase it so that your community can benefit from it — and you can borrow their copy if you don't have the budget to buy it yourself.
Gift the book. It's always so fun to hear from folks who received my other books as gifts. My sweet friend Tami has given away something like 17 copies of my cookbooks. Now, that's love! Perhaps you have a friend who might enjoy a copy of his or her own.
Tell your friends about it. I'd love it if you would share about the book in person or on social media. If you post about the book on Facebook, twitter, instagram or google plus, feel free to tag me or use the hashtag #goodcheapeats (Use #nymfreezer for the freezer book and #juicesforkids for my juicing book.)
Invite me to your moms group. I've done a number of speaking engagements over the past year, talking about freezer cooking, meal planning, and now how to make sugar-free, healthy drinks for kids. I'd love to come share with your group, too. Drop me a note if you're in Southern California and we'll set something up.
Take a picture! Next week I'll be telling you about a very fun photo opp that I hope you'll participate in. If you missed one of the pre-order bonus features, you'll definitely want to join in the fun. Ahem.
Write a post. If you have a blog, I'd be honored if you'd share my book with your readers. Leave the link in the comments section below and I'll add it to this post for all to see. 🙂
Thanks for your support! I can't tell you what a blessing it is.
(We found out late last week that the kindle deliveries will be delayed by a week. I'm so sorry to hear that! The distributor is in charge of that. Unfortunately, it's out of my hands, else I would whip them into shape. 😉 )
Reviews from readers: