YogaChips by YogaVive are 100% natural, organic, dried apple chips available in Original, Cinnamon, Caramel, Strawberry, and Peach flavors. Our family recently had the opportunity to taste all five flavors and did they disappear in a heartbeat! In the midst of packing and moving, we had a little tasting party. It revealed what total gluttons some of my children are. One individual was stuffing them in with both hands.
Into the mouths of babes….
While the FishKids said peach was the best, I preferred the Original. FishPapa's hands were not quick enough, so he didn't get any, and thus, can't share his opinion.
According to YogaVive, these chips are fat-free and contain 35 calories per bag. Baked and popped to preserve flavor and nutrients, they are also kosher, gluten-free and vegan. As a mom who tried to get good stuff in my kids, I felt great about feeding these to my children. And they tasted yummy, too.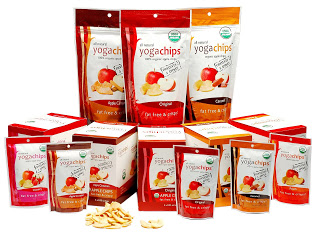 Today I have one ginormous prize package to giveaway. YogaVive is giving away 1 box of each of the five flavors to one lucky winner. That's 25 bags of apple chips. Each bag holds the equivalent of one apple, so how 'bout them apples? I guess you can win a bushel today!
Like this week's other giveaways, there are three ways to enter:
1. Leave a comment here telling us your favorite snack food.
2. Leave a second comment naming one fun thing we (the FishFam) do with apples. (You might find some hints here.)
3. Tweet this giveaway on twitter – make sure you use @fishmama – and leave a third comment telling me you did so.
Comments left between now and Sunday night, 8 pm, PST, will be eligible for winning. Winners will be chosen at random and announced sometime next week. Please make sure that you leave a way for me to contact you in case you win.
This giveaway is now closed.
*Disclosure: I received samples of YogaVive Apple Chips in order for my family to taste them and share our experiences with you. I was compensated in no way for this post.