You Can't Do It Alone
We are a participant in the Amazon Services LLC Associates Program, an affiliate advertising program designed to provide a means for us to earn fees by linking to Amazon.com and affiliated sites. We participate in other affiliate programs as well. For more details, please see our disclosure policy.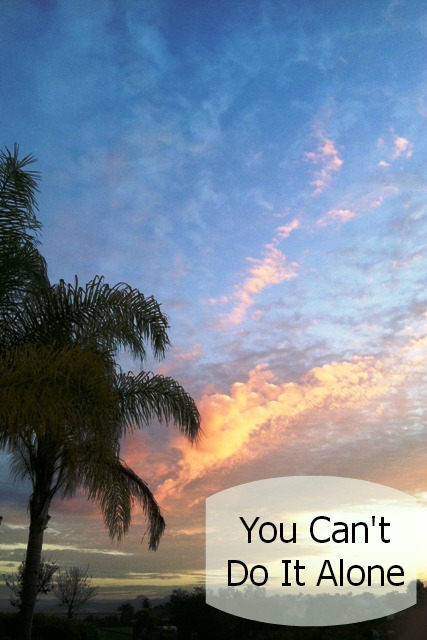 You've heard me say it before: No mom is an island.
And yet, we try to do it all ourselves. We worry what folks will think of us when we hire a house cleaner, outsource a school subject, or ask a friend for help with a project. We feel inadequate when we come face to face with the truth that our homes aren't perfectly clean, our budgets aren't perfectly balanced, our lives aren't perfectly ordered.
We think that we can (or should) be Super Mom, cleaning everything, cooking everything, shopping for everything, doing everything.
When really we should be asking for help.
There is no shame in asking for help. In fact, the Bible says that God's power is made perfect in our weakness. When we acknowledge our inability to do it all, we are testifying to God's extreme abilities.
Only He can do it all.
You and I, we simply cannot do all the things that we dream of or feel "shoulded" into. We are silly to insist that we can.
Proverbs 3:5-8 says,

Trust in the Lord with all your heart
and lean not on your own understanding;
in all your ways submit to him,
and he will make your paths straight.

Do not be wise in your own eyes;
fear the Lord and shun evil.
This will bring health to your body
and nourishment to your bones.
Ask God today where you need to trim down, say no, or put aside your expectations of yourself. Seek His wisdom for what you really need to focus on. Trust Him to guide you. Know your limitations.
And don't try to do it all on your own.