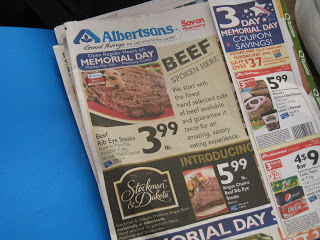 1. You are ecstatic that the mail brought next week's grocery store ads two days early because of the holiday.
2. Your kids know how to leverage for something they want: they bring you a coupon.
3. The checkers at the store recognize you and reassure the supervisor when they call her over to override your excess of coupons.
4. You carry a huge bag of coupons and sale ads wherever you go.
5. You almost cause your husband to crash the car when you shriek over what you see on the side of the road. A CVS is being built less than a mile from home!
6. One of your favorite reading materials is next week's grocery store ads.
7. You know the coupon policies of every grocery store in the tri-state area.
8. Your heart starts to race at the sight of a 50 cent coupon 'cause you know your store will double it.
9. You can't pass the clearance bread cart without buying some.
10. You have a hard time saying NO to a good deal.
Are you a grocery geek? How do you know?