Zone Defense: A Game Plan for Organizing Your Home
As an Amazon Associate I earn from qualifying purchases. For more details, please see our disclosure policy.
Clutter and disorder can be paralyzing. And despite all the books and videos to help you get it together, sometimes you just need a game plan — and to know you're not alone in zone defense.
OK, team, here we go. We are facing Clutter and Disorder this year. Those are tough teams to beat. But, you can do this.
We've gotta be tough. We gotta be vigilant. We gotta win. So, no shortcuts, no mamby-pambies. We're going to work hard. And we are gonna do what we set out to do!
By now, my entire family is laughing uproariously because I don't have an athletic bone in my body. I've never played an individual sport, let alone a team sport.
But, I do love a good metaphor.
The Pre-Game Pep Talk
Clutter and Disorder are tough to beat. It does take hard work and perseverance. And this series is a game plan designed to help you make sense of the space in which you live, and to make it suit you. You will get your mind and your house in shape and fit for the lifestyle that your family lives.
They say that it's the people that make a house a home. It's so true. And yet, it's also the people — and their accompanying activities — that can make that house one big disorganized mess.
But it doesn't have to be so. In fact, we can organize, and in some respects, redesign our homes to fit us and what we love to do. So, this project isn't just about cleaning your home, it's about organizing your homeLIFE.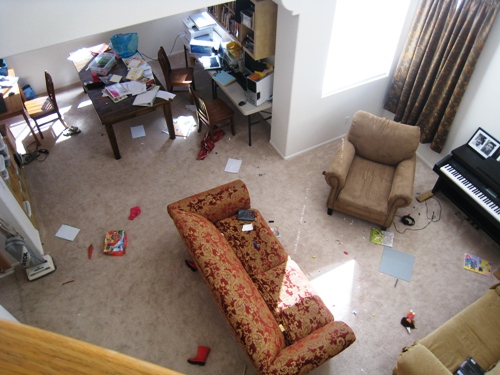 Zone Defense: An Introduction
And zone defense is a great way to look at this process. Rather than go through the motions of isolated cleaning tasks, we're going to focus on one zone of home/life at a time.
Dividing the average home into 12 areas or "zones," we'll be addressing a different zone and its accompanying activities each month. We'll go on a yearlong journey toward making our homes more of what we want them to be: places perfectly designed for the things and people we love.
We'll be looking at these 12 zones of life over the course of the year:
1. The Playing Field
Zone Defense Pinboards
Good Reads for Organizing
2. Your Personal Space
Your Purse, Car, and Other Personal Space
Your Body
3. The Kitchen
4. Clothes and Textiles
5. Living Spaces/Entertainment
Movie Storage
Organizing Your Music
6. Transportation and Travel
Car Repair and Emergency Preparedness
7. Kids' Stuff
8. Bathrooms
9. Emergency Preparedness
Being Prepared for Emergencies While Your Kids are at School
10. The Great Outdoors
11. Office and Paper
Sorting Paper Clutter
What Papers Should You Keep?
Organizing Paper Files
What to Look for in Online Storage
This month, we'll be talking about The Playing Field, your home in general. We'll take inventory of trouble spots as well as create a vision for what we want life to be like — at home.
I would love to have you join me. This isn't just about training, blood, sweat, and tears — and stinky sweat socks. It's a game. And hopefully, it will be fun — or at least rewarding. And it will, Lord willing, be a great journey for us to take in this new year.
Don't miss out! There will be some freebies along the way. Be sure not to miss them! Subscribe to my RSS feed or receive free updates via email. You can also follow along on Facebook or on twitter.
(Plus, there might be some sweepstakes along the way, so that's cool.)
Ready to join the team?
Even my mom is doing it, so I'm sure you'll want to, too.
Leave a comment, saying hey. Let us know you're in the game.