Zone Defense Assignment: Organizing Kid Stuff
As an Amazon Associate I earn from qualifying purchases. For more details, please see our disclosure policy.
Time to tackle clutter and disorganization and maybe too much stuff. This month we are organizing the kid stuff in the house so we can a) enjoy the summer with our kids and b) get their help!

I've got my work cut out for me this month when it comes to Zone Defense. If you're just joining us, it's a room-by-room organization that I go through each year. Rather than try to put my whole house together at one time, I work through each area, or zone, of the house, dejunking and reorganizing so that it works better for the season we live in.
Over time I'm getting better at chucking stuff, but it's still hard to let things go, especially those things that I paid good money for.
This month, I'm reexamining the kid zones of our house. If you're looking for ideas on how to rethink the kid zones at your house, check out these posts from past years of Zone Defense:
Your kid zones may be limited to a bedroom or playroom. For us, I've got three bedrooms (2 kids a piece), a couple small play areas of the house, and our school room. And currently, they need a little attention.
Here's how I plan to tackle those areas: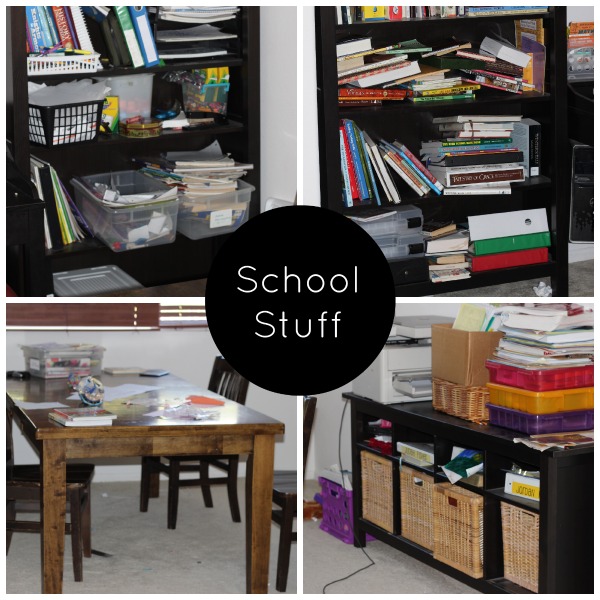 School Stuff
Whether you teach your kids at home or send them somewhere private or public, chances are you have a bunch of school papers and books to sort through. I know I do!
Our homeschool year is ready for the big transition. The boys are moving to a slower schedule with literature and math and writing. The girls have another month to go full steam ahead. But, we are winding down the current year over all and getting ready for the next one in which I will have students in 12th, 9th, 7th, 5th, 3rd, and 1st grades. Heavens!
FishPapa and I are taking the teens (FB16 and FB13) to the Great Homeschool Convention in Ontario next week. That means I will (hopefully) be coming home with new ideas for how to better our school routine and I'll have a better idea of next year's curriculum (more on that later this month!)
If you are going to the California GHC, I would love to meet you! Leave me a comment if you'd like to have coffee over the weekend. We went two years ago and loved it! It was by far the best homeschool convention I'd ever been to.
This all means I'm giving the school room the bulk of my attention this month. I've got lots of papers to sort and file, many books to unload, and a bit of restructuring to do so that folks know where their stuff is.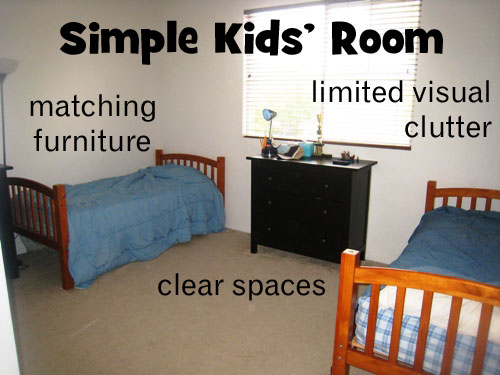 Kids Rooms
I got a little heat a few years ago when I posted this picture on Facebook. Folks thought I was some kind of monster that I didn't put all kinds of crazy things on my teen boys' bedroom walls. The reality is that they like it this way: clean and simple. So do I. It's not always like this, mind you. But, they know their room is more peaceful when it looks more like this.
We have never forbade our kids from decorating their rooms. They have never asked for anything different. I'm reposting my stance on clean and simple kids rooms because ain't nobody got time for all those Pottery Barn Shenanigans.
But, if YOU or your kid does and you don't have a probably keeping it clean and tidy, more power to you. I just don't have it in me. 😉
The kids and I will be working through their rooms dejunking some collections and sorting through clothes. FishBoy11-almost-12 has started his growth spurt and now his hand-me-downs are inundating his younger brother's dresser. We need an intervention before the drawers explode.
The girls room (pictured below) needs a bit of an overhaul as well.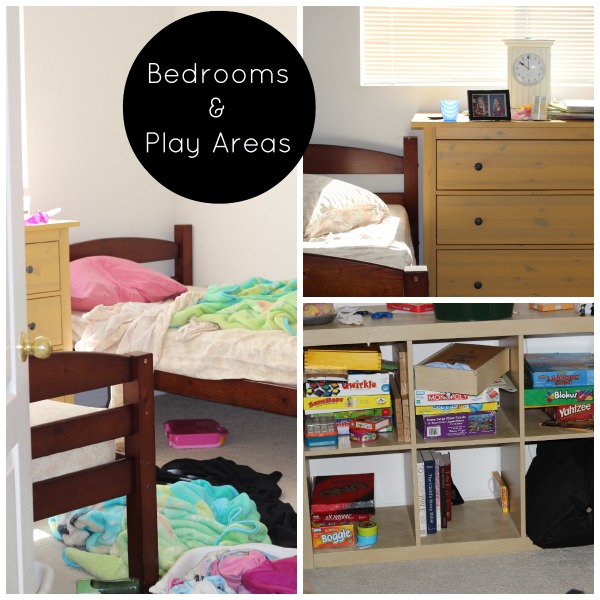 Play Areas
We've got three main play areas: the man cave, the family room, and the cupboard under the stairs. A few months ago I emptied "Harry's room" because it held more than the girls could take care of. It just holds their play kitchen, but could use some upgrades.
The game shelf in the family room obviously needs some attention. I'm not touching the man cave.
So, that's my dejunking plan for the month of June.
What's YOUR plan for Zone Defense?