Zone Defense Check-In: The Living Spaces
As an Amazon Associate I earn from qualifying purchases. For more details, please see our disclosure policy.
On Zone Defense in April, we tackled cluttered living spaces.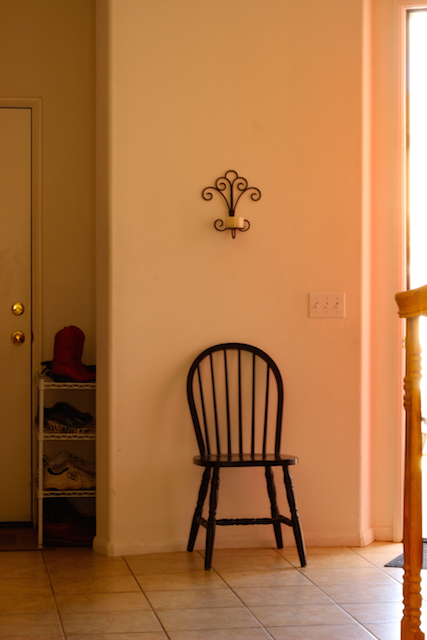 What a difference, eh? I can't tell you how happy this little space makes me. It's a small thing, for sure. But, man, it packs a punch.
I had big plans for my Zone Defense this latter part of the month, didn't I? You were probably shaking your head and thinking, "That girl. She sure bites off more than she can chew, don't she?"
Yes, ma'am. Yes, I do.
Between a husband who was sick, sick, sick for about ten days, work projects, six kids, and just plain old life, I did not get everything done for dejunking the living spaces. But, I did tackle the foyer, and I love it.
I see the inside of the front door more often than the view from the front door looking in, so this little space that used to be a muddle of shoes, is now a restful little oasis. It cost me nothing but a little time. I had the candle sconce already as well as the chair.
I donated the shorter shoe shelf to the girls' play disaster, and moved the other to the alcove by the garage door. This vista is so much more inviting. Well, at least to those of us who are inside already.
I limited each person to one pair of shoes on the shelf and then returned the rest to their rooms or other storage spaces.
I cleaned up the peg wall, too, which had become the repository for all kinds of laundry and items that folks were too lazy to carry upstairs.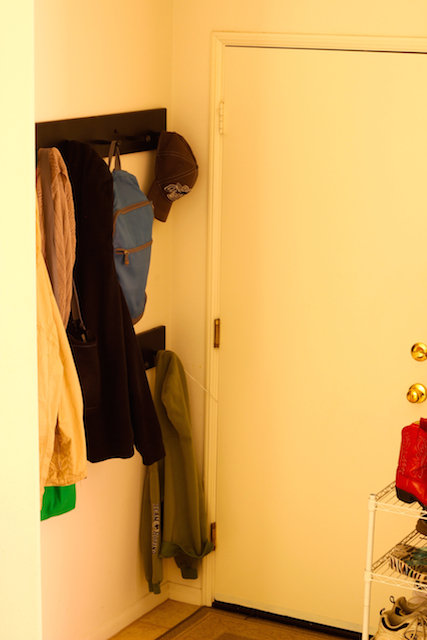 Also in the foyer is the Red Dresser (aka One Giant Junk Drawer with Bonus Movie Storage). It was a painful experience to sort through the year's worth of clutter.
Never again, she muttered.
A lot was trash, some were tools and parts that went to FishPapa's garage. The movies stayed where they were. I need a good solution before I change. The top drawer is basics that we access on a regular basis. I am hoping we can keep it like this. The bottom drawer holds extra cords, spare batteries, and emergency equipment.
Keen eyes will also note an identical sconce to the one on the wall. I need a cool place to hang that one.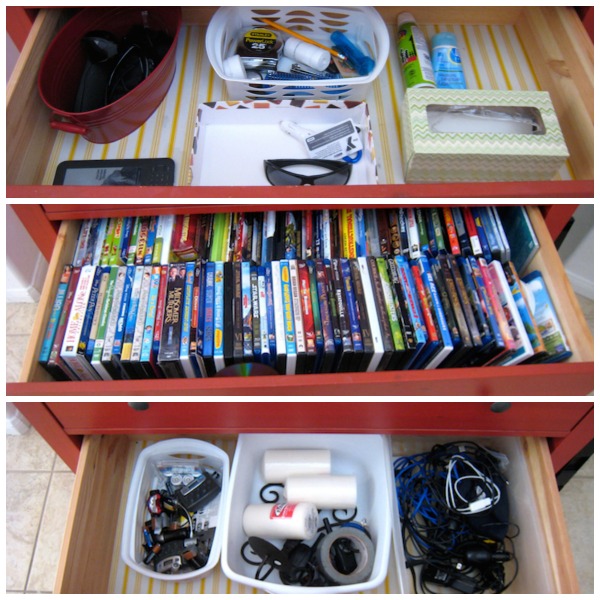 I also dejunked the utility closet. Previously it was a jumble of stuff: extra blankets, toiletries, games, puzzles, video games, etc.
This closet is right next to the downstairs bathroom. The bathroom is to the right when you face the closet. I'm standing in my office to take the picture. In case you were wondering….
No one sleeps on the main floor, but this bathroom gets a lot of traffic. FishPapa showers down here early in the morning so as not to wake me at 5 am. I knew he was wishing for a better stock of toiletries. (The bathroom has no cabinets or closet.
My mom bought all the toilet paper in the world and gave it to use. I think we're good now.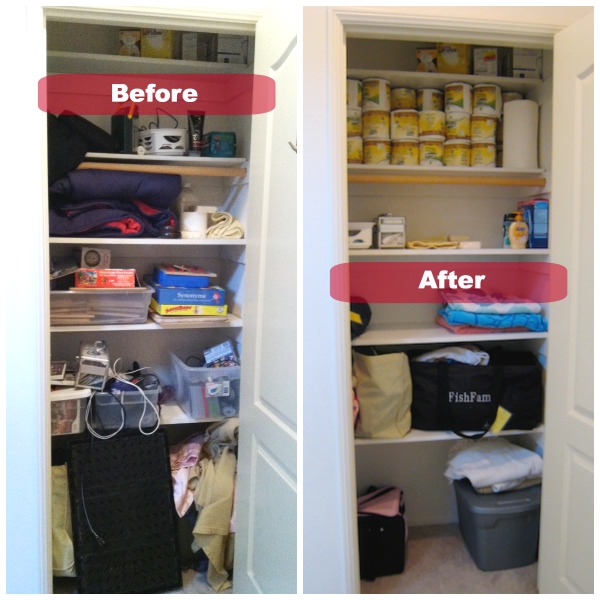 I relocated the video game stuff to the man cave and took the puzzles and games to toy storage. Now this closet is primed for all kinds of more helpful activity. The top shelf has spare light bulbs. The next two: toiletries and paper products. The next two shelves have beach stuff and totes to take on outings, coolers, etc.
On the bottom is a pink duffle bag that holds the girls' overflow shoes. The silver tote has throw blankets for movie nights, etc. (We have no storage in the living room behind this closet, so this works better than the jumbling thing we had going.
So, that's it! I did not tackle the other things on my list, namely the girls' playroom or the movie and game storage. But, we made a lot of progress in the foyer. We know where all things are; we've reduced clutter; and I have at least one pretty thing in my house.
How are things in YOUR living spaces?
Tell us in the comments and feel free to leave a link if you've blogged, facebooked, or instagrammed your progress. Hashtag #zonedefense if you like.
Read the Zone Defense archives if you're just now joining us. Come back later for the March assignment.