Zone Defense: Cleaning the Kitchen & a Progress Report
As an Amazon Associate I earn from qualifying purchases. For more details, please see our disclosure policy.
This year we're on Zone Defense, tackling clutter and disorder. Each month we're tackling a different zone of home and life. March's zone was the kitchen.
I told my husband that I could just forget working out. If I simply cleaned our house, I could lose weight and have a cleaner house! You can guess what I did this past weekend. I gave our kitchen the complete overhaul.
My overall goal was a decluttered kitchen, especially with the counter tops. Stuff piled up just really grates on my nerves. And while I need to be practical about what we use on a regular basis and how limited we are on storage space, I really wanted clean surfaces. So, it was with great satisfaction that I took this picture.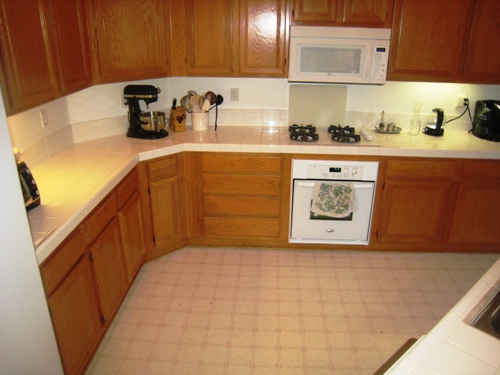 Yeah! Mostly clean surfaces. I left out the things that we use almost daily: the toaster oven, the mixer, the knife block, my canister of utensils, salt and pepper, water carafe, hot water pot and our Keurig. Everything else found a home or left the premises.
I had already reorganized the food storage areas and some of my kitchen equipment, but there were still several cabinets to tackle. I didn't take exhaustive photos of my messes, but imagine this: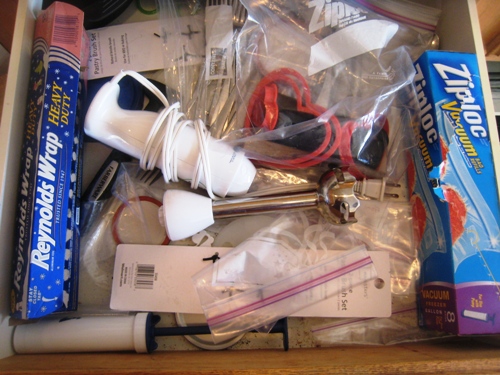 and this: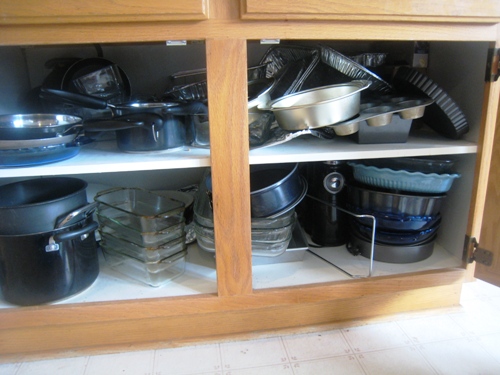 pretty much EVERYWHERE.
My boys are on Kitchen Patrol three times a day. They are the ones who wash and put away dishes, clear and wipe the table, sweep the floor, and wipe the counter tops. I orchestrate their jobs as well as cook and wash the pots. When I feel like it, I mop or delegate that to someone.
Since things have been fairly busy around here and since children are apt to skip over things they don't want to do, the kitchen needed a deep clean and organize. My dish-putter-awayer tends to just stuff the cupboards and hope the door will close. Despite our numerous conversations about "nesting" the mixing bowls, etc. it still was a hodge-podge.
I love the help and I want to set my kids up for success, so I did a fairly thorough dejunking of the cupboards and drawers. We needed a little more elbow room so that it wasn't so crucial that everything be put away "just so."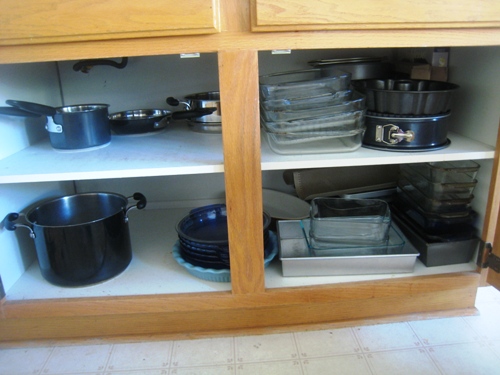 Much better. I retired the nonstick pans that were losing their coating and am sticking with the Kitchen Aid set that came with our refrigerator. I also moved out several items that I don't use very often into a "kitchen overflow" box in the garage. Now, there's lots of easy space to put things away. Baking dishes still need to nest in order to fit, but there's a little more breathing room. (And there were a few pots in the sink when I took the pic, thus the sparse cupboard on one side.)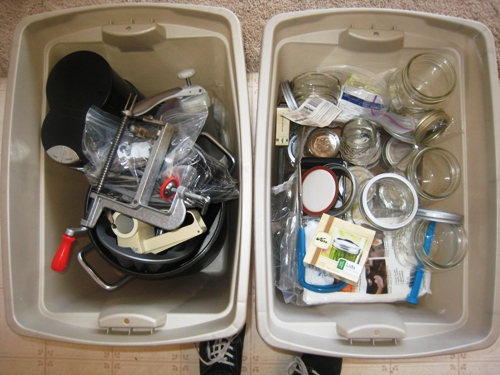 I also moved some items like my canning supplies and seldomly used items out to the garage so that they aren't in the way.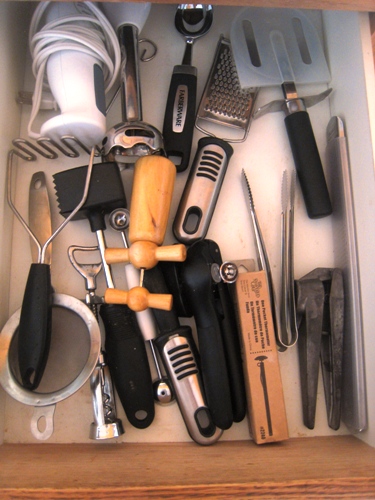 I emptied every drawer, vacuumed it out, wiped it down and dejunked it. The last time I did that was during the Mouse Invasion, almost two years ago. So, it was definitely time. I also did some rearranging:
Dish towels are in a drawer next to the sink instead of across the room.
The BBQ tools are in a dresser drawer next to the back door instead of in the middle of the kitchen.
I took freezer wrapping out of the wraps drawer so I can stop getting upset when folks use a gallon size freezer bag for half a sandwich.
I put my cookbooks/recipe notes that I consult daily in a drawer instead of on the counter.
These are small but significant changes to help the flow of our kitchen work. There are more, but these are some that might be more universal than others.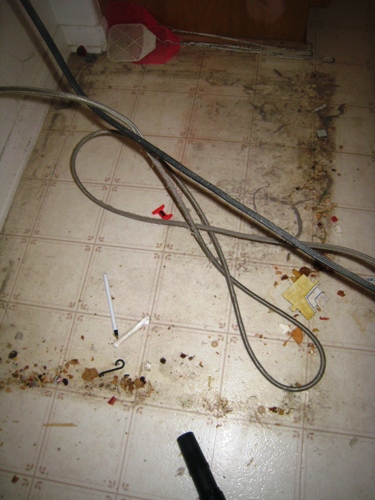 FishPapa joined my efforts in moving the fridge. Yes, really. Ick! I vacuumed and scrubbed this little area while he took care of the coils, etc. Hopefully, it will run cooler now.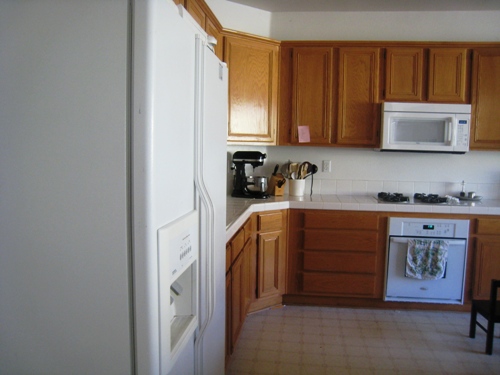 I love clean surfaces, especially on the fridge. But, I also need a place to hang notes and reminders. My trick?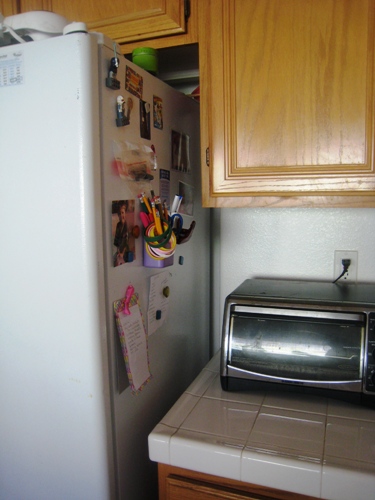 I hide the mess on the side of the fridge that folks aren't likely to see, at least not when they first enter the kitchen. It visually makes the room much more appealing.
Every drawer and cupboard has been emptied, cleaned, dejunked and organized. The fridge top and bottom has been scoured. The counters have been wiped clean as well as the appliances. It's amazing how nice it feels!
However, I surely wouldn't have done it if it weren't for YOU. Thanks for joining me on Zone Defense!
How's your kitchen cleaning going?