Zone Defense: Deep Storage
As an Amazon Associate I earn from qualifying purchases. For more details, please see our disclosure policy.
I hope you haven't forgotten Zone Defense! This year, we're going through our homes, zone-by-zone, tackling different areas of home life. This final play is to tackle the deep storage.
Now that the holidays are moving past us, it's time to think about organizing, cleaning, and dejunking. Because that's what we do in January, is it not?
But, before we start fresh, let's consider the final zone of the home: your deep storage.
Chances are you've been digging in there over the last month to drag out Christmas decorations or to hide holiday gifts. Now's the time to think about some improvements to make it easier to use this space and be able to find things when you want them.
Let's discuss infrastructure.
Infrastructure involves the shelves, bins, and other organizing tools that you use to contain your items appropriate for storage. At our house, we have two garages where we store my husband's tools, our school supplies, books, and toys. This is also where we keep camping equipment, emergency supplies, and sports equipment.
If we didn't have any infrastructure, these things would all be piled in one massive heap. There would be no way to find anything.
Shelves
With shelving you increase your storage space by many layers. Think about parking garages. Many more cars can be parked over the same "footprint" when there are layers of cars upon layers. Shelves serve the same purpose.
Make sure you have enough shelves to adequately house the items you need to store.
Hooks
Hooks are another item that can expand your storage space. They also make it easier for you to put things away and make things safer for storage. Hanging yard tools, like rakes and blowers, is a better use of space. Plus, you won't trip over them as you walk by when they're hung safely overheard.
Bins
Rubbermaid or Sterilite totes are great for corralling smaller items. You can put a lid on and keep bugs and dust away from the contents. Use plastic boxes to protect against water damage as well.
We store our Christmas items in red and green totes which makes it easy to find them as well as put them away.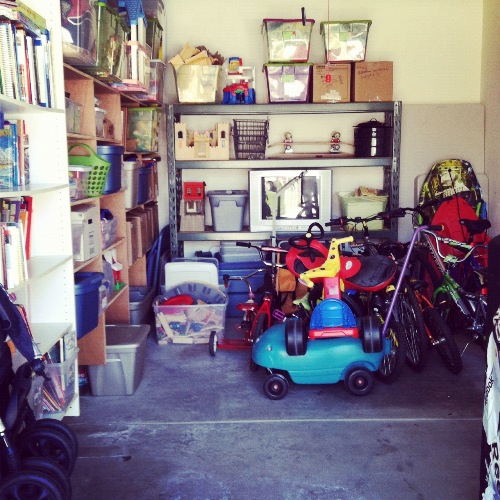 Rules of Conduct
Put it away.
Once you have a designated place to store items for deep storage, it's important to establish ground rules. Make sure that your people know where things should go and that they are capable of putting things away.
Fancy shelving does you no good if your kids continue to throw things in one big heap.
Use it or lose it.
Unless you're storing family heirlooms or truly irreplaceable items, don't store things that you don't use on a regular basis. If it's not used on a yearly basis or more frequently, consider donating it to a better home.
There's no point in storing something that you don't use. It takes up valuable real estate and clutters up your mind. Less is more. Really.
Protect against damage.
Be mindful of leaks, excessive heat, or infestations that could cause damage to the things that are important enough to hold onto. Inspect your storage area on a regular basis to make sure that you're not storing up treasures that rot, rust, and rodent are destroying.
With a little proper planning, you can make your storage spaces nicer and more user-friendly. You don't need to spend a ton of money. Usually, it's just elbow grease that's needed.
How do YOU make the most of your storage space?
We're going to restart our game plan for Zone Defense next month. So if you missed it, never fear! We're gonna clean and reorganize the house. Again.