Organizing the Kitchen
As an Amazon Associate I earn from qualifying purchases. For more details, please see our disclosure policy.
Organizing the kitchen can save you time and money, reduce waste, and help enjoy your home life more. Follow these tips for putting some order in the kitchen.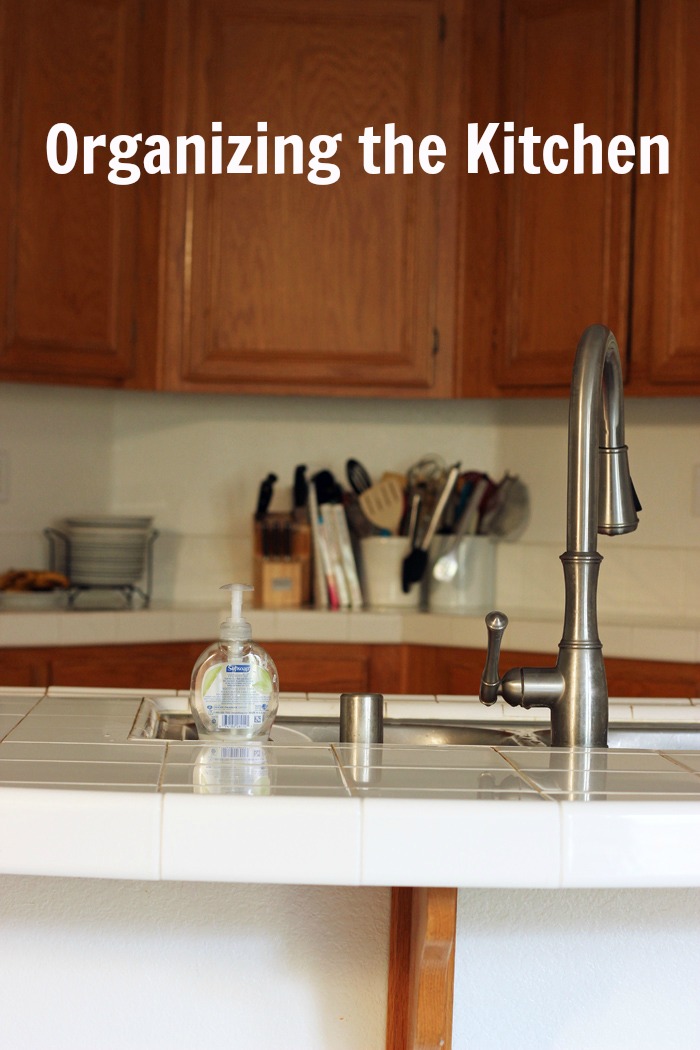 Organizing the kitchen sometimes feels like a never-ending task. There's so much activity there, and your work can often get undone, particularly if your helpers aren't paying attention to where they put the colander.
However, if you spend some time organizing the kitchen you can save time and money, reduce waste, and enjoy your home life a little bit more.
Here's the why and how of organizing the kitchen:
Why should you organize your kitchen?
You'll save time. – You'll know where things are if there's a place for everything and everything is in its place.
You'll save money. – Avoid overspending in terms of duplicates or monotaskers. Keep your kitchen streamlined and efficient and you'll pinch a few pennies.
You'll reduce waste. – How many times have we cleaned out a cupboard and found an old package of something that was past its prime? Organizing the kitchen regularly will help you use up what you have before it goes bad.
You'll enjoy your home life more. – The kitchen is the heart of many homes. If it's clean and tidy, you'll feel much more withit and things will run more smoothly.
Organizing the Kitchen
March was a crazy month for us with the Pantry Challenge of 100 Days (aka Getting Ready for a Termite Fumigation and Using Up All Our Food So We Didn't Have to Bag It Up.)
It was a total pain, but the silver lining to that black cloud was that the cupboards were purged as I bagged up whatever was left. I tossed old spices and whatnot so that whatever was going in the cupboards after the fume was only stuff good enough to keep.
This is what it looked like when we came home and unloaded the car and aired out the cupboards:
I spent that afternoon, emptying all the cupboards, wiping everything down, and putting the food back in in an orderly fashion. No sense taking all that food out without restoring some order at the same time!
Here's what it looks like (more or less) these days: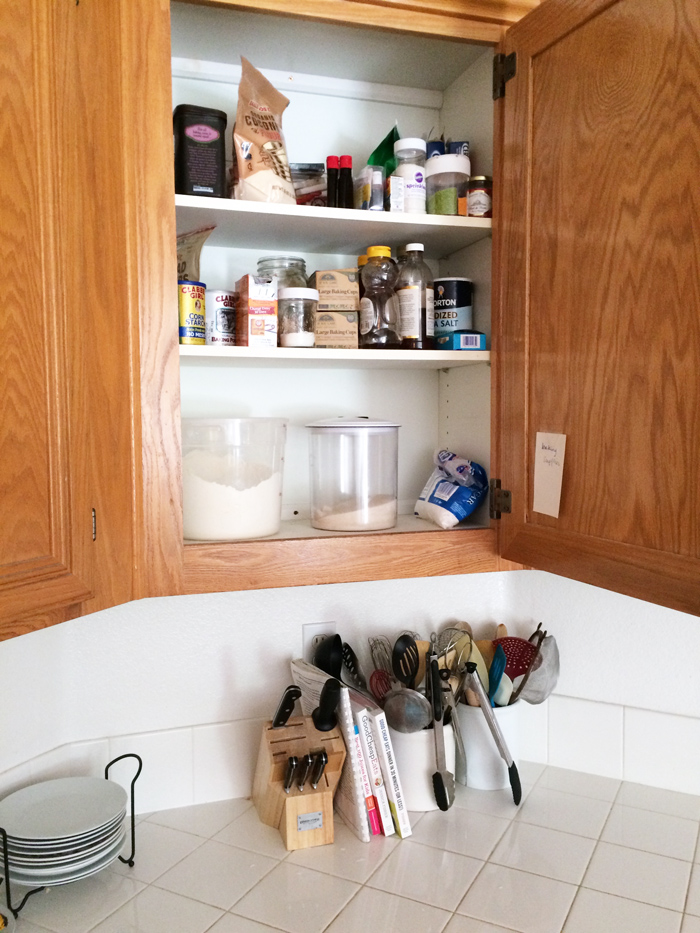 My baking supplies
This is my baking supply cupboard where I keep flours, sweeteners, leavening, and other ingredients for baking.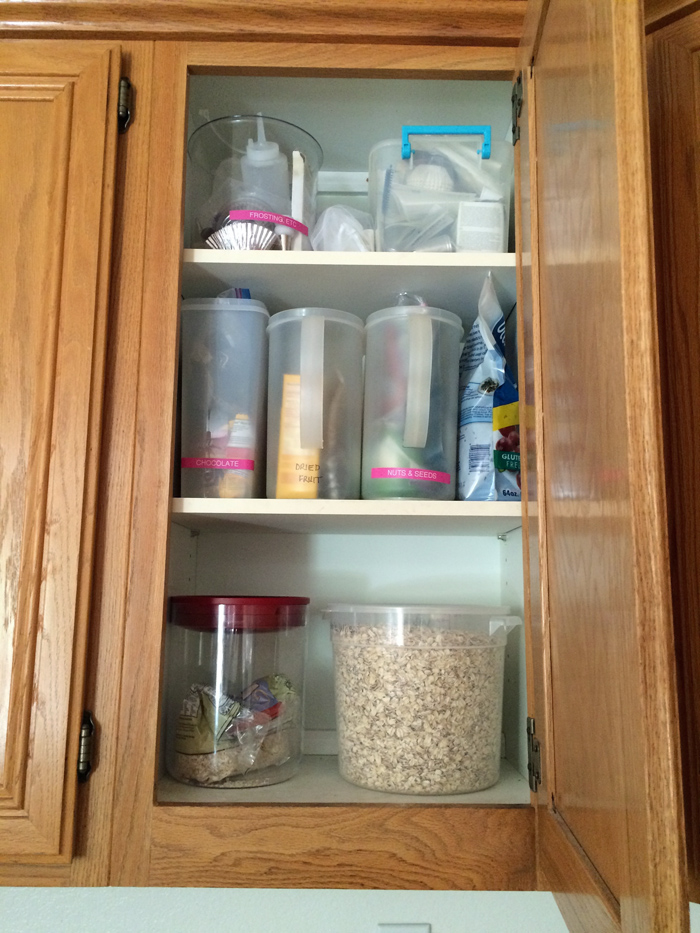 The mix-ins cupboard
This is the auxiliary baking cupboard where I store oats, dried fruit, nuts, chocolate, and some cake decorating supplies.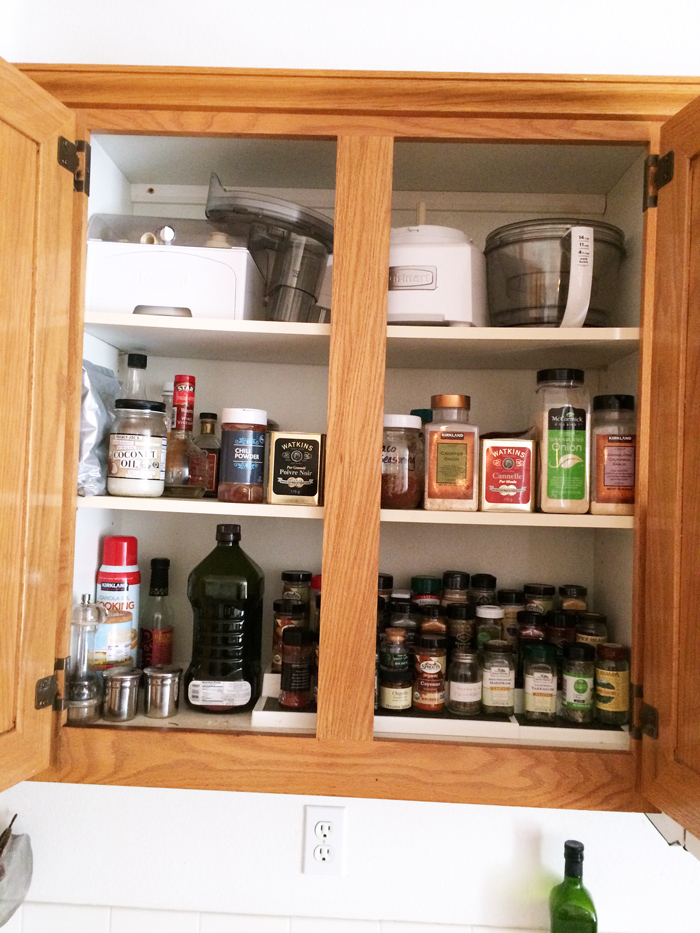 The spice cupboard
I store my spices, oils, vinegars, and savory ingredients in here.
(And yes, that deluxe Cuisinart still doesn't see the light of day. I splurged on it years ago, thinking it was the cat's meow. I don't like it as well as the simpler, but older model I've owned since 2002, whose bowl is on its last legs. Sigh.)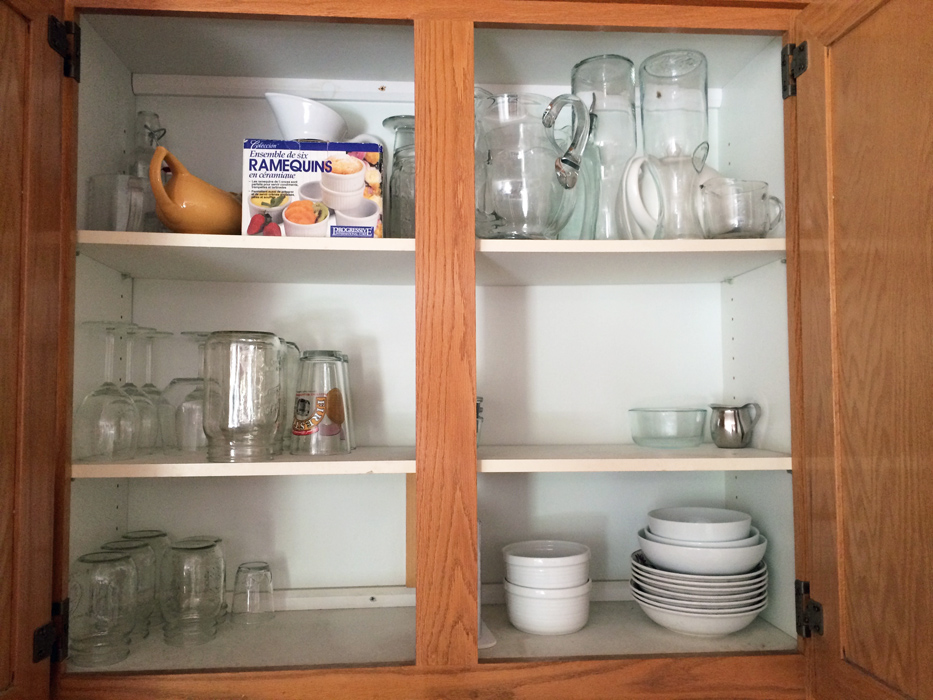 The glass cupboard
Sorry, when I snapped the shot the dishwasher was running. I didn't have time to wait. This is where we keep most of our dishes. Plates are stored in a lower cabinet so the littles can reach them more easily.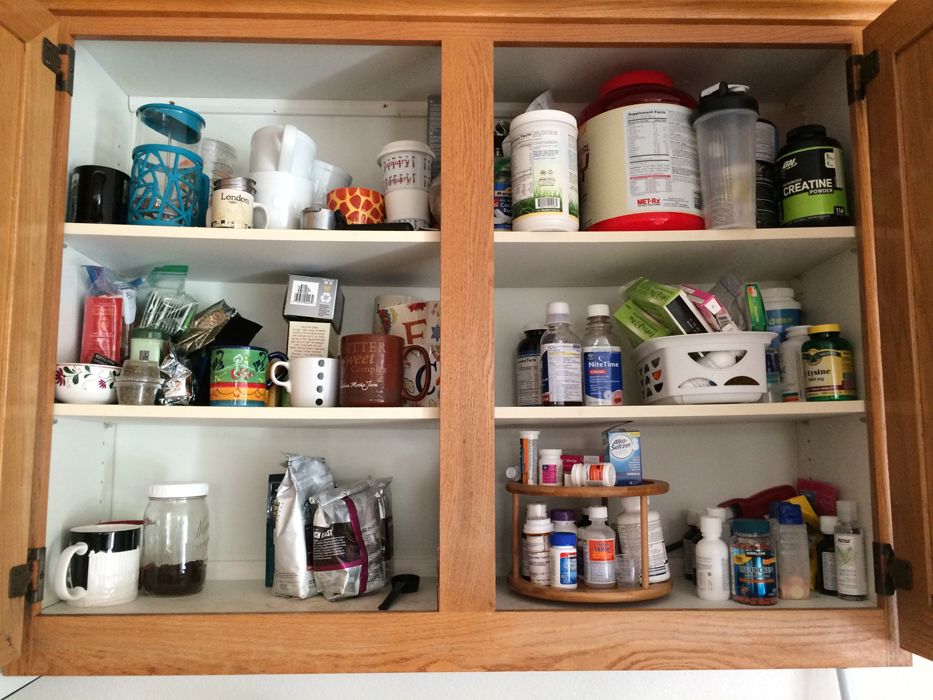 The coffee/tea/supplement/medicine cupboard
This is the cupboard that lends itself to chaos. I'd love to get your suggestions on how to store tea. This tower is driving me crazy!
So, I didn't work miracles in our kitchen, but it's looking pretty okay. Currently we're working as a family to keep the counters cleared off so that it really does look neat and tidy.
Let's Get Organized!
Zone Defense is a year-long "game plan to organize your home" that I designed four years ago. Zone Defense is divided into "zones". We'll be working from area to area, dejunking, reorganizing, and otherwise bring order to chaos.
Here's the breakdown for the year:

February: Personal Space

March: The Kitchen (this post)

April: Clothes, Linens, and Laundry

May: Living Spaces, Entertainment

June: Transportation and Travel

July: Kids Stuff

August: Bathrooms

September: Emergency Preparedness
Ready to Get Organized with Zone Defense?
Here's what you can do now:
Plus, you'll need to follow this month's assignments because we are going to tackle clothing, linens, and laundry!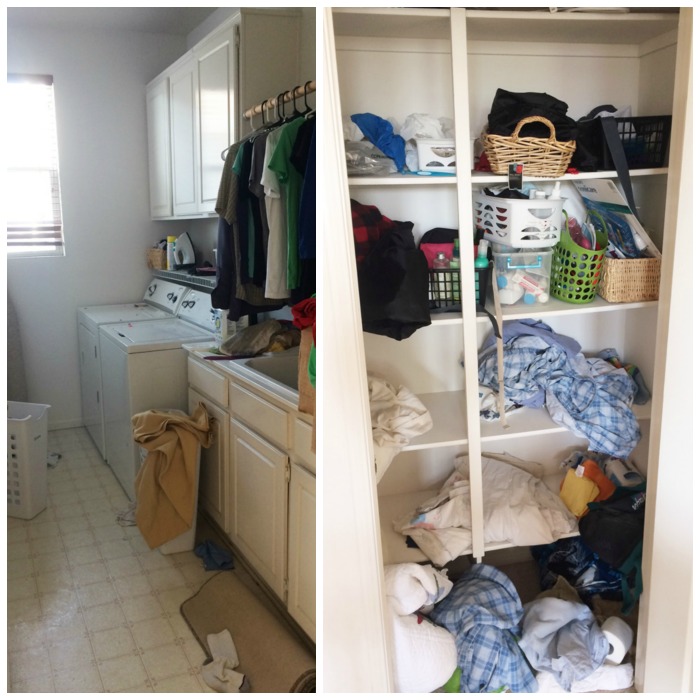 Organize Your Linens and Laundry!
In April, I'm tackling my linen cupboard and laundry room. They've both been in a state of disaster since our evacuation, so it's time to get things ship shape. So here's April's assignment:
How can you improve your life by organizing and improving your laundry and linen storage?
Ask yourself these critical questions for dejunking:
Do you use it?
Do you like it?
Could someone else enjoy it instead of it taking up space in our home?
Here's what we're gonna do:
Empty every cupboard or drawer completely.
Vacuum or wipe down surfaces.
Discard trash, broken things, and items that you don't use anymore.
Thin the herd of items you have a lot of.
Place things near where you will use them.
Enjoy a clean and organized textile care and storage system. (Don't you love that phrase?)
But for now,
How did YOU do at organizing the kitchen?