Zone Defense: Living Spaces
As an Amazon Associate I earn from qualifying purchases. For more details, please see our disclosure policy.
This year we're on Zone Defense, moving room by room, tackling clutter and disorder. This month we're going after those living spaces and all the "stuff" we use to entertain us.
By now you've noticed a pattern for our zones:
Personal space
Food (kitchen)
Clothing (laundry room/linens)
Now we move to the living spaces. I define "living spaces' as those areas of your home where daily life happens, namely entryway, living room, family room, den. Whatever you call it at your house, you know what I mean, right?
These are the spaces that draw clutter as much as they draw a crowd. It's where we "do life". And life, as I know it, is messy. It's in our best interests and that of our families and housemates to put some order into those general everyday spaces.
At our home, that one where six eight kids of all ages reside, that means a variety of stuff — and lots of little crumbs. Especially under the couch cushions!
Recently, in anticipation of the grandparents' visiting, we gave our living spaces an overhaul. This is your task this week as well. Check out the tasks that may or may not be needed at your house. They were at ours!
Declutter the entryway by thinning out shoes and coats. What really needs to be there?
Clean out the coat closet.
Sweep and mop the entryway floor.
Dust furniture in living and family rooms
Vacuum couches and chairs. Yes, under the cushions.
Replace burned out light bulbs.
Remove clutter.
Rearrange/straighten books on the shelves.
Dust light fixtures.
Vacuum baseboards.
Wipe fingerprints from walls and light swithces.
Add some fresh flowers or other decorative touch to brighten up your everyday.
Your living spaces may need all of these or just a few. Don't feel overwhelmed! You don't have to do them all or all at once. If you chose two per day, your house would look like a new place in a week.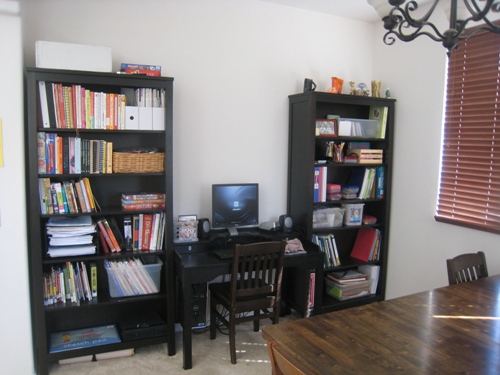 But remember to do #12 when you're done. It will make you feel so good after all your hard work.
In the coming weeks, we'll be looking more closely at the items that can bring great joy to our lives: games, books, movies, and music. They can also bring a huge mess if we're not careful. So we'll be talking about ways to tame and organize these entertainment beasts.
What living space will you tackle this week?