Zone Defense: Organizing Kitchen Equipment
As an Amazon Associate I earn from qualifying purchases. For more details, please see our disclosure policy.
This year we are on Zone Defense, tackling one area of home and life at a time, until we've beaten back clutter and disorder. We are going to regain our lost ground. This month? We're in the kitchen.
And head's up! If you make a purchase through any Amazon links, I do receive a small percentage of the sale.
This month we're tackling the kitchen. Since I couldn't very well post about food storage without sprucing up my own. While I had given it a pretty good overhaul back in January, it was due. Someone has gotten a little lazy about putting things in their proper places.
Someone.
I spent time last week rearranging the cupboards and checking out my inventory. It was a huge help to my grocery planning, too. I discovered that we're pretty well stocked on most things, except brown and powdered sugars and canned vegetables. I seem to be moving away from canned veg with the produce box coming each week, so I guess that's okay.
But, those sugars? Hmmm…. But, I digress.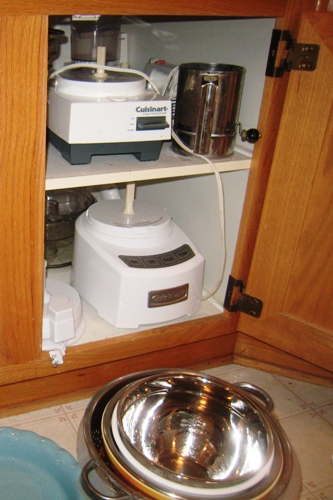 Earlier this month, we talked about organizing your food. Next on the plan is to organize your kitchen equipment, the things you use to prepare said food. How you do this will depend on several factors:
how often you cook
how complicated your cooking gets
how much storage space you have
how much you own in terms of small appliances, gadgets, bakeware, and cookware
Get rid of extra kitchen stuff.
But, as you approach your kitchen cupboards, ask yourself these questions:
Do you use it?
If you haven't used it in the past year, it may not be a necessary player in your life. As I recently went through my appliance cupboard I found a small food processor that I've had since we got married 18 years ago. It's a mini chopper that I don't really use anymore since I also have two larger food processors (yes, really) as well as a Magic Bullet and a blender. It wasn't as difficult to say goodbye as I thought it would be, and I feel freed up. I know that it doesn't make sense to keep things I don't use.
Do you like it?
In her book, Organized Simplicity, Simple Mom Tsh Oxenreider expounds on the wise William Morris quote, "Have nothing in your home that you do not know to be useful or believe to be beautiful." It's a wonderful saying to keep in mind. If you don't like it, then why do you have it?
I had to come to grips with this when looking at the two hand mixers I had. One I love. LOVE, LOVE, LOVE. And the funny thing is that I bought it in college 20 years ago — it was the cheapest model available at the local KMart. It is a champion, the motor still going strong after all these years. However, the beaters are rusted and metal is flaking off into the food. Ick!
I bought a cheapo replacement (< $10) at Target back at the holidays, but the two just don't compare. The newer mixer will be going the way of Goodwill.
I would love to find replacement mixers, however, google could not tell me much about the Kitchen Creations brand. It may be completely obsolete. A new, quality mixer is around $40, so I'm going to wait and see if I can find replacement beaters anyway. Because I like. that. mixer.
Would this bless someone else?
This question helps me to part with a lot of "stuff." If I know of a better home for something, I can focus on the blessing rather than the hoarding.
Is this a unitasker?
Alton Brown taught my husband that phrase. And he is not afraid to use it. I, obviously am a gadget and small appliance girl. You have no idea what else I've gotten rid of in years past! Anyway, if a gadget or appliance only serves one purpose, it may not belong in your home.
This is why I've said goodbye to fondue pots. We rarely have fondue and the frequency, or lack thereof, did not justify the space to store the pot and its equipment. When we do make fondue, we use the small slow cooker to keep the chocolate warm.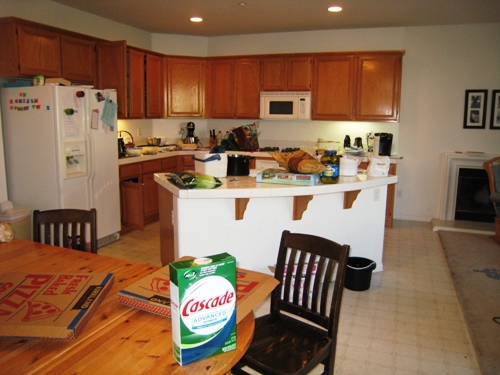 Dejunk the kitchen.
We're using the same general method for dejunking the kitchen that we did in the previous zones.
Empty a cupboard or drawer.
Ditch the trash.
Vacuum out the space.
Remove items that do not belong in this zone.
Categorize like with like.
Organize new items in a way that makes them easy to use and even easier to put away.
Organize what's left.
Consider storing the items that you keep near the place where you use them. Take a good look around your kitchen. This week, as you cook, think about how often you walk across the kitchen for something? Could you move that something closer to your work space? You may be surprised that you can!
Often we do things the way it was done in our childhood homes, but that might not fit how we actually live today. And who knows? Maybe your parents organized the kitchen the way that their moms did.
There is no fool-proof way to clean and organize your kitchen. You have to do what fits your family and your style of cooking. But, if you stick with it and move methodically through your kitchen, you should be able to purge the stuff that gets in your way. I've got four gadget drawers and a plethora of pots and pans calling my name, so you know what I'll be doing this weekend.
How do you decide what kitchen tools stay and what can go?