Time to tackle clutter and disorganization and maybe too much stuff. This month we face off in the kitchen.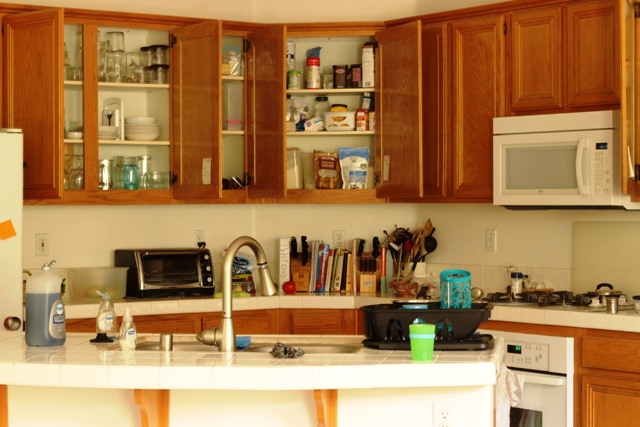 I spend a lot of time in the kitchen. A lot. Part of that is because kitchen work is what I do for a living. I have six children who like to eat.
Oh, yeah, and I earn a little income by developing recipes, food blogging, and writing cookbooks. Somedays I feel like I never leave the kitchen.
Thankfully, I have help. My kids and husband do a lot of the kitchen jobs so that I don't bear the brunt of it all. Many hands make light work. The flip side of that is that many hands sometimes put things in the wrong places.
It's a double-edged sword. It's really hard to ask people to help you in the kitchen if the cupboards are disorganized. And sometimes the cupboards get disorganized because other people are helping you.
Time to get on Zone Defense.
This month, I'll be dejunking, deowning, and reorganizing in the kitchen. Did you catch that deowning thing? It's a phrase I picked up while reading Joshua Becker's latest book, Clutter-free with Kids. He talks about deowning, getting rid of something, rather than just moving it around. I need to do that this month.
Defend Your Kitchen
This series is all about Zone Defense. How do we defend the spaces in our homes so that they serve the purposes we need them for? All too often our households run us ragged instead of us running them. It's more of that living life by accident.
Your kitchen is meant to be a place of creativity and nourishment. If there are things or situations going on in your kitchen that prevent you from being creative and providing delicious food, then let's change that this month.
How can you improve your life by organizing and improving your kitchen space?
Ask yourself the critical questions for dejunking:
Do you use it?
Do you like it?
Could someone else enjoy it instead of it taking up space in our home?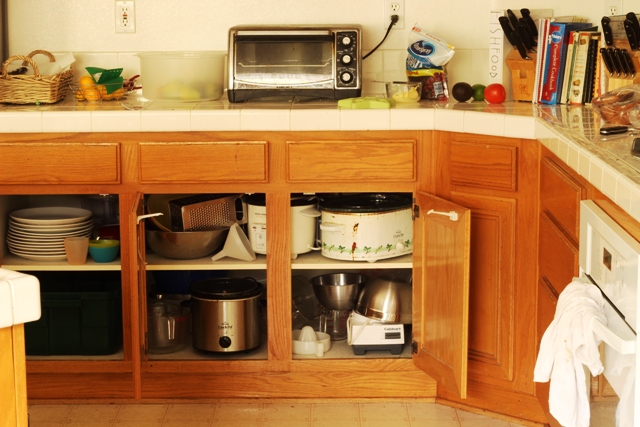 On my list of things to tackle:
sort through the cupboards and remove hindrances: small appliances I don't use, snowman mugs that get used only at Christmas, extra canning jars, etc.
ditch outdated spices and ingredients
find a better kitchen towel hamper than what we have
reorganize the things we keep so that I can find them and the folks know where to put them away
dust/wipe down all the cupboards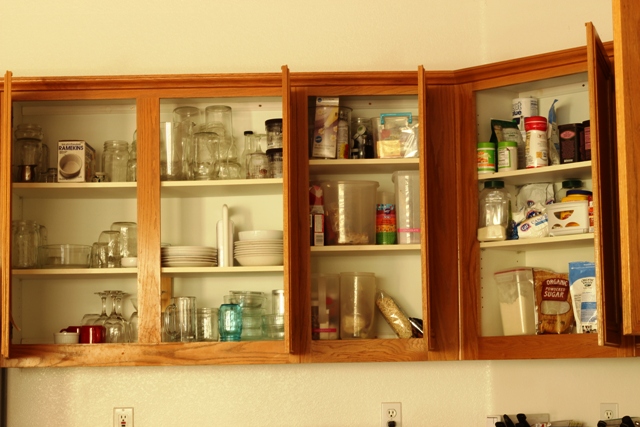 You're seeing my "before" kitchen. I hope to show a transformed "after" kitchen in a few weeks. I hope you will, too.
Be sure to check these past posts to get more ideas about setting your personal space to rights:
 What do YOU intend to do in your kitchen this month?