Zone Defense: Organizing the Living Spaces
As an Amazon Associate I earn from qualifying purchases. For more details, please see our disclosure policy.
Time to tackle clutter and disorganization and maybe too much stuff. This month we head to the living spaces so we can play hard. Once we clean up the mess, that is.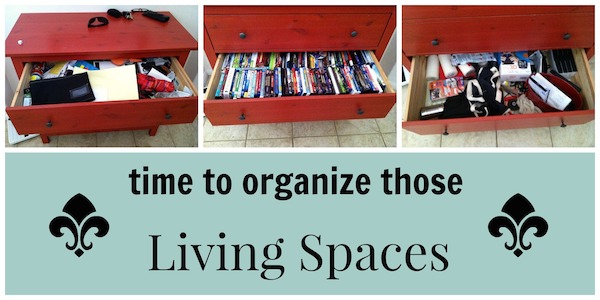 Oh, I am SUCH a slacker. Not only have some of our main living/storage areas gotten really, really bad, but I also failed to post this Zone Defense assignment earlier in the month. Just like the junk that I don't feel like I have time to put away, this post languished in drafts.
You know this program is all about the blind leading the blind, right?
Everyone who thinks that she's a horrid housekeeper will get a reality check today. You are not alone! We do a fairly decent job of pick-up several times a day, but my kids (and I) are pretty good at stashing things so that on the outside things LOOK neat and tidy, but inside lurks a mess.
If you're just tuning in, this is my monthly Zone Defense assignment. I am not one of those spic-and-span housekeepers. There are just not enough hours in the day. While we clean on a daily basis, clutter piles up. It multiplies faster than fruit flies on a hot summer day.
So, I do a big, deep dejunking in each zone at least once a year. It probably happens a few times here and there, but we do the big overhaul on a yearly basis. It helps if I've read some great cleaning and organizing book like Sidetracked Home Executives: From Pigpen to Paradise. (In my newlywed years I read that once a year at least so clutter didn't get a major foothold.)
Other books I've enjoyed:
You can join in! Check out this post for all the details on zone defense as well as lots of archived posts on a variety of different household problem areas.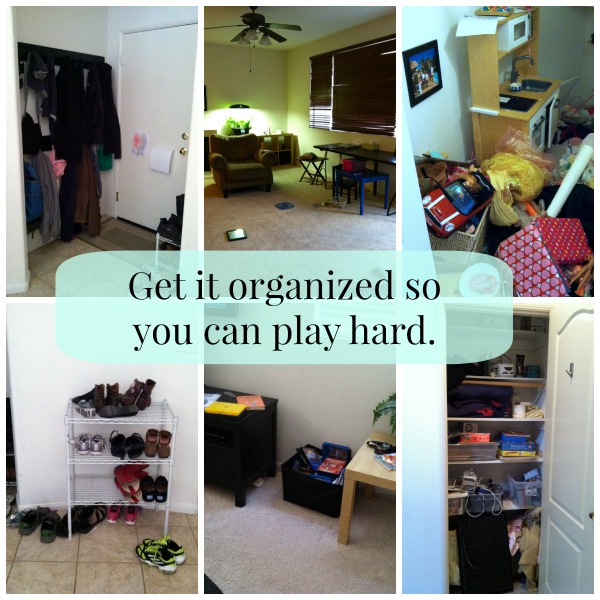 Organize your living spaces.
This month's assignment for the living areas:
Declutter the entryway by thinning out shoes and coats. What really needs to be there?
Clean out the coat closet and other hallway storage.
Sweep and mop the entryway floor. Wipe baseboards, doors, etc.
Replace doormats, if necessary.
Dust furniture in living and family rooms
Vacuum couches and chairs. Yes, under the cushions.
Dust light fixtures.
Replace burned out light bulbs.
Remove clutter EVERYWHERE.
Rearrange/straighten books on the shelves.
Vacuum baseboards in living room.
Dust blinds, curtains, etc.
Wipe fingerprints from walls and light switches.
Add some fresh flowers or other decorative touch to brighten up your everyday.
You've seen my before pictures, taken with an iPhone because I don't have a wide-angle lens for my regular camera. Sorry for the poor quality, but I'm sure you get the idea. I'll share after pictures at the end of the month.
Some of my areas of concentration are: the girls' playroom, the movie storage, the junk drawers in the foyer, the shoe and coat situation, and our game storage.
What living areas need YOUR attention this month?