Zone Defense: Organizing Your Personal Space
As an Amazon Associate I earn from qualifying purchases. For more details, please see our disclosure policy.
Time to tackle clutter and disorganization. First play: your personal space.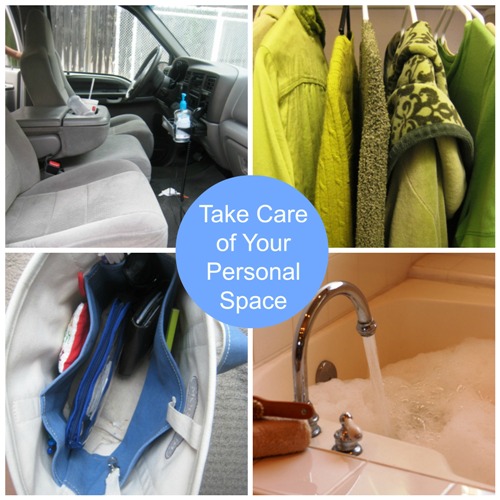 So, you ready to get in the game? Last week we talked about tackling clutter and getting a game plan in action for organizing our homes. If you'll remember, I reminded you to print out the Zone Defense worksheets to help you analyze your strengths and weaknesses.
Let's review those first before we move on to the next assignment.
Survey the Playing Field
I printed mine out last night, so don't feel bad if you're just now getting to it. It only took about five minutes for me to go through the questions. My answers were very enlightening.
My strengths:
It's easy for me to get ready in the morning because I have enough workout clothes and a designated spot for them. I might also add that I've made exercise much more of a priority in the last six months than I ever have in my life. Motivation is obviously linked to action, eh?
My weaknesses are manifold:
I tend to harbor clutter and disorganization in the office. Since it's my personal space (ie I don't share it with anyone), I tend to toss the homeless items in there to be dealt with later. They don't always get dealt with. Also people come to visit me and leave stuff behind.
While my kids are great helpers around the house, it's pretty rare that someone just gets motivated to do his job or clean something up. It usually takes direction from yours truly. This is mentally exhausting. I realized that the messes/clutter in our home on a regular basis are really small ones that I just don't want to ask someone to take care of. This is obviously a parenting issue more than a cleaning issue, but they are connected. I need to take my own advice.
I avoid cleaning tasks that involve getting my hands wet. With winter weather, I suffer from dry skin. Since I neglect to put on lotion, I pay for it big time, especially when dishes and scrubbing are involved. I've added "latex gloves" to my list of things to buy later this week. That's an easy problem solved, isn't it?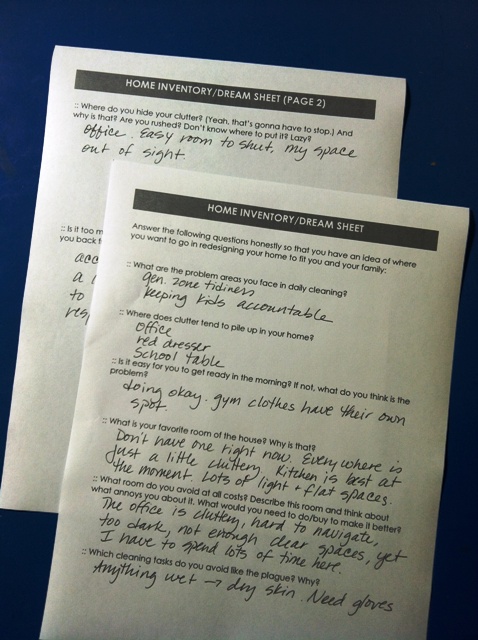 Hopefully you had a chance to tackle last week's assignments. Here they are again:
Don't forget the Zone Defense worksheets!
Now, let's get on to the first zone: Personal Space
Organizing Your Personal Space
Personal space is defined as those areas of your home that directly affect your mind, soul, or body. Those areas that are mostly yours: your bedroom, your bathroom, your clothes closet, your purse, your car, and um, your office, cough, cough.
Organizing your personal space might even mean a makeover for your body, like getting a physical, starting an exercise program, improving your diet, or getting a massage or pedicure.
So, for the rest of the month (about two weeks) cycle through these areas, thinking through how you can improve them to improve your life. This isn't about making sure you have a Pinworthy bedroom or wardrobe.
It's about making sure that your physical spaces suit you in this season of life.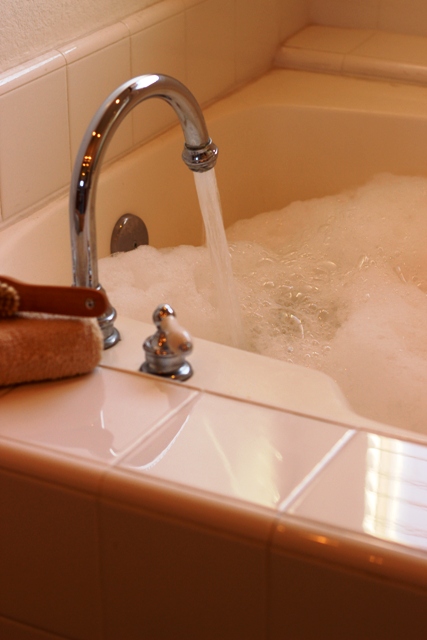 How can you improve your life by organizing and improving these spaces?
Ask yourself the critical questions for dejunking:
Do you use it?
Do you like it?
Could someone else enjoy it instead of it taking up space in our home?
I'll be sharing before and after pics of my office and my closet, as well as some minor adjustments to my purse situation and maybe my hair….
Be sure to check these past posts to get more ideas about setting your personal space to rights:
Your Purse, Car, and Other Personal Space
Your Body
So, what are YOUR strengths and weaknesses you need to work on this year?