Zone Defense Progress Report: Your Personal Space
As an Amazon Associate I earn from qualifying purchases. For more details, please see our disclosure policy.
This year we're on Zone Defense, tackling clutter and disorder. Each month we're tackling a different zone of home and life. This month was "personal space."
So, today we're talking progress reports. Your task is not to compare yourself to someone else, but to compare yourself to the you of a month ago. Is your personal space in better shape now than it was on February 1st. Hopefully the answer is yes.
Can I talk my coach's cap off for a sec?
What would I do without you people?! I know for positive that if I hadn't had you on my team, there's no way I would have accomplished what I did this past month in getting my act just a little more together. To be honest, my closet, bathroom, purse, and car were a shambles. But, because I knew I had to train right alongside you, I got those areas in much better shape. (Thank you!)
We tackled five aspects of your personal space in February. Since I didn't want to be like Mrs. Hammond, my 8th grade PE teacher who never ran a lap in her life, I tackled every zone I told you to tackled. Here's a little peak at my progress:
1. The Clothes Closet
We talked a few weeks ago of the importance of a wardrobe that works for you, about how having a closet that only contained a few usable items was significantly more valuable than a closet brimming with "nothing to wear."
Last year I did a fairly big purge in my closet, but I knew going into it after Christmas that there were more things that could go: clothes I hadn't worn in years, shoes that were past their prime, not to mention the post-holiday clutter that accumulates when you hide and wrap the gifts in your closet.
Here's my closet in all it's post-Christmas glory.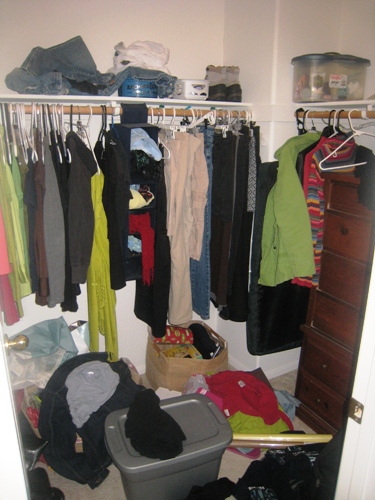 before
I have no idea why it has a holy-like glow about it. Must be my trick photography.
Or bad lighting.
I got rid of a trash bag full of clothes as well as six pairs of shoes. I even tackled my dresser. That is not my dresser. Well, it is. My dad made it for me when I was seven. From a box. From Kmart. I'm sentimentally attached. I just haven't figured out what to do with it. It used to belong to one of the boys.
The closet now looks like this:
And yes, I'm still holding onto two pairs of "brand new, but they're too small, and I can't return them" pants and the dress I wore to my sister's wedding reception. They are part of my "you get to keep four that you don't wear" collection.
If you missed the Clothes Closet assignment, go back and do it. You can easily catch up with us!
2. The Bathroom
We are very blessed to have a large bathroom with double sinks: his and hers. His is always pretty tidy which is weird, because I don't think either one of us would consider him the tidy one. But, here we have evidence to the contrary: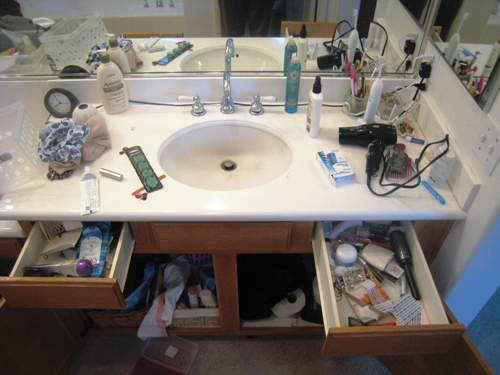 before
Apparently, I'm a total slob. Not very nice, eh? Boy, did it do me some good to clean things up. I had stuff that was two years old or older in the drawers, cabinet, and under the sink.
Check out these drawers: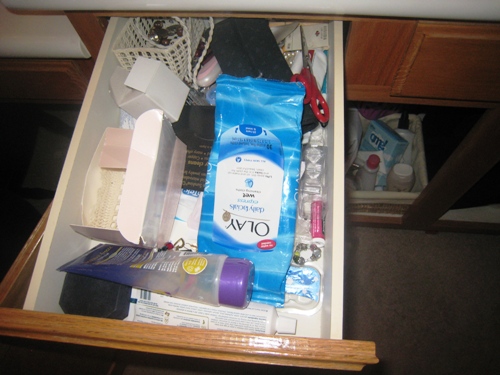 before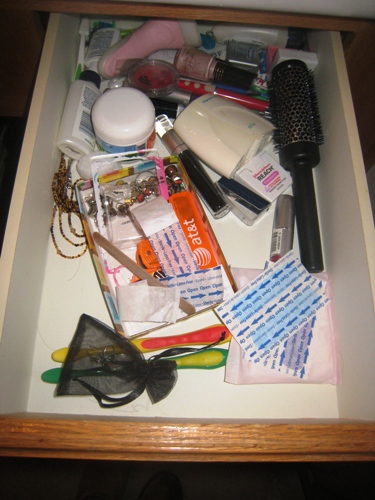 before
I emptied each section of my bathroom storage, condensing little collections of like items as I went. Here is where I'm at now: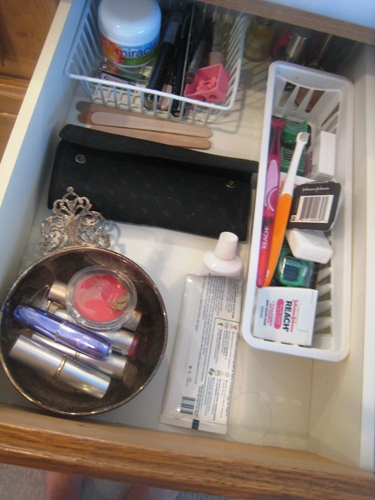 after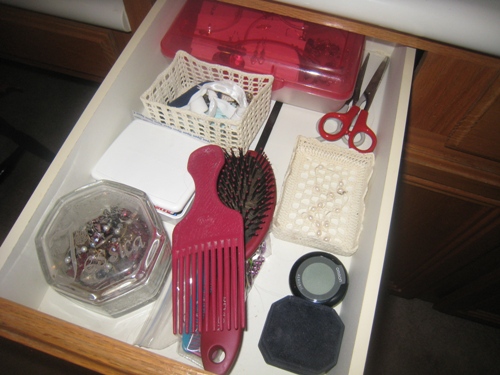 after
That hair pick is over 20 years old. Yes, yes, it is. Vintage high school from my permanent wave days. I use it at as a long-toothed comb now.
Want to see what I did with that random pencil case that was on the floor?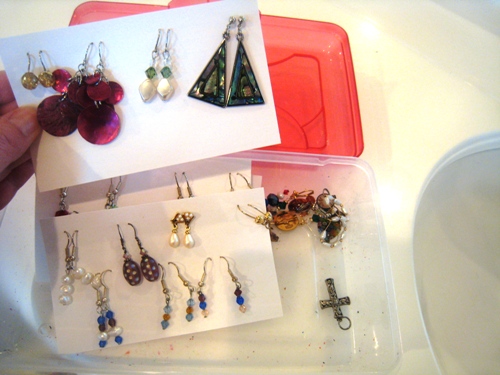 after
I poked holes into index cards and strung my earrings through them. Now, I can see what I have and actually wear them. I also discarded a fair amount of costume jewelry I never wear. And I relocated my necklaces to the closet: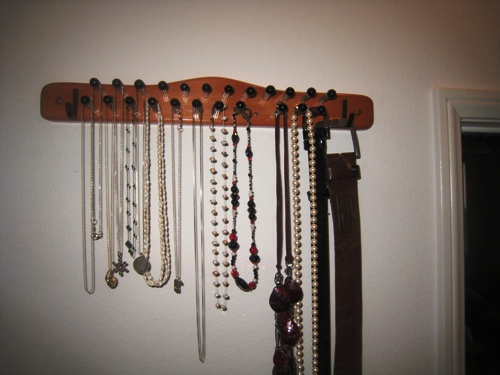 after
This rack was from the previous tenant. It's mine now. And now, I can actually find a necklace I want to wear.
Somehow, I forgot to take a pic of the medicine cabinet before. While it wasn't very full, I wasn't making good use of it. I decided to relocate all my daily use items into the medicine cabinet and leave the counters mostly clear. Gasp.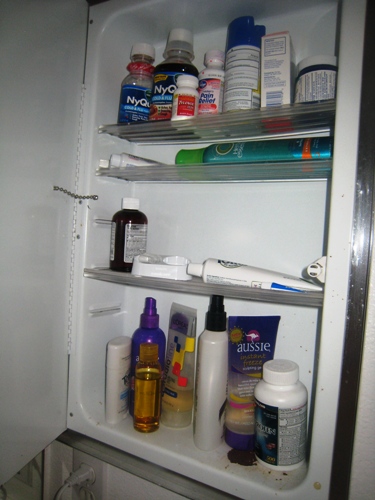 after
In the process of this bathroom redo, I decided to try out Simple Mom's Oil Cleansing Method. Yes, really. It took me awhile to remember to buy castor oil at the store. And another while to find it. In case you're wondering, it's with the laxatives at Walmart. Apparently, I'm washing my face with a laxative. That cracks me up.
I've been doing the regimen for about a week: half castor oil, half extra virgin olive oil. I'm optimistic that it will lessen the appearance of wrinkles and moisturize my skin more naturally than other things I have used. We shall see.
My medicine cabinet tells you that I'm only half crunchy. Got all kinds of "natural" skin and teeth stuff. But, when it comes to hair and cold medicine… well, I'm happy where I'm at. 😉
Here's that counter I was telling you about. Whoohoo!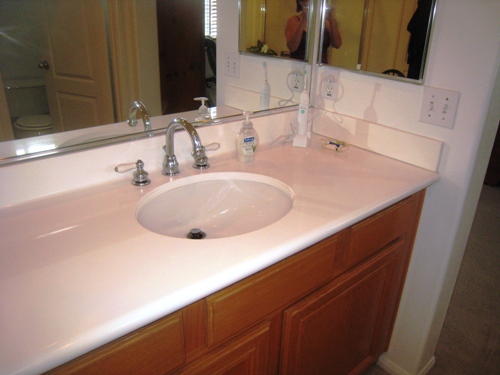 after
There's hand soap, my toothbrush, and a small dish to hold my everyday pair of earrings and chapstick. Talk about simple. Can I stand it?
If you missed the Master Bathroom assignment, go back and do it. You can easily catch up with us!
3. The Bedroom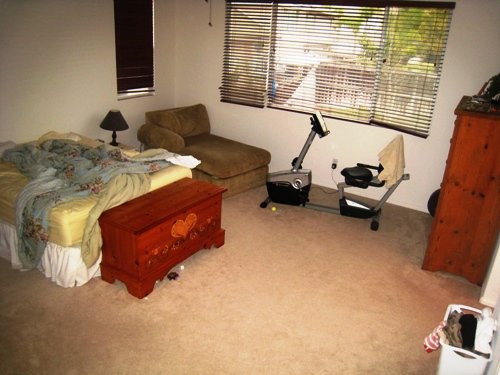 Our bedroom decor has never been too fancy. We have the cedar chest that hubs bought for me on our one-year anniversary. And the chest of drawers that he built on our second. Then we started having kids, so furniture acquisition moved lower on the list. As I mentioned in the "clean up your room" post, I was planning to repair that comforter that's coming apart at the seams as well as repaint the bedside tables.
Hubs said he would prefer to save the money from the spray paint and get rid of the tables. They aren't his favorite. And they cost me $2 each at garage sales years ago, so I'm good with that. Instead on our wish list is a real bed, you know with a headboard and a footboard and all that jazz. Oh, and a new mattress, since this one is older than all our children.
I got too lazy to get out my needle and thread to repair the comforter. Instead, I found our quilt! I totally forgot about this quilt that I pieced together during our first couple years of marriage. The project ended when the top was pieced. And it would have never been completed if my very talented Aunt Karen hadn't taken over.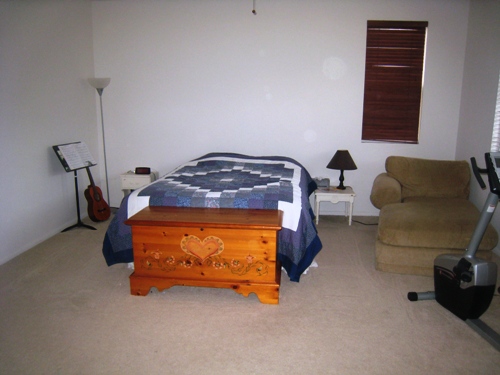 Yes, we need a boost to our interior decorating. But, we'll wait until we go furniture shopping. In the meantime, it's clean. And my minions very happily cleaned out from under my bed. They loved it! (Weird.) And a certain FishChick volunteered to vacuum. Go figure.
If you missed the Master Bedroom assignment, go back and do it. You can easily catch up with us!
4. Your body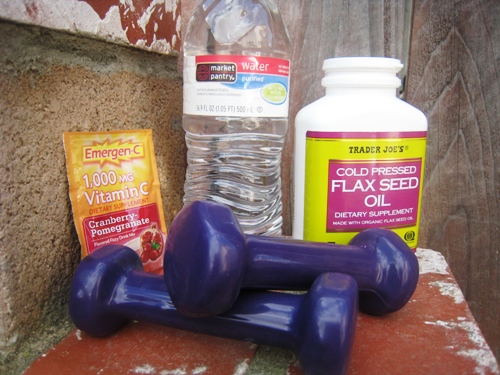 As I mentioned in a previous post, I was on a mission called the 30-Day Shred. I was on Day 9 and making really good progress. And then I threw my back out. Unloading the washing machine. I've done this a number of times before. And so, I'm waiting until I'm 100% again before I start to shred again.
If you missed the Taking Care of You discussion, go back and read it. It's short and easy!
5. Your purse, car, etc.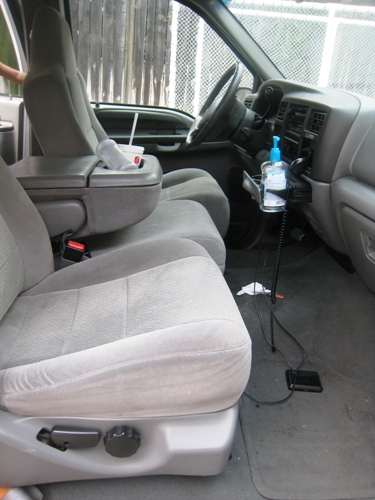 I tackled these last two areas of my personal space this past weekend. I made the car a family project. After all, I only ever ride in the front. However, the middle, back, and trunk area were pretty atrocious.
before
I enlisted the help of FishBoys 9 and 7 as well as FishChick 5 to dig and tote. One would hand me stuff that he dug out and the others would tote it into the house where it belonged.
Much better:
after
Then I called in the older two to man the shop vacs and get it cleaned out. It was then too dark to take a picture, but trust me when I say we've pimped our ride a little bit.
The Purse
before
My purse, for lack of a better one, is a tote bag that I got at Blissdom two years ago. It holds a lot of stuff quite easily. However, it holds a lot of extra stuff quite easily, too. I think I probably need something different. This past week with a bad back tells me I need something different. But, purses aren't cheap. So, I'm using what I have.
Cleaning out my purse took a total of ten minutes. And I'm so glad I spent that ten minutes. I ditched expired coupons, filed receipts, found some money! and otherwise set this bag to rights.
Voila!
after
So much better! I have room to carry my household notebook as well as my wallet, coupon pouch, and little purse fill of gift and club cards.
If you missed the Purse, Car, etc assignment, go back and catch up. It won't take long.
So there you have it! It seems like a lot of work, but spread out over four weeks, it wasn't so bad, was it? One of the things that amazed me about my personal space renovation was that it didn't cost me anything. Since we're holding off on the bedroom spruce ups, I didn't go buy the things I originally had on my list.
All the containers and drawer dividers that I used were things I already owned. I have a new, clean looking space that cost me nothing but some sweat equity. Of course, it could be prettier. But, you know what they say, pretty is as pretty does. If my space is more functional, that is what matters most.
How did YOU do?
Tell us in the comments or link up your post, telling us how you did on Zone Defense this month.
Coming up in March: The Kitchen