Bake someone happy with a batch of these Banana Chocolate Chip Muffins. Easy and delicious, they are perfect for breakfast and for tucking into lunch boxes.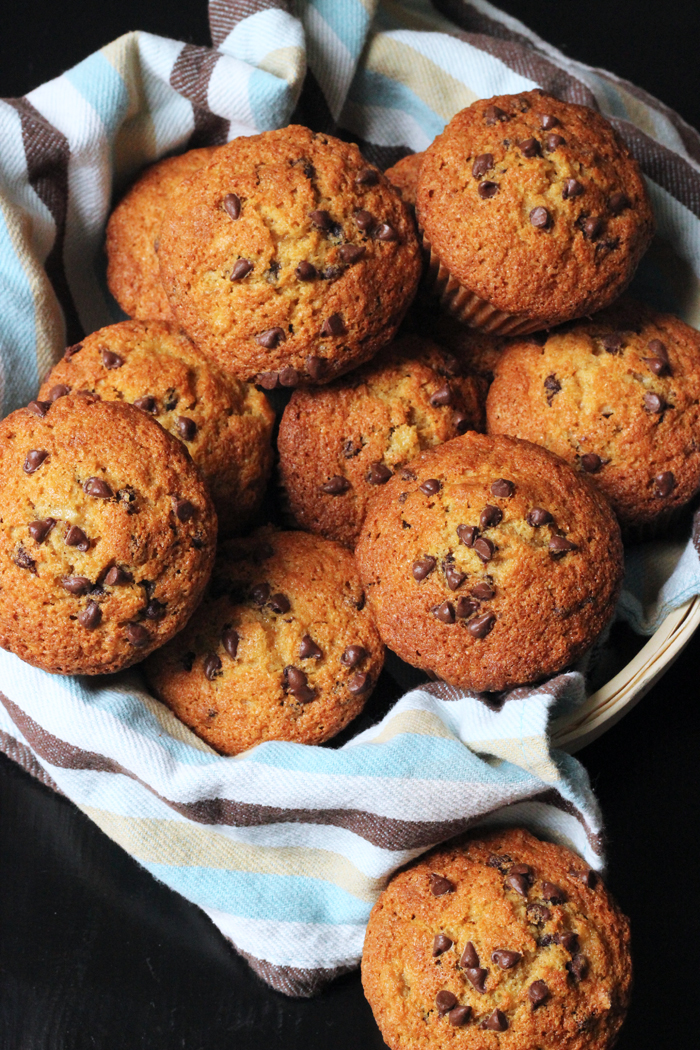 Growing up muffins came from a mix from a box. Most of the time. Unbeknowst to me, my mom had a muffin recipe MEMORIZED. I remember the first time she jotted it down on a note card for me. Whoa.
But, with raising five kids on a tight budget and working several different part time jobs, my mom didn't have a ton of time to bake from scratch, let alone from the recipe she had concealed in her head! So, muffins were the Jiffy Cornbread variety or the ones that came with blueberries in a can. 'Member those? Do they still make those?
I don't recall baking muffins in college, but if my roommates and I did, it was likely from a boxed mix. It wasn't until the Big Muffin Craze of 1994 that I learned to bake all kinds of muffins. From scratch.
First, I worked at Brigitte's Bakery where 90% of what was in the case were ginormous, flavorful, crunchy-topped muffins. I got free and half-price muffins all the time, so I didn't need to bake, but I was inspired to.
Second, I got married in the spring of 94. And at my bridal shower, a friend gifted me an amazing, they-don't-make-them-like-that-anymore, Airbake muffin tin and a muffin cookbook. New worlds opened.
Since then homemade muffins (from scratch) are de rigeur around here, though I don't have a single recipe memorized. These Banana Chocolate Chip Muffins are a huge favorite at our house.
(This post contains affiliate links. When you make a purchase through those links, I am paid a small amount in advertising fees. Thanks for your support. I really appreciate it.)
While my much-loved, Airbake pan bit the dust long ago, Good Cheap Eaters came to the rescue with muffin pan advice? These USA pans have changed my life. I love those suckers like no other. I've been slowly replacing my old pans with these since baked goods never burn or stick in them. Wowza. No greasing needed! If you need pans, they're the kind to buy!
Other muffin tools I use almost every week:
Banana Chocolate Chip Muffins Recipe
Bake someone happy with a batch of these Banana Chocolate Chip Muffins. Easy and delicious, they are perfect for breakfast and for tucking into lunch boxes.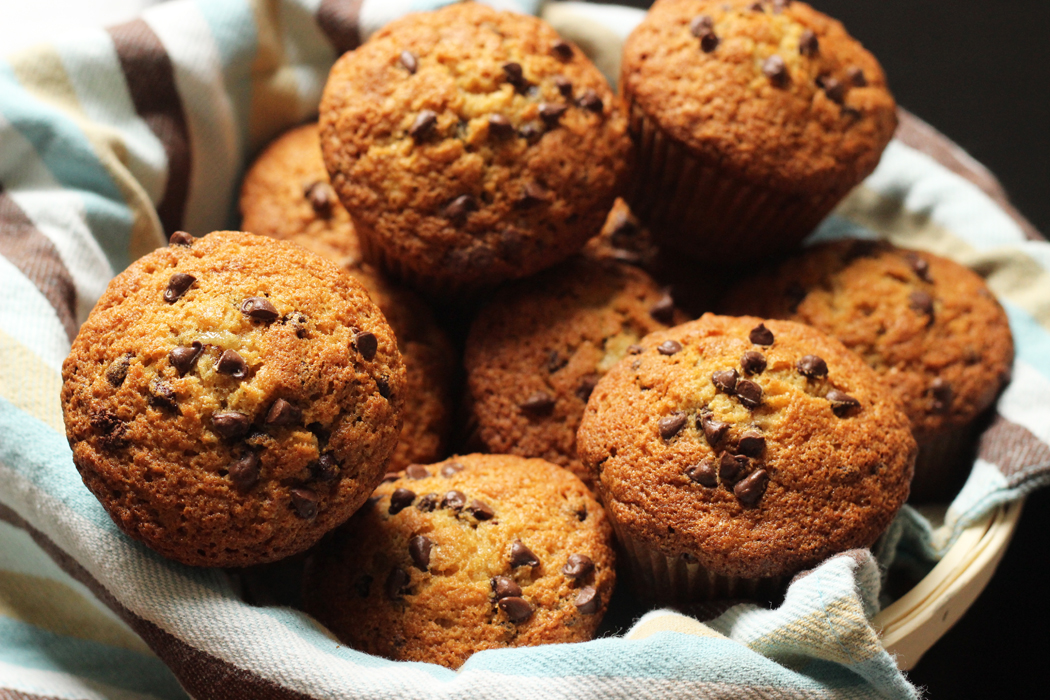 Preparation Time: 10 minutes
Cook time: 25 minutes
Total time: 35 minutes
12 servings
Ingredients:
4 ripe bananas, mashed

4 eggs, beaten

1 cup vegetable oil

1/2 cup buttermilk

2 teaspoons vanilla extract

1 cup white sugar

1 cup brown sugar

4 cup unbleached, all-purpose flour (can also use whole wheat pastry flour or white whole wheat flour)

2 teaspoons baking soda

1 teaspoon baking powder

1 teaspoon salt

1 cup chocolate chips with extra for topping
Instructions:

Preheat the oven to 350 degrees. Line a 12-cup muffin pan with papers or spray with non-stick cooking spray.
In a large mixing bowl, combine the bananas, eggs, oil buttermilk, and vanilla. Stir in the sugars. Add the flour, baking soda, baking powder, salt. Fold in the chocolate chips. Stir until well combined.
Fill muffin cups almost full. Top with a few chocolate chips. Bake for 20-30 minutes or until done.
Related Muffin Posts:
Give a Mom a Muffin
Yummy Raspberry Muffins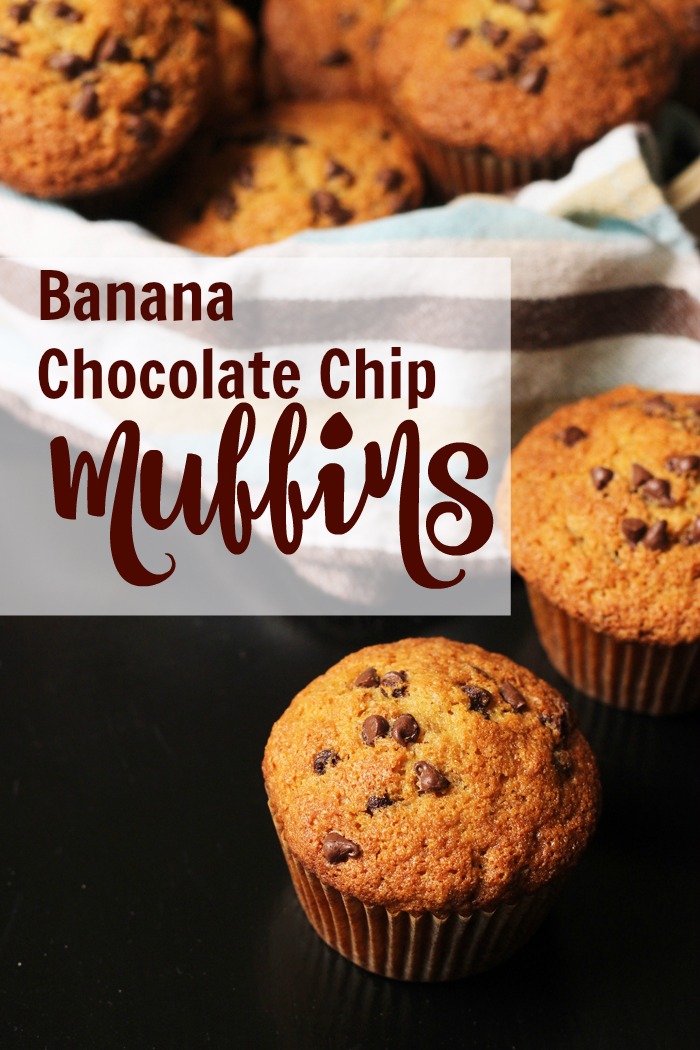 Originally published October 7, 2008. Updated August 11, 2017.