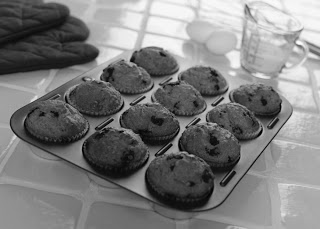 I made a big batch of these this afternoon. Popped them in the oven and then headed across the street to the park with the kiddos. What a nice snack to come home to! My big boy (almost 12) loved the independence of coming home by himself to check them and pull them out of the oven.
Hope you enjoy eating them as much as we did!

Recipe: Banana-Chocolate Chip Muffins
Ingredients
4 ripe bananas, mashed
1/2 cup buttermilk
4 eggs
1 cup oil
2 teaspoons vanilla
1 cup white sugar
1 cup dark brown sugar
4 cups flour (I used 3 cups unbleached and 1 cup whole wheat)
2 teaspoons baking soda
1 teaspoon baking powder
1 teaspoon salt
1 cup chocolate chips
Instructions
Preheat oven to 350 degrees. Line muffin pans with papers or spray with non-stick cooking spray.
In large mixing bowl, combine bananas, buttermilk, eggs, oil and vanilla. Stir in sugars. Add flour, baking soda, baking powder, salt and chocolate chips. Stir until well combined.
Fill muffin cups almost full. Bake for 20-30 minutes or until done.
Related Muffin Posts:
Give a Mom a Muffin
Yummy Raspberry Muffins