Can't stand the heat? Get out of the kitchen! Cooking out doesn't have to be limited to meats and burgers. Try grilling pizza.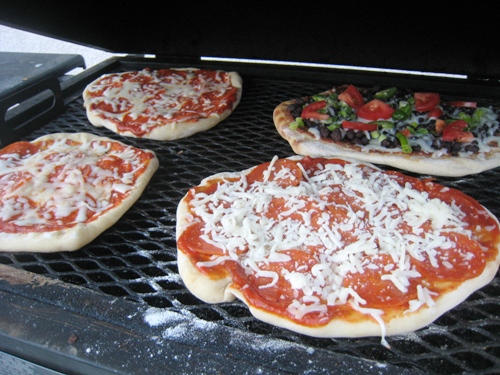 The first time we grilled pizza was about five kids and ten years ago. It was amazing! And then we didn't do it again for quite some time.
Last summer we took up the practice again and were amazed (again) how fun and easy it was!
Here's how to take your pizza pie outside.
1. Get your pizza dough and toppings (and side dishes) ready.
As you know by now if you do any grilling at all, you need to have everything ready. How many times have I heard my dad or husband holler, "Is everything ready? The meat's almost done." The grill waits for no man. So, get everything ready to go before you start.
2. Fire up the grill.
We have a Holland gas grill that we bought off craigslist years ago for a steal. It operates very much like an oven. And as you can tell from the grates, they are fairly close together, making for a great pizza grilling surface. You can make your pizza on a standard grill, just be sure to place the crusts in such a way not to slip between the grates. It shouldn't be a problem.
While the grill is heating, bring all your toppings outside. It's nice to have a table right next to the barbecue to make this neat and easy.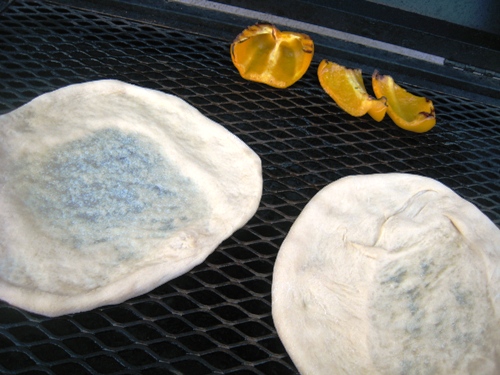 3. Bake the crust.
Don't assemble the pizzas yet! Lay the crusts on the hot grill and allow them to bake on the underside, about 5 to 10 minutes, depending on how hot your grill is. Once the crusts are baked on the bottom, flip them over.
4. Add the toppings.
Spread your sauce and toppings on the baked top. Close the grill and cook another 5 to 10 minutes or until the cheese is melted and the crust is crisp.
5. Be patient.
This is not an exact science, especially if you're working with a sensitive grill. So, be patient. The end result is an amazing pizza full of texture and flavor. It's worth waiting for.
Some of our favorite pizzas:

URS Guidelines
Remember: Each week at Ultimate Recipe Swap, there is a posted theme. You are welcome to share any recipe that fits the theme and contains a link back to Life as MOM. If you're curious about the upcoming themes, I have a calendar here. This week's theme is Dessert.
If you have a recipe that fits the theme, please link it. However, things like Beef Strogonaff will be deleted from Chicken week because it doesn't contain chicken. Please keep this meme as helpful to others as we can.
And don't make me the bad guy! 

What is your favorite recipe for the grill?