The weekly ramble: where I blog like it's 2004.
All week long I've thought of the different things I would tell you in my weekly ramble. Now while I sit here with fingers to keyboard, all those funny and brilliant things have flown out the window. I look over my instagram of the last week and I come up empty there, too. I guess I was pretty quiet, eh?
What did I do all week?!
Oh yeah, I ran eight-tenths of a mile on Tuesday. RAN. Not walked fast. RAN. This is monumental. I haven't RUN in over 20 years. This may not seem monumental to some, but when this guy is your brother (see #19 on the top list) and your dad and your other brother are both running fanatics as well, it's kinda embarrassing if you can only walk fast. So, that was a monumental feat for me. I'm not sure if I'll be able to do it again, but I'm going to try.
I also had our preliminary tax meeting which wasn't as painful as I expected. We had good news (since FishPapa is getting up there in years, he can put more away in an IRA – Whoohoo!) and some notsogood news (when your child turns 17 you no longer get a child tax credit.) What gives, Mr. Tax Man?! The kid eats more food than a baby! A lot more.
You learn something new every day, don't you?
In other news, there's been a convergence of sorts here as I am recipe testing for a book coming out next spring, wrapping up touches on a book coming out this fall, and getting ready to see a new book of mine on the shelves next month. What a whirlwind! How did I get here? (If you've bought book 1 or book 2, thank you! I so appreciate your support!)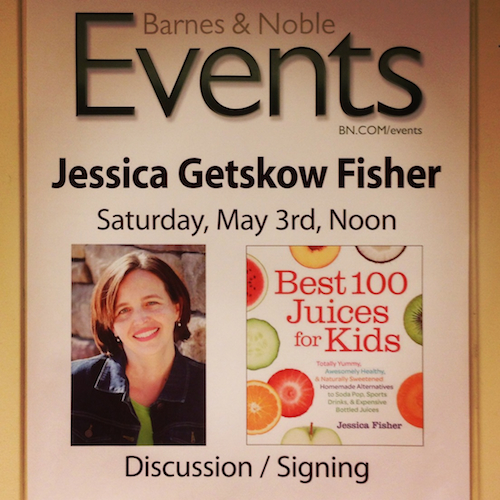 Speaking of which, I'm going to be signing books in May at the Barnes and Noble in Santa Clarita, CA. I'd love to meet you! Save the date if you're within a half hour's drive, eh?
In the kitchen, our sugar fast is coming along nicely. We're getting into a groove; no one's complaining; and we're eating well. I can't really complain. The kids have been SUCH good sports about this little experiment. We've even completely replaced hockey snacks with no-added-sugar items. I'm amazed that my little guy has been so cheerful about foregoing Gatorade. I'm a blessed woman to be sure.
I guess that's enough of my rambling. My desk is messy. I need to clean it. Carry on, ladies!
Meanwhile, here's what's been happening on Life as MOM:
Here's what's been happening on Good Cheap Eats:
Coming next week:
Make Healthy Meals Happy Ones
Adding a Third Child to the Mix
Lessons in Friendship
The Power of Play
Be sure to let me know what stories and articles are helpful to you and what you'd like to see more of in the coming weeks. I want to make your "life as MOM" as fun and as easy as possible.