Put Together a Spa Gift Basket
We are a participant in the Amazon Services LLC Associates Program, an affiliate advertising program designed to provide a means for us to earn fees by linking to Amazon.com and affiliated sites. We participate in other affiliate programs as well. For more details, please see our disclosure policy.
Put together a spa gift basket as a fun holiday gift.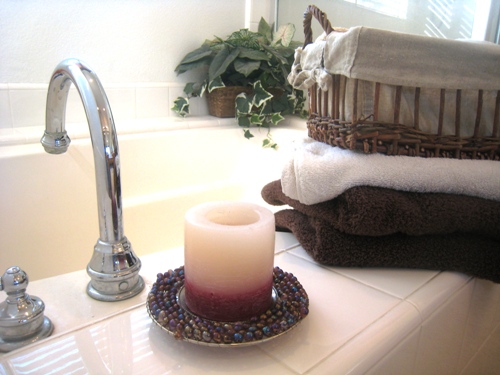 After a long day in the kitchen on Thursday, I treated myself to an at-home spa treatment. It's nothing too fancy: a soak in a hot tub, a facial (mud + moisturizer), and new paint on my toes.
It feels luxurious, but it's frugal and easy to do at home.
I might have added some candles, music, and a slice of pumpkin pie.
You can easily do a spa treatment at home. Years ago, I put together Spa Baskets for the girl friends in my life for Christmas gifts when I went on a soap making binge. I even included this at-home spa treatment pamphlet. Oh yes, total Martha-wannabe back in the day.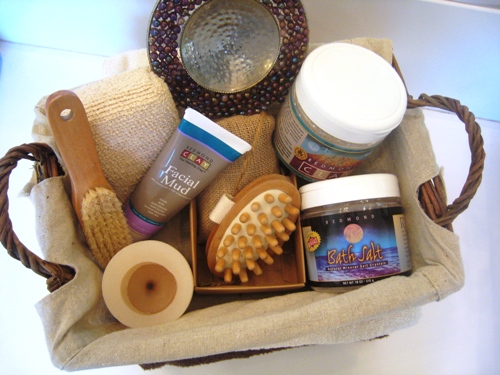 But, I might add that the little pamphlet is actually quite handy. It spells it all out, so you can easily pamper yourself. In case you don't know how. Which I didn't.
These Spa Gift Baskets are actually really fun gifts to give to friends at Christmas. Run by your favorite store and grab some of these items to fill a basket with:
candles and matches
washcloth
bathpuff
nail tools
bodywash
a good book
chocolates
facial mask
the cute little printable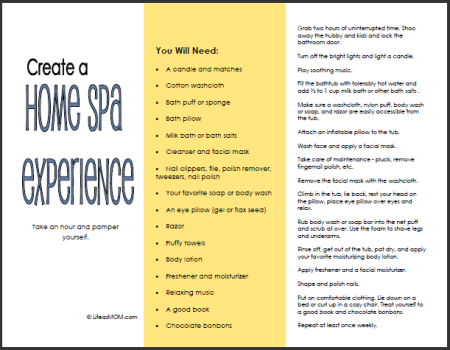 Recently I was sent some Redmond Bath salts and clay facial mask from Redmond Clay. I really like the products. When my face starts to feel like, well, thick and pimply, I put on this mask. I feel like a new woman. Well, almost. I've still got the wrinkles. And the age spots. But, my skin feels soft and smooth.
I started using the bath salts for this hip pain that I've had since May. I'm hoping that it will have a therapeutic effect. Even if it doesn't cure all my ills, it's always nice to have a good excuse for a hot bath!
Add Redmond Products to your Gift Baskets
This giveaway is now closed. Congrats to the winners: ahorne@,  mama2mygirlz@, carriem694@
This weekend, Redmond Trading is offering a great giveaway for Life as MOM readers. Three lucky readers will each win a Spa Gift Pack, including facial mask, Redmond Clay, and Redmond Bath Salts.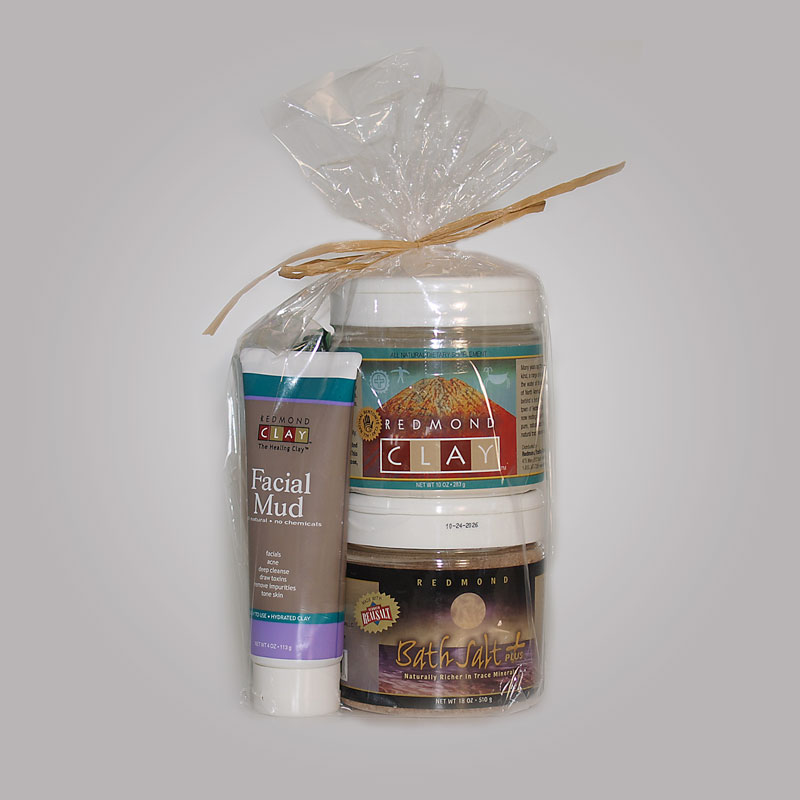 According to the company,
Through the processes of osmosis and diffusion toxins are released from the body into the bath water, while trace minerals from the sea salt and clay are absorbed through the skin.
To Enter:
Simply complete the information on this form. Please know that the information is only being gathered for the purposes of mailing you your prize in the event that you are chosen as the winner. This information will not be sold, traded, or given away.
This promotion is open until Monday, November 26, 2012, at 8 pm PST and is limited to US residents, 18 years or older. Friends and family of Jessica Fisher and Life as MOM are ineligible for entry. Please enter only once. The winner will be chosen randomly. The prize for this promotion is provided by and shipped by Redmond Trading and/or its representatives. This post will be updated with the beginning of the winner's email address. Jessica Fisher and Life as MOM will not be held responsible for unclaimed or undelivered prizes.
Disclaimer: I received sample product as well as compensation for time spent administering this giveaway. All opinions are my own.