Put Together a Spa Gift Basket
As an Amazon Associate I earn from qualifying purchases. For more details, please see our disclosure policy.
Put together a spa gift basket as a fun holiday gift.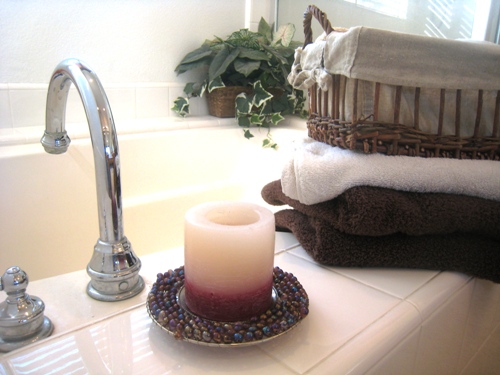 After a long day in the kitchen on Thursday, I treated myself to an at-home spa treatment. It's nothing too fancy: a soak in a hot tub, a facial (mud + moisturizer), and new paint on my toes.
It feels luxurious, but it's frugal and easy to do at home.
I might have added some candles, music, and a slice of pumpkin pie.
You can easily do a spa treatment at home. Years ago, I put together Spa Baskets for the girl friends in my life for Christmas gifts when I went on a soap making binge. I even included this at-home spa treatment pamphlet. Oh yes, total Martha-wannabe back in the day.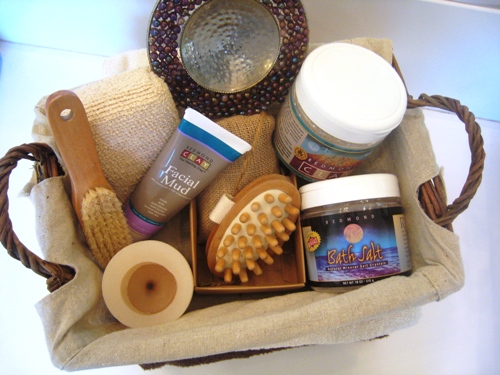 But, I might add that the little pamphlet is actually quite handy. It spells it all out, so you can easily pamper yourself. In case you don't know how. Which I didn't.
These Spa Gift Baskets are actually really fun gifts to give to friends at Christmas. Run by your favorite store and grab some of these items to fill a basket with:
candles and matches
washcloth
bathpuff
nail tools
bodywash
a good book
chocolates
facial mask
the cute little printable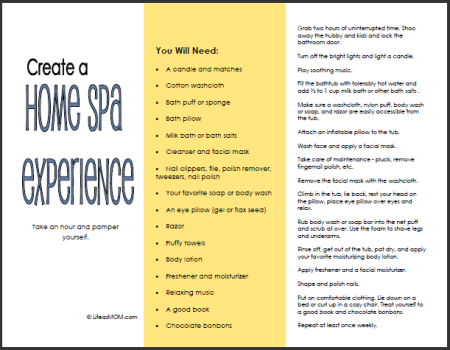 Recently I was sent some Redmond Bath salts and clay facial mask from Redmond Clay. I really like the products. When my face starts to feel like, well, thick and pimply, I put on this mask. I feel like a new woman. Well, almost. I've still got the wrinkles. And the age spots. But, my skin feels soft and smooth.
I started using the bath salts for this hip pain that I've had since May. I'm hoping that it will have a therapeutic effect. Even if it doesn't cure all my ills, it's always nice to have a good excuse for a hot bath!