DIY Spa Gift Basket (Printable & Filler Ideas)
As an Amazon Associate I earn from qualifying purchases. For more details, please see our disclosure policy.
Put together a DIY Spa Gift Basket for a fun — and frugal — gift. Not only can you customize what you add to suit the interests of your friend or family member, but you can also put together a lovely gift basket that fits your budget!
Whether you buy a number of commercial items or make your own Milk Bath and Hand Scrub, putting together a spa gift basket is super fun and such a welcome gift.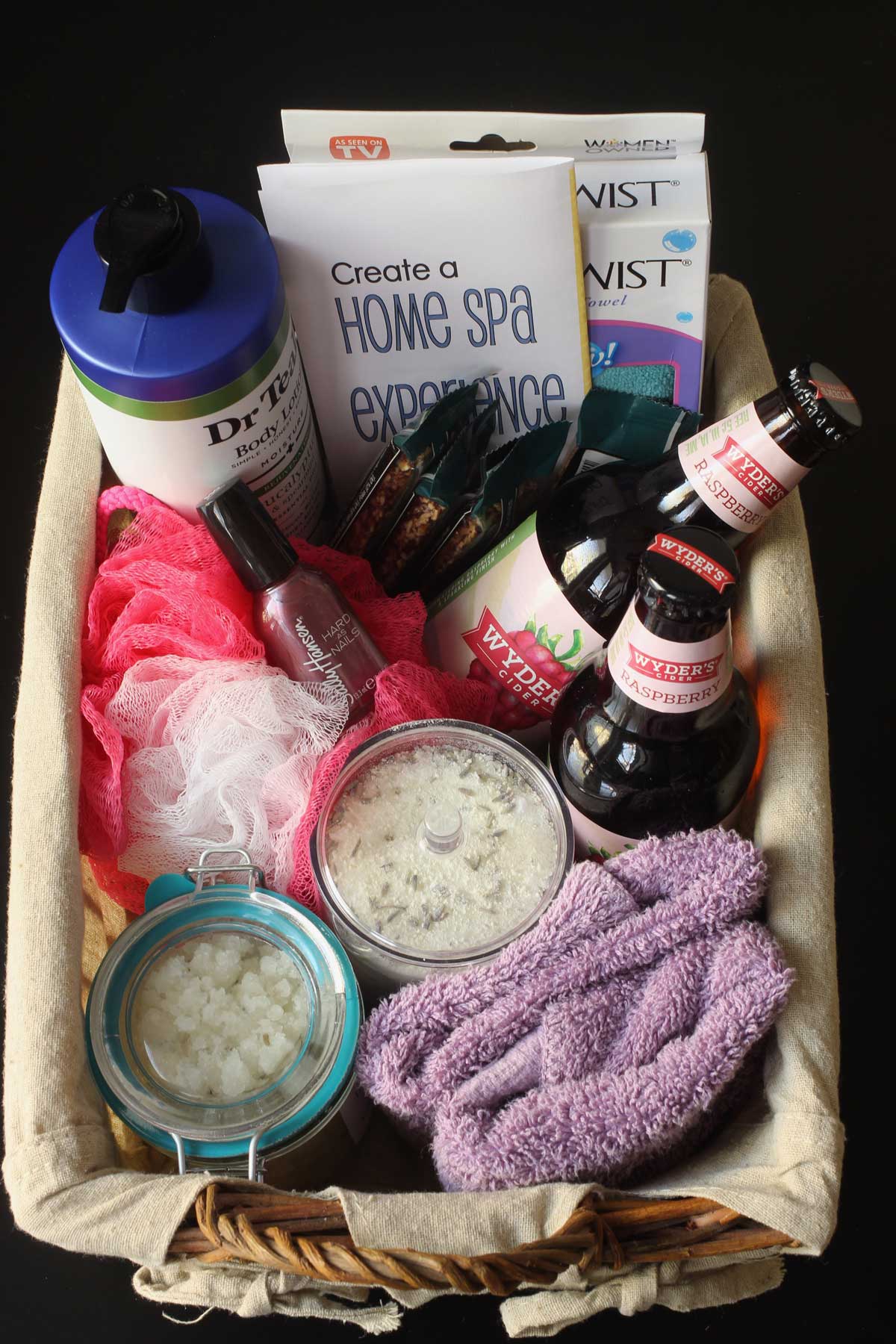 Want to save this post?
Enter your email below and get it sent straight to your inbox. Plus, I'll send you time- and money-saving tips every week!
After a long day in the kitchen on Thursday, I treated myself to an at-home spa treatment. It's nothing too fancy: a soak in a hot tub, a facial (mud + moisturizer), and new paint on my toes.
It feels luxurious, but it's frugal and easy to do at home. I might have added some candles, music, and a slice of pumpkin pie.
You can easily do a spa treatment at home. Years ago, I put together Spa Gift Baskets for the girl friends in my life for Christmas gifts when I went on a soap-making binge. I even included this at-home spa treatment pamphlet. And this was in the days before Pinterest!
Why Do This
It's a fun gift to give. I've never known a woman to turn down a chance or the encouragement to treat herself to a little R&R. All too often, busy women, especially moms, are so intent on serving those around them that they forget to take care of themselves. Giving a Spa Gift Basket is like giving permission to take care of herself.
It's a frugal option to a commercial spa gift basket. Depending on what you fill the basket with and how you shop, you can put together a deluxe spa gift basket for a fraction of the cost to buy one pre-packaged.
You can customize it however you like. A spa gift basket can vary a lot depending on the interests of the recipient. You can include the basket bath accessories, but after that you can explore a world of tastes and preferences, including the snacks you include. One friend might prefer a green smoothie while another will go wild for a mini bottle of champagne. Have fun with this!
Supplies
These Spa Gift Baskets are really fun gifts to give to friends at Christmas. Consider any of the following items to fill the basket: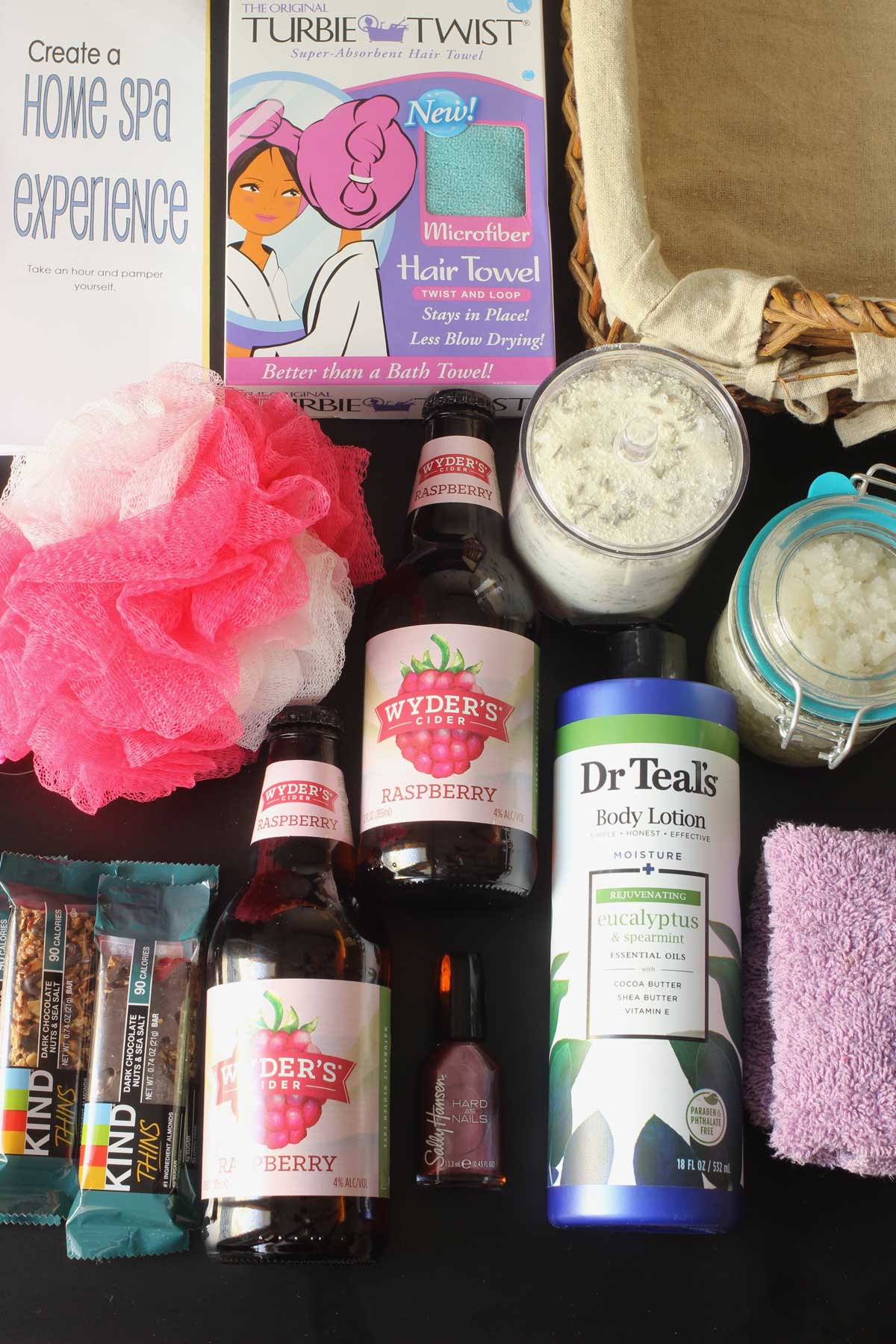 a basket, bag, or bathroom tote to hold all the supplies
aromatherapy candle and matches or lighter
washcloths, puffs, or other fun bath accessory
nail tools and polish
body wash, lotion, and other skincare items
a good book or magazine
chocolates, beverages, and snacks
facial mask
the cute little printable
let your imagination run wild – there are so many cool things you can add!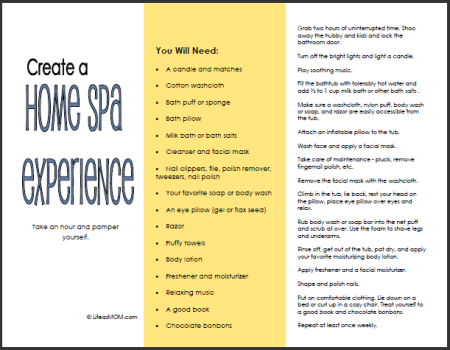 This printable pamphlet is quite handy. It spells out how to create a spa experience at home, super helpful for someone who's perhaps never gone to a spa or out of practice with pampering herself.
Step-by-Step Instructions
If the basket isn't already lined, consider adding some kind of filler to make sure your spa gift basket looks full.
Arrange the items in the basket in a way where it's easy to see the contents.
Deliver with a smile.
Pro tip: If you are assembling several Spa Gift Baskets for friends, be sure to make one for yourself. You are worth it!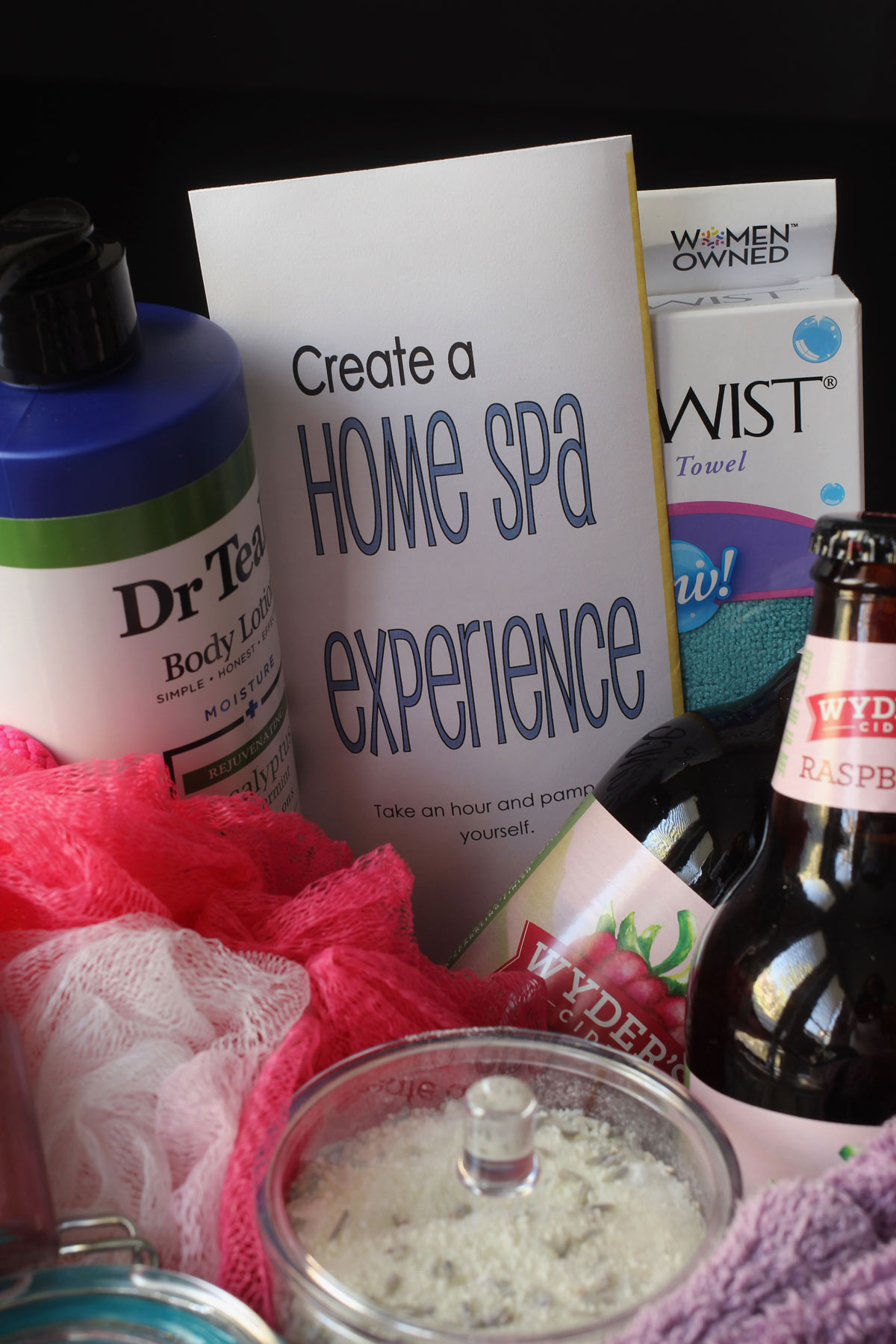 More Fun Gifts to Make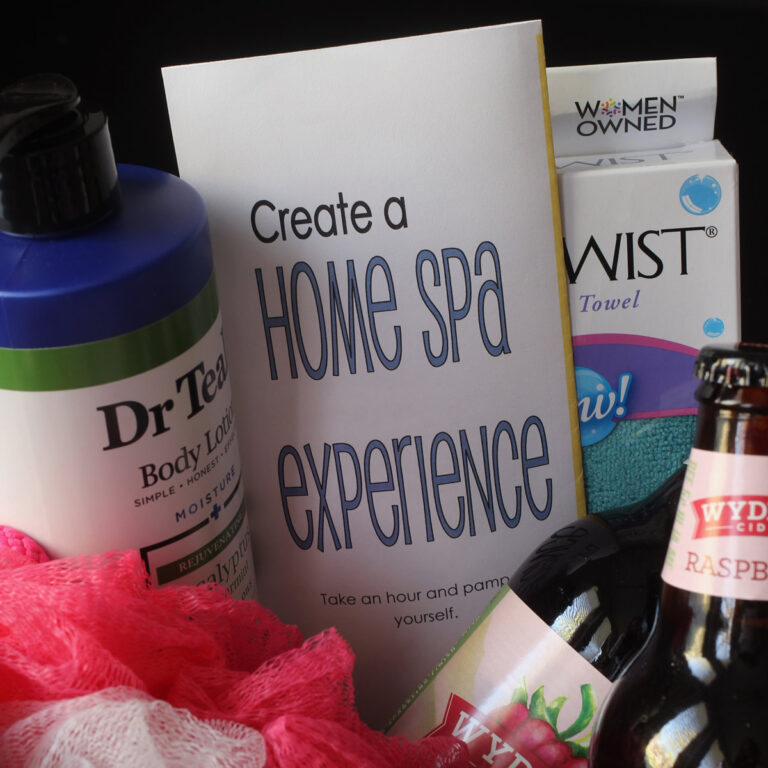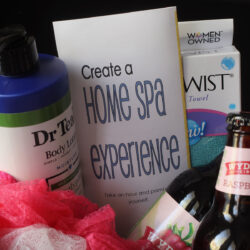 DIY Spa Gift Basket
Pull together a fun spa gift basket that is custom-made for your giftee.
Equipment
basket, gift bag, or bathroom tote
Supplies
basket filler, optional

1

candle

2

washcloths

1

bath puff

1

nail polish

1

body lotion

2

snack bars

2

bottles

hard cider

1

batch

milk bath

1

bath

hand scrub

1

copy

printable pamphlet
Instructions
Line the basket with filler if it's not already lined.

Assemble the items in the basket in a way that most everything is visible.
Notes
Feel free to vary the items you use to fill your spa gift basket so that they are customized to suit the recipient. The materials listed are suggestions to get you started. Have fun with this!
This post was originally published on November 23, 2012. It has been updated for content and clarity.