Playing a Game of Chopped for Kids
As an Amazon Associate I earn from qualifying purchases. For more details, please see our disclosure policy.
Want to give your children some practical kitchen skills and a sense of independence and accomplishment? Play a game of Chopped — for kids.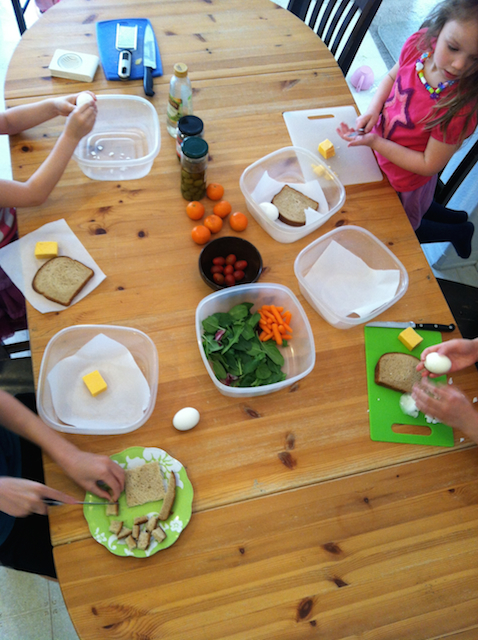 The littles love the Food Network TV program, Chopped. They've been watching it from time to time ever since we moved back to California five years ago. Though we no longer have cable, they are able to watch it via Amazon Prime Instant Video. Not all seasons are available, but enough that the kids can watch a program whenever there's TV time.
It's a running joke at our house to put ME through the Chopped judging system when I "present" a recipe that I'm testing. Everyone takes a turn giving feedback at dinner. You would think that they have a direct line to Ted Allen, Aaron Sanchez, Alex Guarnaschelli, and the other Chopped judges. I know I can breathe a sigh of relief when FishPapa says, "Chef Mama, it looks like you're going to the next round." Oy! Everyone's a critic….
A few months ago we started talking about "playing Chopped" at home. All my kids are very interested in cooking and creating. Some give me no peace about when it's going to be their turn to get cooking.
About a month ago when the big boys were gone for the day, I set up an at-home game of Chopped. There was actually pretty slim pickings in the kitchen that first time, but I set up four "baskets" with three ingredients each and laid out a limited pantry for them to supplement with and be creative. They had a blast. Oh my!
Want more help in your life as mom? Get the newsletter!
Sign up for the newsletter for bonus offers, surprise giveaways, extra content, and special deals.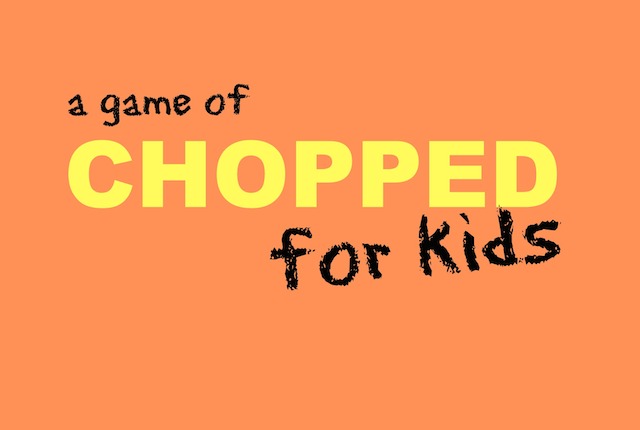 At the end FishBoy9 interviewed each of his siblings, asking them to "tell us about your dish" on camera. They really have learned a lot about food prep, presentation, and food description by watching food television. Wow! These people crack me up.
We've continued playing Chopped every couple weeks. The kids have a blast; I get the afternoon off making lunch; and they learn from their culinary mistakes. It's a total win in terms of entertainment and daily tasks, but even moreso when it comes to getting kids involved in food prep and making them more aware about healthy and not-so-healthy ingredients. This game is playing a major role in improving our family's diet.
Play a game of Chopped at home.
This is a pretty easy "game" to set up for your kids. Some kitchen skills are nice to have, but as long as you provide supervision, your kids will do great. Watching an episode or two of the TV show might help, too.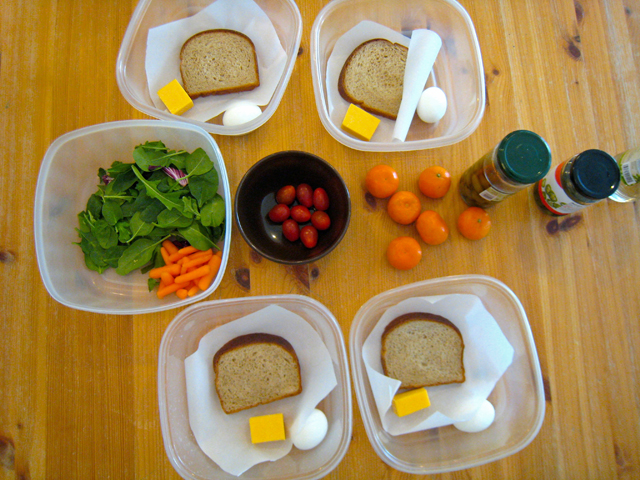 1. Prepare the baskets.
I have several large Ziploc plastic boxes with lids similar to these that we use for food storage. I commandeered four of them for our "baskets". I placed the same three ingredients in each one. If there are items that need to be cooked, go ahead and cook them yourself ahead of time. This simplifies the game and makes it just a wee bit safer for kids. I really didn't want four littler children running about the kitchen using the stove and oven.
Think of ingredients that are in different food categories, that might complement one another, but that are also distinctly different. The TV show uses vastly different ingredients to increase the challenge. You can do the same, depending on your kids' skill level. Here are some ideas of what you could include:
a rice cake, an orange, banana chips
a slice of bread, a hunk of cheddar, a hard cooked egg
cooked noodles, salad greens, a piece of fruit
a hamburger bun, nut or seed butter, a favorite veggie
There really is no end to the combinations that you could create.
2. Prepare the pantry.
Since I wanted to be able to supervise all the kids in one spot, I set everyone up at the kitchen table. I placed a limited "pantry" of extra ingredients that they could supplement their dishes with. By throwing in ingredients that were clearly "healthy" like fresh spinach and tomatoes, I got a glimpse at my kids' inclinations when it comes to healthy eating and made good choices available.
Depending on your kids' kitchen skills, you can provide the items pre-prepped or allow them the opportunity to make them themselves
Pantry items might include:
vinegar, olive oil, salad dressing, hummus, guacamole
nut butter, seed butter, Nutella
fruits and vegetables
cheeses in various forms: shredded, cubed, sliced
proteins like cooked chicken, hard cooked eggs, cooked beans
other condiments like mustard, ketchup, pickles, olives

3. Provide some kitchen tools.
Since I'm trying to teach my kids some independence in the kitchen, the kids who are seven and older are allowed to use sharp knives, the younger they are the more supervision I provide. You can't imagine the confidence this gives them! FishChick5 is counting the days until she can graduate from a table knife!
In addition to cutting utensils, I provided a cheese grater (that some used to zest citrus fruit!) as well as an egg slicer, cutting boards, and other small gadgets like a citrus reamer. My kids were allowed to go get something else that they needed or to use the toaster oven or microwave as they saw the need.
4. Take a step back.
I confess to being a micromanaging, control freak. It's only in the last few years that I've take a step back and let my kids do in the kitchen. This game of Chopped has shown me how very much my kids are learning. If your kids have been helping or observing you in the kitchen, my guess is that they know more than you think they do. Look at this!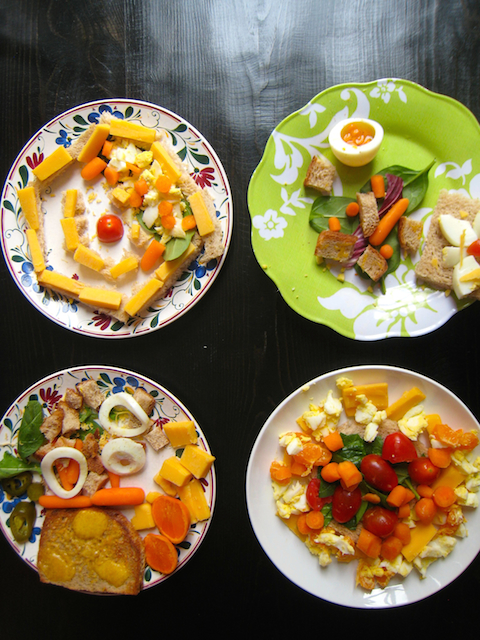 I was so surprised at their creativity in combining foods and presenting them on the plate. They just need the space to explore and make some mistakes.
Speaking of mistakes…. in this game, each child is preparing his own lunch. He can't get too wacky because he has to eat it! No pawning weird things off on a judge. Ahem.
Sometimes they realize that their creation isn't as tasty as they had hoped. This can be something simple like "I used too much vinegar" to "I shouldn't have put that dressing inside the egg. It tasted good by itself but wasn't good in the egg."
I have made 5,987,004 mistakes in the kitchen and I've learned from (some) of them. My kids are doing the same. While I don't advocate wasting food, I do think that this is a valuable lesson, particularly if only one lunch plate (as opposed to the entire family meal) is at risk.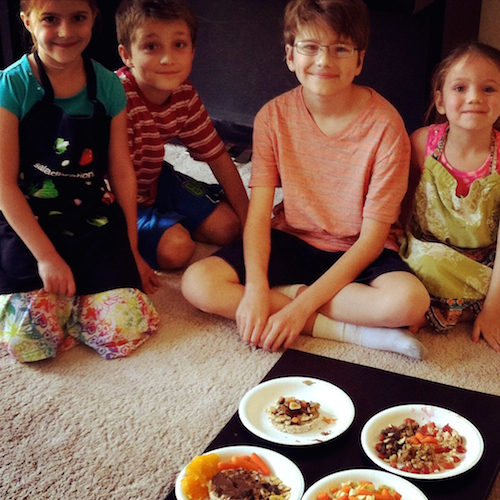 5. Enjoy the interviews.
One of the most fun parts of this is listening to my kids describe their dishes. They are so proud of their creations and eager to share what they have created. I'm increasingly amazed at their presentation skills. While they might not all become culinary professionals, this practice of presenting their work translates into all kinds of careers and honestly, it's just plain fun.
When the big boys have come home to see pics of our Chopped endeavors, they've been interested in their siblings' kitchen endeavors and have even expressed an interest in playing the game as well. The game of Chopped is quickly becoming one of our favorites.
How do YOU include your kids in the kitchen?