Little league season is rife with weekly practices and games as well as the age-old tradition of bringing snack. Consider these tips for a happier and healthier team snack.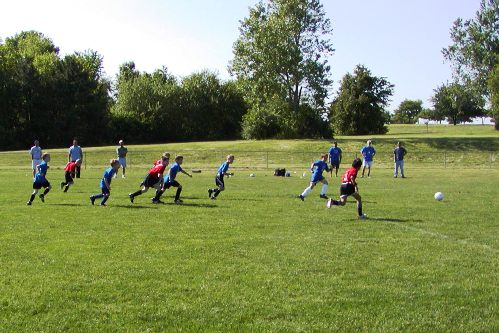 Over the years the FishFam has dabbled in a few sports. We've done t-ball, soccer, and now a few of the boys are trying their hand at hockey. There are many similarities among the sports including the inevitable seven-year old chasing butterflies in the outfield, backfield, or corners of the rink.
The other overriding characteristic is the importance of team snack. Only one of our teams this season does snack. It is a huge deal to the FishBoy in question.
So much so, that when asked what he was thinking about while chasing butterflies during the game he said he was wondering what the snack would be.
While I am trying to improve our family's overall eating habits, I have not yet taken to imposing that on folks outside our family circle. As one of the older brothers stated, "You could take carrots to FishBoy's snack and then all the kids on his team would hate him."
Great. Just what I need, a child scarred for life over team snack.
Want more help in your life as mom? Get the newsletter!
Sign up for the newsletter for bonus offers, surprise giveaways, extra content, and special deals.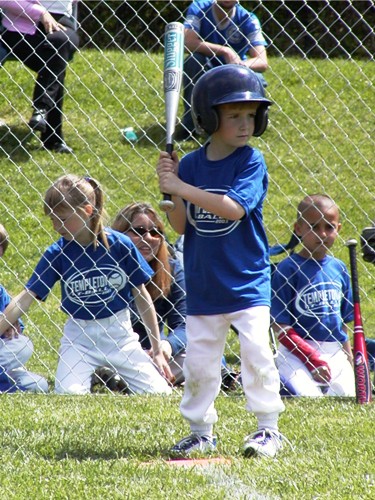 However, there are some fairly happy compromises that you can consider when providing team snacks. Here are some things I like to keep in mind:
Prepackaged is best.
While I want home food to be minimally processed, realistically, prepackaged is easier and more appropriate in some circumstances.
I shy away from homemade items on snack day because I want the other parents to feel comfortable and not wonder what my kitchen is like. That's what would make me feel most comfortable as well. Plus, having pre-packaged convenience items makes it easy to pass out snack as well as store leftover items for another time. We save the leftovers for a fun treat for when we fill the fanny packs  for Disneyland.
While many moms of kids with allergies bring alternatives, it's nice for you to be conscientious of the kiddo who might feel left out. The list below offers a range of items that can be mixed and matched to accomodate dairy, gluten, or nut-allergies. Be sure to read labels carefully and to consult the child's parents if you need help or have questions.
Consider younger siblings.
While you are in no way obligated to feed the families of the players, if it's in your budget to bring extras for younger siblings, that is always a nice gesture. The mom or dad who's been trying to keep the baby or toddler happy during the last hour will be so grateful that you have something to share with their little one.
Enough is as good as a feast.
My little guy takes his cues from the snack Coach D brought the first week of the season. I indulged him when our first snack day came, but it was easy to see that he could go crazy if I let him choose all his "favorites". Remember that a drink and one snack should usually suffice.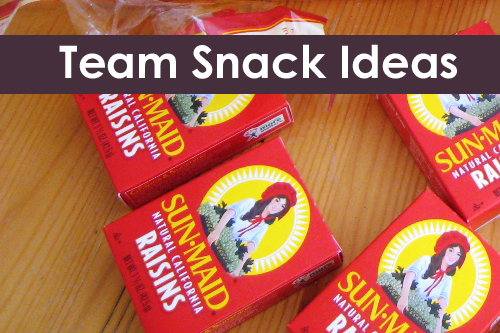 Healthier Options for Team Snack
Chilled beverages
Bottle water
Juice boxes or pouches
Dye-free sports drinks – while these still have processed sweeteners, they are a welcome alternative to drinks loaded with artificial coloring
Snacks
Yogurt tubes – there are a number of brands that are free of dyes as well as high fructose corn syrup. If you freeze them the night before they are kind of like a popsicle which is very cool (pun intended) for hot days.
Applesauce in the pouches – no need for a spoon and the GoGoSqueeZ brand is unsweetened
Cheese sticks, individually wrapped
Individual bags of Pirate's Booty, crackers, and granola bars
Individually packaged fruit snacks, fruit leathers, dried fruit, apple slices, apple chips
Individually packaged baby carrots (yes, really)
Team Snack is part of the child's team experience. For my guy, they are a big part. While you don't want to get your kids all hyped up on sugar, neither do you want to poo-poo this fun aspect of being in little league.
You can find a happy — and healthier — balance in there.
What's been your experience with team snacks?