Bob the Builder Birthday Cake
As an Amazon Associate I earn from qualifying purchases. For more details, please see our disclosure policy.
We love Bob the Builder around here. We really do. You would think that now that the toddlers in the vicinity are girls that we'd have moved on to My Little Pony or something. But, no. FishChick loves Bob.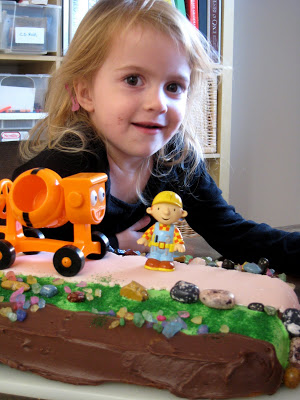 It may be that we just have more Bob the Builder movies than any other character or she just really truly loves him. But, he's her first request when it's her turn to choose a video.
Either way, he was her birthday cake request as well. She faltered at one moment and diverted to Tinkerbell, but she quickly came back to Bob. Thank goodness, 'cause I was not about to traipse through Walmart in search of Tinkerbell action figures and through my brain looking for a cake idea in the final hour.
This is one of the simplest cakes you could make. And it looks so cool, you will be amazed and astounded. You can change the birthday cake theme to make whatever character your kid loves. This little scene is adaptable for almost anything.
Probably the best part about making this cake was having FishChick help me. I frosted and laid down the road. She did everything else. So fun!
For this Bob the Builder Birthday Cake, you'll need:
a 9×13 sheet cake, baked and cooled completely
a serving tray (I used a cutting board, but you can use a cookie sheet or a cardboard cake board)
chocolate frosting
green frosting (You can easily dye purchased white frosting with paste food coloring)
pink fondant
green sprinkles
candy rocks and chocolate pebbles
Bob the Builder toys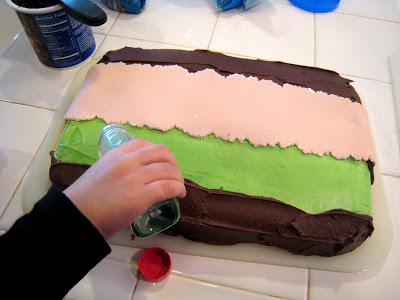 Frost the sheet cake in three strips of color: chocolate on the sides and green down the middle. Roll out the fondant on a surface lightly sprinkled with powdered sugar. This will be your "road." You can trim a straight edge on the fondant or let it be rough and rugged. You can tell which I chose. Place the fondant on the cake overlapping one brown and green border. Sprinkle green sprinkles over the green frosting.
Place candy rocks and gems all over the place. Place Bob and one of his machines on the road.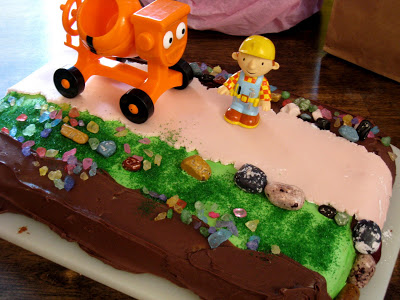 Like what you see? I've got an ebook featuring a Baker's Dozen of Creative Birthday Cakes available for purchase.