Our European Vacation: London and Home Again
As an Amazon Associate I earn from qualifying purchases. For more details, please see our disclosure policy.
This fall we spent a month abroad where we visited London, Paris, and a handful of cities in Western France. We explored, rested, and learned a ton about ourselves and the world. This is the twelfth and final installment of our European adventure. If you missed it, go to the beginning here.

When last we left our fearless travelers they were sitting in the Gare du Nord of Paris, for hours, waiting for their train to depart….
After a four hour wait, we were finally allowed into the Eurostar lounge. The Eurostar is the train that travels from Paris to London, across land and under the English Channel. Pretty cool, eh? We really enjoyed both our train trips — so much more comfortable than the car (no wrong turns!) or the plane (lots of elbow room). I'd take the train to Europe from here if we could.
We arrived in London on a Saturday night. We took the tube to our hotel, once again in the Kensington and Chelsea neighborhood near Earl's Court. Unfortunately, when I did the booking, I was not able to get us rooms at the Premier Inn again. Instead we stayed at the Kensington Hotel, an old and dusty, but fine for our purposes hotel. Again, two rooms for the eight of us.
We had three nights and two days to spend in London before we headed home. The first night we went back to The Prince of Teck, the pub we had gone to our first night in England a month prior. Unfortunately, neither the food nor the service were as good as they'd been before. Oh well.
The kids had been wanting a full English breakfast so we tempted fate at The Prince of Teck again. We were a little underwhelmed. We're kind of connoisseurs of big breakfasts and it really wasn't all that exciting. Bummer!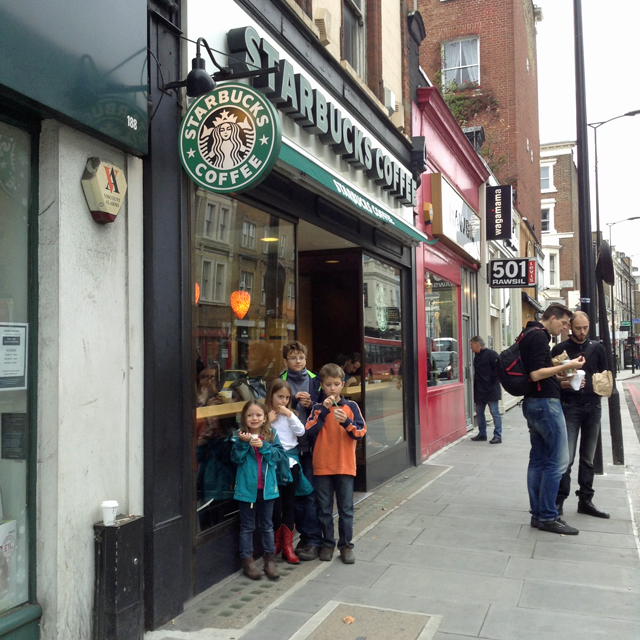 Since we'd spent three days in the same neighborhood on our first stop in London, we knew our neighborhood well. We really loved the familiarity that comes with staying in the same place, going to the same stores, etc. We discovered during this stay that Starbucks will give free "babycinos" to kids. This was a great treat for the littles without paying a big price.
Our first day was Sunday. Our time in London coincided with the beginning of the French fall break. That meant that half of France was in London with us. Yikes! There were crowds everywhere.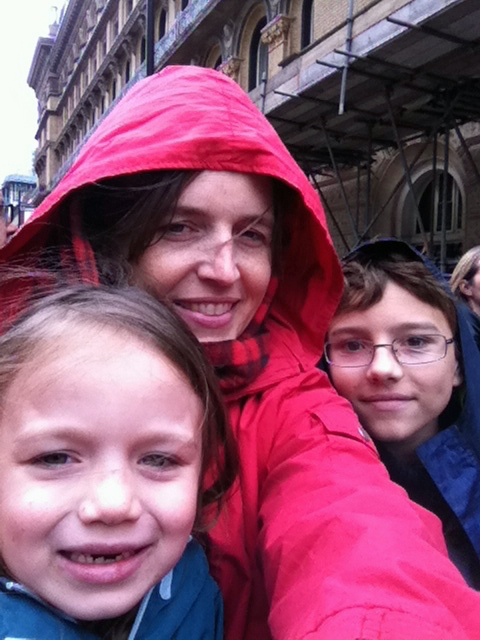 It was a cold and chilly day and the city was CROWDED. As God would have it, we booked tickets on a HoHo bus (hop on – hop off). In theory, we could have gotten off and back on throughout the day wherever in London that the Big Red Bus stopped. However, once we all found seats on the top of the double decker and realized what a great tour guide we had, we chose to stay on the bus the entire time.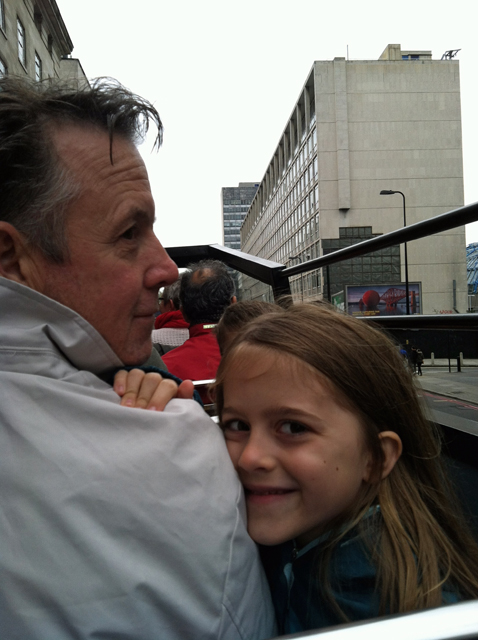 We got to see lots of London that we wouldn't otherwise had a chance to see since the city was so crowded that Sunday.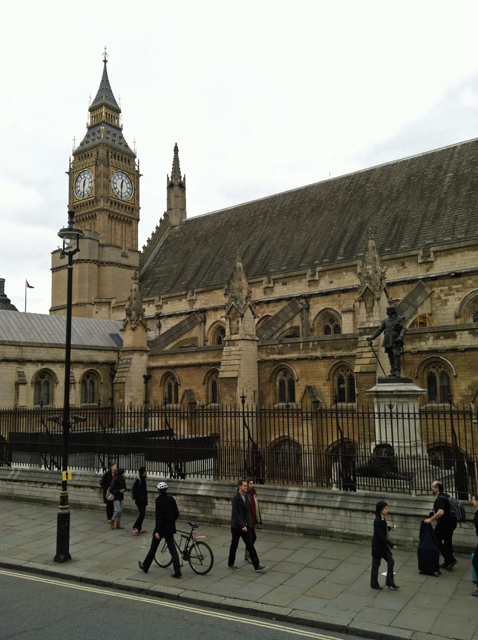 The streets in these pictures may be sparsely populated, but at the stops and at the entrances to the different monuments and museums, things were pretty chaotic.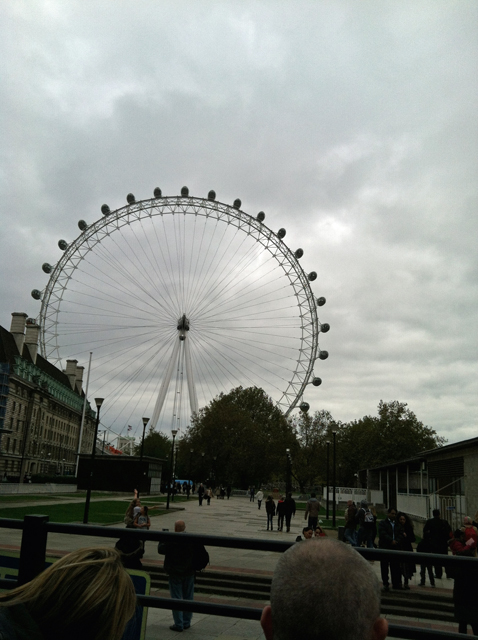 I don't think we could have seen on foot even a fraction of what we saw from the bus.
This Sunday was two weeks before Remembrance Day (Veteran's Day) when the poppies were on display at the Tower of London. It was an amazing sight!
We hopped off at one point to grab sandwiches from Pret a Manger and then got back on the bus for the ride home.
That night we decided to splurge at Zizzi. This was a restaurant that I had spied out via the internet back home. It's a wonderful chain that offers a very specific food allergy matrix. It was so helpful to know what FishChick6 could eat safely. (More on European travel with a food allergy later.)
Zizzi was not cheap, but we had such a great dinner! I had the Chicken and Prosciutto Salad while FishPapa had this huge pizza. The littles had the kids meals that came with crudite, pizza/pasta, dessert, and hot chocolate. We had a blast, even though we spent $160 to feed the whole family.
The next day we took the tube out to one of the Imperial War Museum locations. FishPapa had really wanted to see Duxford, but it was too far away for us to go this time around.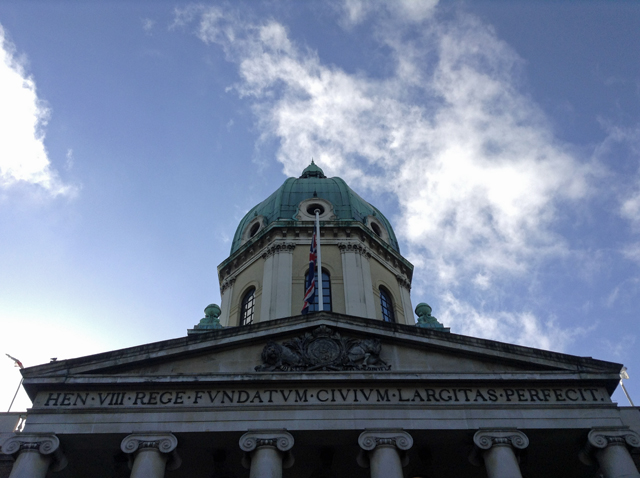 The IWM had a great WWI exhibit.
After the morning stop at the museum (free admission!) we went to a local pub, The Ship, for lunch. The food wasn't great, but we had the place to ourselves and it was a quaint little spot.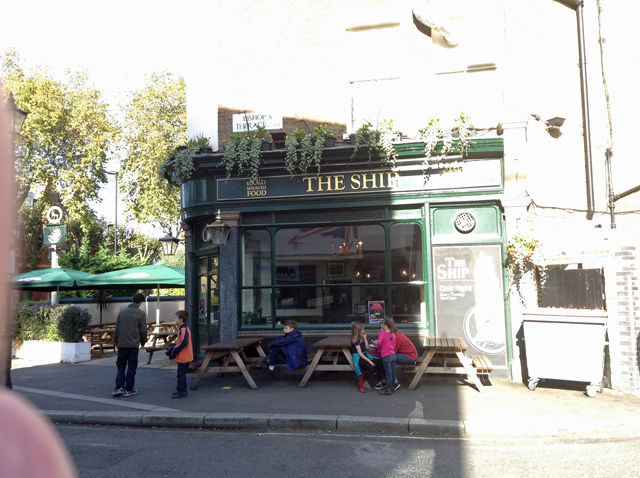 We returned to the museum where I watched the littles on the playground while the older men in the family finished up the exhibits.
That night we went back to Zizzi for dinner. We couldn't help ourselves! The next morning we took the tube — eight of us, eight suitcases, and eight carryons. Only this time we knew what we were doing!
It felt really good to head back to Heathrow, knowing that we had accomplished great things. We had traveled abroad for a month with a large party and seen some amazing sights, eaten delicious food, visited with dear people, and otherwise learned a little bit more about the world. We were tired and ready to go home, but at the same time, eager to return to the UK.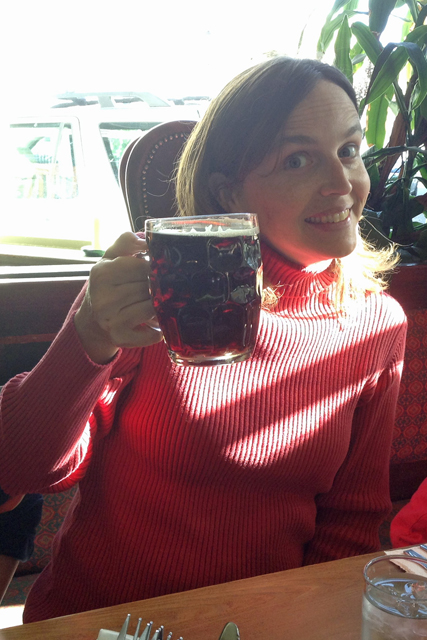 We are hoping that we will make it back to Europe in 2016. Earlier this year I was hoping to add Hawaii in between, but my desire for Europe currently exceeds that for sandy beaches. We shall see!