Travel Kits for Families
As an Amazon Associate I earn from qualifying purchases. For more details, please see our disclosure policy.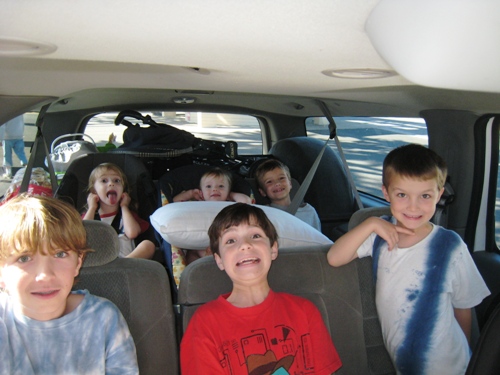 Getting ready for a trip? With the holiday season upon us, families find themselves packing the kids, the dogs, the food, the presents, and a partridge in a pear tree into the family mobile and heading out on the open road. Traveling with children can be a wonderful experience. But, it can also be worse than a root canal if you're not prepared.
Experience has taught me that you don't want to incarcerate yourself in a vehicle with one or more children without some advance preparation. That means entertainment and snacks. You're on your own for entertainment. Our CD player busted a few years ago as did the travel TV/VCR combo. Our kids tend to entertain themselves. Or the GameBoy and DS do….
I concern myself more with infrastructure. You know, necessary items, those that prevent whining and those that help me in the case of a blowout — diaper, that is. For those, you need a few travel kits.
Last spring I found these very handy plastic shoe boxes with snapping lids. They are the perfect size to hold a lot of kid supplies in a compact package that also slips under the seat of the car!
One travel kit is for snacks. It includes paper products and nonperishable snacks. This box looks like a birthday party, doesn't it? Junk food and Nemo, what a combo. Truth is the junk food was cheap or free (after coupons) and Nemo was a clearance table purchase. I suggest you first raid your pantry to see what you have.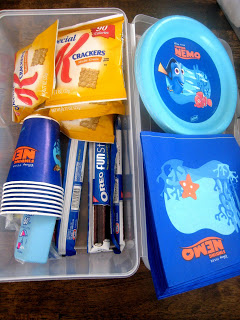 Some great car-friendly, kid snacks:
trail mix
dried fruit
fruit leather
crackers
cookies
pretzels
juice boxes
peanut butter
applesauce
Don't forget to include utensils and anything else you might need for an impromptu picnic, including a tablecloth. Often the fast-food restaurant you hit on the road forgets to provide necessary napkins and forks. If you've got your travel kit, you're set.
Our other box is a diaper-changing box. Despite your best-laid plans, the diaper bag can get left at home, forgotten at Grammas, or it may just simply lack what you need. Having a box with diapering supplies is a blessing and a half!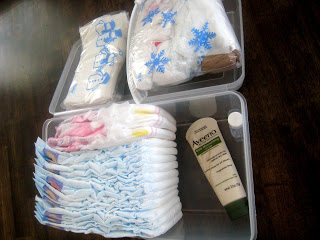 Things to include in a Diaper-Changing Kit:
diapers
wipes in a ziploc bag (small size that is easy to refill)
plastic grocery bags for disposing of soiled diapers (a lot of these bags will fit in a ziploc)
diaper cream
lotion
hand sanitizer
With a little pre-planning and pre-packing, your road trip with kids can be a smooth ride.
What do you take along to make your car trip a pleasant one?