Homeschooling with Little Ones
As an Amazon Associate I earn from qualifying purchases. For more details, please see our disclosure policy.
The following is written by LifeasMOM contributor Lauren: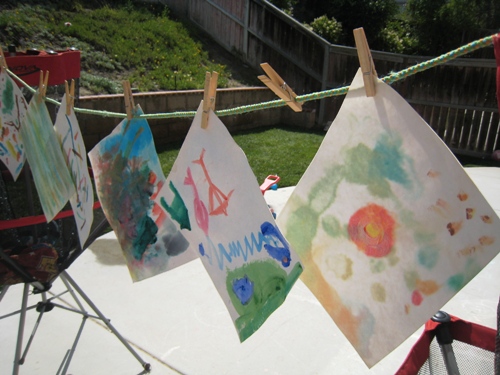 Last year was my family's first year of homeschooling. It was also a year in which we added a new baby to our family. To say it was 'fairly busy' is quite the understatement.
This summer, I took the time to really reflect on our past school year – what worked well and what didn't, what I could do better, what I should do differently, which curriculum would be a better fit. And I came back to the same issue over and over:
I needed to be more intentional with my littles.
Last year I didn't really have a plan for them during our scheduled school hours. Sure, I had puzzles or construction paper available but that just wasn't enough. I wasn't purposeful in finding ways to teach them or occupy them during school time. I'm a big believer in free play for my little ones, but I can see that some of the chaos could have been avoided if I had been more intentional.
Research and More Research
After arriving at this revelation, I got to work. I spent hours researching ideas and projects that my younger crowd could work on.
While brainstorming ideas, I realized that I needed to add my younger ones into our homeschooling budget. I assumed that I would buy curriculum for only my 6 year old this school year. But I could quickly see that I would need a good stock of art supplies and printer paper for my little ones if we were going to succeed with this new plan.
So after spending a ridiculous amount of time brainstorming and researching, I finally felt like I had a handle on what and how I needed to plan for my littlest people.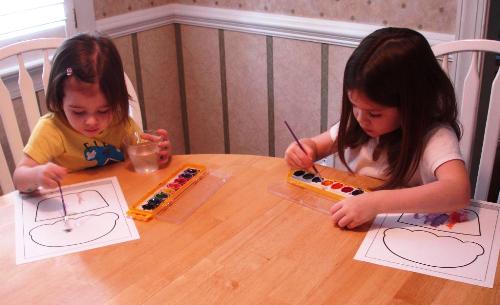 School Time Activities for Little Ones
These activities are the favorites at our house during school time. Some activities are completely independent while some require one-on-one attention from me. I use these ideas for my 4 and 2 year old girls. The baby has her own box of toys in the school room to play with during school time.
Paint-with-Water books
These books are cheap at the dollar store! I put the water in a beautiful little tea cup to make it seem like a special event. If they are not painting within my eyesight, I have a special stack of purple paper cups they use.
Do-a-Dot
Let their imaginations run wild on construction paper or you can download these printable Do-A-Dot ABC sheets. We use these several times a week since Do-A-Dots are so popular around here.
Flannel boards
I found cheap flannel boards on Michael's sidewalk sale for $2 each. The girls love making the scenes over and over.
Pattern Blocks
My girls love these! Let them use their imaginations to build animals or practice their letters. You can also print these pattern block worksheets for them to use. I printed the ones in color and the girls use them as a type of match game.
Making cards for family and friends
We make a lot of cards at our house. I do the writing and they do the gluing. There doesn't need to be a special occasion for card-making. Simply an 'I Love You' card is fun to make and appreciated by the recipient. And gluing a ton of little sequins on them just adds to the fun.
Hundred Boards
We use hundred boards weekly in our school for many different reasons. We love them! For the girls, I create patterns on their hundred boards using foam shape blocks I bought in the craft section of Walmart. They love to finish the pattern and then create one for me to solve.
Practicing Scissor Skills
My 4yo loves to use scissors. I was a little reluctant to let her use 'the big girl scissors' as she calls them, but practicing with her pink scissors has drastically improved her dexterity. She cuts everything from a stack of coupons to shapes I've drawn on a piece of paper to fun scissor printables.
M&M Eggs
Who knew that this would be such a loved game! While (literally) tripping over a bag of plastic Easter eggs in my attic, I had the idea for this game:
I fill one dozen Easter eggs with something small that rattles when it's shaken – little rocks, rice, beans, dice, erasers, paper clips, tacks. Then the girls take turns shaking eggs, making a prediction of the object inside and then discovering what the egg contains. What makes this so much fun is that I fill one of the Eggs with M&Ms and they try to be the first to find the prized egg. They split the M&Ms at the end, so the winner must share (with each other and with their Mama!). This is a fun game for me too!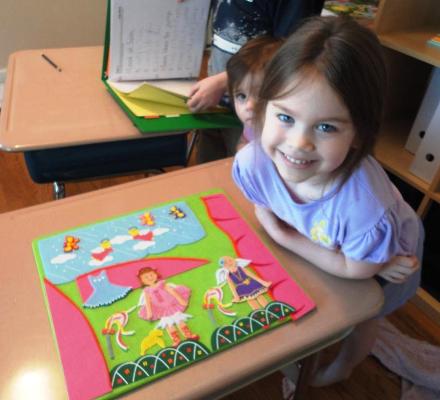 I discovered several key factors in having (mostly) successful school days with my little people:
1. Have a large rotation of activities to pull from.
I have at least 10 from which I can choose. I dream of having around 20. If they aren't doing the same activities over and over, they'll seem 'new' every time they come back up in the rotation.
2. Set aside time each week to re-stock items.
Scissor Skills are no fun if we can't find the scissors and I neglected to print any practice sheets.
3. Plan for my preschoolers just like I do for my school-aged child.
Our school days are much smoother if I have a deliberate plan. I try to have a mental idea of items to suggest at the beginning of the day. But if all else fails, I just look at my Master Activities List.
What are YOUR best tips for schooling with littles?

– Lauren Hill is the 'Mama' behind Mama's Learning Corner, a site that features all kinds of educational ideas and tips as well as free printable worksheets. She is the mom of four young children and loves to learn alongside them.