6 Simple Ways to Exercise as a Family & Help Get Kids Fit
As an Amazon Associate I earn from qualifying purchases. For more details, please see our disclosure policy.
I have never been very good at playing sports. Well, actually, I was so worried about making a fool of myself, I never really tried. In fact, as a child I would fake a tummy ache in school so that I could avoid PE. It worked the first day out of every school year.
And then the teacher caught on.
My distaste for playing sports and exercising continued into my teen years. Coach Crummet yelling, "Move it, Getskow!" didn't really spur me on to greatness in Freshman PE. He knew my dad was big into sports and running and so that didn't help my case any.
I clued in eventually. In my later high school years, I "lettered" in a Varsity sport — baseball. I kept stats for the team and got PE credit for it. Ha!
Yet, as an adult, I realize the importance of physical exercise. And since I have four very active young men under my charge, I have realized that exercise — for my kids — is crucial for mental well being – theirs as well as mine. They sleep better and have a better disposition when they've run off steam. And that helps us all be a little more cheerful.
I've also come to realize that my metabolism is slowing down as I age. And extra bulk around my waist can no longer be blamed on a baby. That is mine. I understand that exercise is good for all of us.
Unless your family is active in team sports, it can be a little tricky to find ways to get everyone fit. Your kids may or may not be getting enough exercise at school. And for homeschoolers, well, we're our own PE teachers, aren't we? We all need to get out and get physical.
Here are some simple ways that you can exercise together as a family.
1. Take walks in your neighborhood.
I have fond memories of going walking with my mom or dad after sunset, especially on holidays and summer vacation. The streets were quiet and cool. We were able to talk. And depending on how ambitious we were — or how hard Dad the Athlete would push — it was a fare workout. Favorite walking spots of ours are along the beach or around a local lake.

2. Ride bikes.
Most kids love to ride bikes. But it can be tricky to make riding into a family affair. A few years ago we invested in a trailer to attach to FishPapa's bike. This enabled him to take the younger children along on rides with the bigger boys. While the younger ones obviously don't get much exercise, this set up increases the others' chances of getting a better workout as they don't have to wait for someone on a trike to catch up.
3. Run around the track.
Find the nearest college or high school track that is open to the public. Bring the baby jogger if permitted and let everyone go at his own pace around the track. Most tracks have good visibility so you should be able to see your kids even though you might not be running right alongside them.
4. Have foot races.
My kids love it when I time them in running foot races at the park's big grassy field. Even the baby gets into it, though it takes her 100 times longer to make it "to the tree and back."
5. Shoot hoops.
When I was growing up my dad refereed high school and college basketball games, so balls and hoops were the norm around our house. While I wouldn't ever want anyone to see me shooting baskets, it was a great way to get a little exercise — when no one was watching, of course.

6. Swim.
Swimming is fantastic exercise and a necessary life skill to have for water safety. Even though some pools are closing as Fall approaches, many communities have indoor pools that allow you to continue swimming all year round.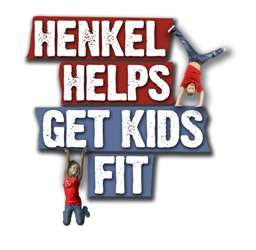 Henkel Helps Get Kids Fit
There are lots of ways that you can help your family — and you — get the exercise you need.
Henkel, a sponsor of Back to School Inspiration and the maker of Loctite, Purex, Dial, and other popular brands, is working to help get kids fit.
As you may know, obesity in the US in on the rise, and yet physical education is on the decline. Henkel Helps Get Kids Fit is offering one school $25,000 "to be used toward providing enhanced health and fitness education, equipment, technology, resources and service for their students and community."
Submit a 700 word essay, answering the question, "What Would Your School Do with $25,000 to Improve Youth Fitness?" in order to nominate your school.
Finalists will be given free Flip cameras to document their school's unique health and fitness challenges and to propose a plan for making the most of a great prize.
And for families, there is a $5,000 sweepstakes to enter in which one lucky family will receive a cash award to improve their family's own exercise program.Visit Henkel Helps Get Kids Fit for more information about these contests.
What a great way to encourage families, schools, and communities to get out and get fit!
What's YOUR family's favorite way to exercise?
– Disclosure: Henkel Helps Get Kids Fit is an advertising sponsor of Back to School Inspiration. I was not compensated to publish positive comments. My opinions are my own. Please see my disclosure policy for more information.