Why We Give Our Kids an Allowance
As an Amazon Associate I earn from qualifying purchases. For more details, please see our disclosure policy.
We give our children a set amount of money each month. They don't have to "earn" it. It's an allowance without strings.
I'm not sure exactly when we started, but after years of hemming and hawing, we began the practice of a weekly allowance. At the start of each month our kids get a set amount a money, one dollar for each year of age.
Amounts of $6, $8, $10, $12, $14, and $17 (totaling $67) leave my wallet and enter theirs. There are no requirements of what they do with their money, though we certainly talk about it. And we retain ultimate veto power on extreme purchases.
We give our kids an allowance so that they can learn about money.
An allowance serves as a teaching tool at our house. We give the kids a small amount of money to do with as they please. If they make mistakes, they make mistakes. We help them learn from them. If they make wise purchases or savings, we encourage their accomplishments.
While there are lots of arguments about chores for pay and chores not for pay and allowances linked to household participation, we have chosen to separate these skills.
Our kids are responsible to do their laundry, to manage a 3 times/day kitchen task, to tidy the living areas, to share cleaning of a bathroom and to maintain their rooms.
There really isn't an option to do or not to do chores at our house. So far — knocks on wood — no one has bucked the system. Our kids know that there will be no play until they've fulfilled their responsibilities.
Sometimes they do extra work without any compensation other than our thanks. This past weekend FishBoy14 helped my husband rotate the tires on my car while FishBoy12 learned how to use the electric drill. We didn't pay them, but they helped my husband who's injured as well as learned valuable skills.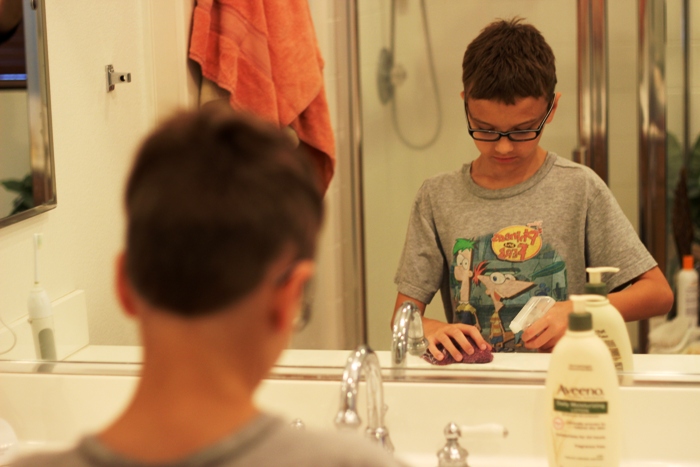 Our kids can choose some chores for pay.
Occasionally I have jobs that need to be done that don't already fall under someone's responsibility or they are too gross not to offer some compensation. Things like cleaning and vacuuming the car fall into this category where I pay a small amount of money in exchange for someone's go-getter-ism.
If no one volunteers, I have been known to assign the job without pay. Ha!
Our kids get money to spend, unrelated to their chores.
Years ago at different homeschool events, I heard Susan Wise Bauer talk about teaching two new and different skills separately. She said that kids struggle to do them together, particularly if they are new skills. Applying this to the area of allowances and chores makes sense to me.
We want our kids to make wise choices with their money as they age. They need practice to do this. What better time and place for them to get the practice than to do it now, in our home. I'd much rather they made mistakes while we're here to help than later in the Big Bad World.
In the next couple months our eldest will be getting a job and a banking account. I'm thankful that he's going to college locally so that we can guide him through the next steps.
This has worked for us for the past two years. Believe me when I say everyone looks forward to Payday! It took us fifteen years of parenting to land on a solution that worked for us.
Obviously, other families make different choices based on their own unique situations. I'd love to hear what works for you. See you in the comments!
Do you give an allowance?