Kids Can Clean the Bathrooms (with FREE printable checklists)
As an Amazon Associate I earn from qualifying purchases. For more details, please see our disclosure policy.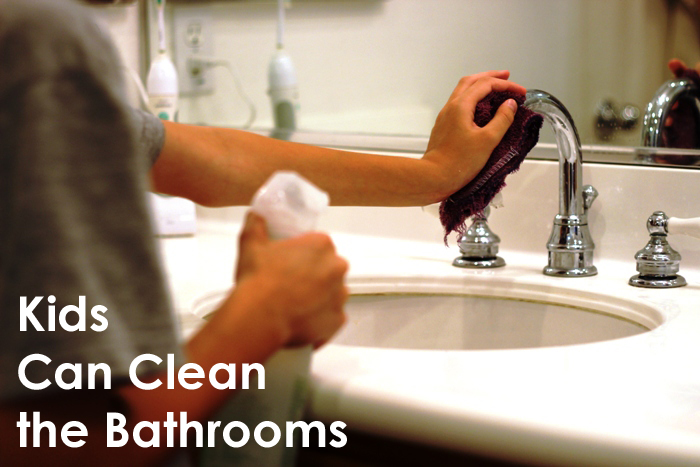 Once upon a time, I did the bulk of the housekeeping on my own. Today, my kids help share the load. I'm both humbled and amazed at where we are today. (Hang in there, mamas of little ones, your time will come!)
Now with children aged 16, 12, 11, 9, 6, and 4, I have lots of helpers for house cleaning projects. They share a monthly rotation of kitchen jobs, take care of their own laundry, and the older ones each clean a bathroom on a weekly basis.
While these things aren't done perfectly or rival that of a cleaning service, it's good enough. It's going to all get dirty again in 5 minutes anyway! And I'm hopeful that we're raising responsible people who know how to take care of themselves and to help those around them.
Plus, maybe I'll get bonus points with my daughters-in-law someday when they find out their husbands can clean bathrooms!
As I said, this didn't happen overnight, and ours aren't absolutely pristine bathrooms, ahem, but we're working on it.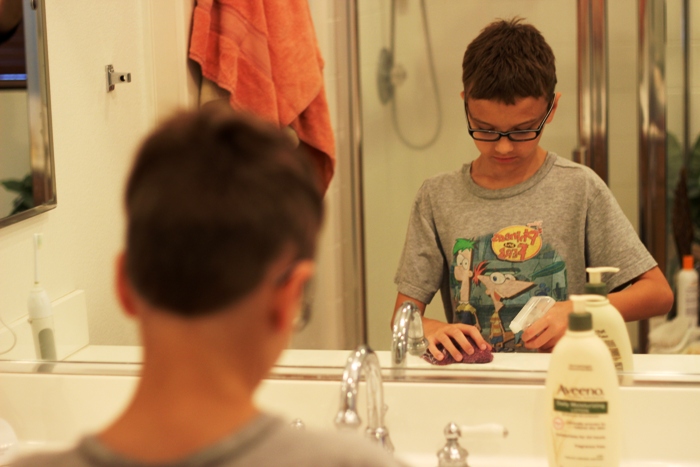 What does a clean bathroom look like?
Over time, I've realized that I really have to spell out my expectations for the kids. Then we're both clear on what they need to do and if it was accomplished in the end. I'm that pain in the rear kind of mom who will often call them back if it's not done completely. Neither of us wants that.
Here's a sampling of what I consider a clean bathroom:
The trash can is emptied.
The toilet is scrubbed inside.
The toilet is wiped down on the outside, including the base.
The mirrors are shiny, no spots
The sink is scrubbed clean.
The counters are wiped down.
The floor is swept and/or mopped.
The soap container is at least half full.
There is soap and shampoo in the shower or tub.
There are fresh towels and plenty of toilet paper.
The dirty laundry is where it belongs.
The shower or tub has been scrubbed.
The Clean Bathroom Checklist
If this matches your definition of a clean bathroom, grab this free printable checklist.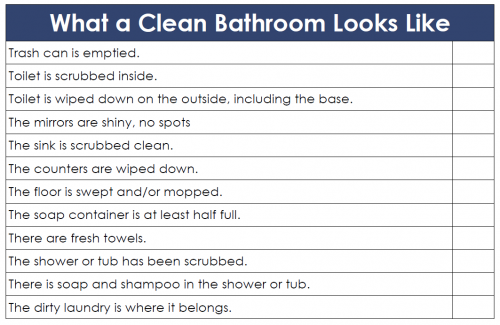 It gives the readers in your family a very clear picture of what their task is. I'm contemplating having four copies laminated and sticking it to the backs of the bathroom doors.
Hey, works for Starbucks, right?
Clean Bathroom Bingo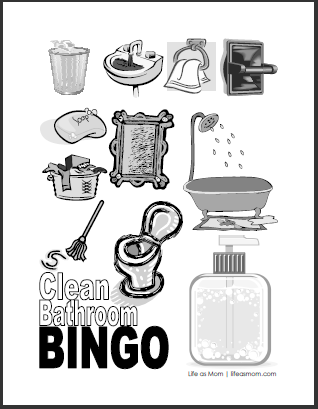 Got visual learners or helpers who can't yet read? No problem. They can become Bathroom Cleaning Masters as well. Check out this Clean Bathroom Bingo. Small little graphics will clue folks into what needs to be done. This is a great tool to use when younger kids — or bigger ones, too — are just learning.
Let your little guy or girl cross out the things that you've already cleaned together and then ask him or her what you should do next. Even if your child isn't old enough to do the job on his own, he can certainly watch and learn. You'll be surprised at how much your little one can do! You'll be teaching him in the process so that someday he can do it on his own. Hallelujah!
And you know, you may just be in a season of life when it's easier and less stressful to do it yourself or to call in a cleaning service. That's okay, too. Find your groove and go for it, sister.
More Cleaning Tips