Kids Can Do Laundry
As an Amazon Associate I earn from qualifying purchases. For more details, please see our disclosure policy.
Kids can do laundry. Here's how it's working at our house.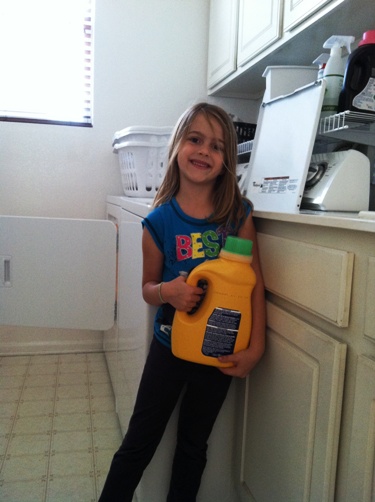 Want to save this post?
Enter your email below and get it sent straight to your inbox. Plus, I'll send you time- and money-saving tips every week!
Early one morning as we lay in bed, still waking up, I heard the girls giggling and running to the laundry room which is next to our room. FishChick6 came into our room to grab a chair. "What are you doing?" hubby called.
"I'm changing our laundry."
Be still my heart. Before their parents had even gotten out of bed, my little girls were doing laundry!
Now, don't go envisioning images of all rainbows and unicorns at our house. The girls' bedroom is a complete wreck at the moment.
BUT, we have tamed the laundry beast. Or at least kept him at bay and prevented him from wreaking total and complete havoc.
Kids can do laundry.
It was actually my husband's idea. Over a year ago he suggested that the kids learn how to do the laundry themselves. I was resistant at first. His point was that I shouldn't continue doing it on my own — which I had mostly been doing.
Instead of jumping for the idea right away, I held laundry parties. I would wash loads and loads of laundry and then call all the kids to fold for 30 minutes. We got it all done in 30 minutes!
However, I got weary when my group folding parties were met with moans and groans. I realized that hubs' idea was, indeed, a good one. The kids could do their laundry themselves.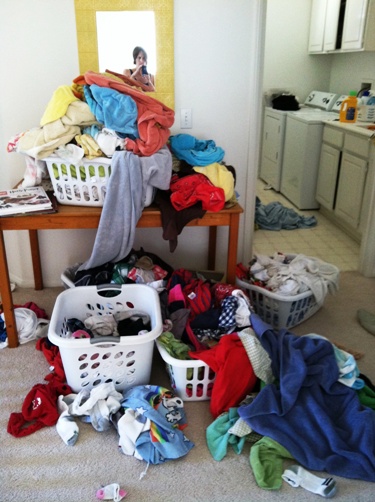 the laundry piles of yore
It wasn't until February of this year that I actually put it into practice. In fact, on Valentine's Day I sent my husband the following Laundry SOP (Standard Operating Procedure):
This is my laundry plan for the family.

1. Dirty Laundry is to be collected in hampers in bedrooms and bathrooms only. No more piling it up in the laundry room to make Mom's head spin around. If you are cleaning a living area and find someone's clothes, take it to their room to deal with.

(Note: I think this will cause people not to be so laissez faire about taking their socks off everywhere. It will also cut down on laundry since folks tend to take clean sweatshirts and jackets to the laundry room instead of hanging them up.)

2. Dirty laundry only goes to the laundry room when someone has the intention of washing clothes. The laundry room is no longer a receptacle for ick…. It's a place to make things clean.

3. Each bedroom will have a day to use the laundry room.

Monday: parents
Tuesday: girls
Wednesday: towels
Thursday: older boys
Friday: younger boys
Saturday: bedding

4. It's expected that you will clean the lint tray, put trash in the wastebasket, and leave the laundry room and laundry table as clean if not cleaner than you found it.

Note: I don't think that we need more equipment, we just need a system and a form of accountability.
Yes, I really did write that. Because I'm a total geek. And I'm so romantic on Valentine's Day. As he didn't have any objections, I put it into practice that day.
So far, three months later, this plan is mostly working. The kids know what day is theirs to wash clothes. I'm responsible for a lot less, and the laundry is rarely a big pile in the hallway.
Full disclosure: We've had a few snags in the system when someone forgets and leaves stuff behind and then there's mixed randomness left behind, but overall, the system is working well.
Ways to help your kids do laundry:
These are things that I've learned over time through trial and error. It might not work at your house. Your mileage may vary.
1. Have a clean work area.
We are blessed to have a dedicated laundry room on the second floor, just steps from the bedrooms. My mom has a corner of her garage. Your situation may be different.
But, if the area is clean and tidy, it will be easy for your kids (and you) to work in. Check out this month's Zone Defense assignment if you need help with this.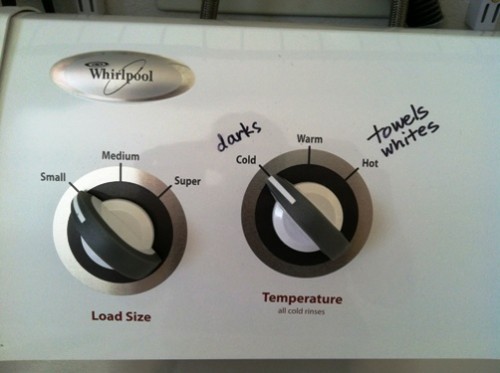 2. Label the washing machine and dryer.
I do not revere my washer and dryer so much that I am shy to grafitti them. I took a black permanent marker and wrote on the machines. I made it very clear to my boys which knobs to turn and how to operate the machine.
3. Dirty clothes stay in your hamper until washing day.
It was so depressing to go to the laundry room and constantly see piles of dirty clothes. Now, the room is used for its true purpose: to make things clean.
Its purpose is not to be constantly dirty!
We have two kids in each bedroom. They share a hamper. On their washing day the pair work together to get their clothes cleaned, dried, folded, and put away.
If your kids can't or won't work together, then you'll need to adjust this. I didn't want to mess with two separate hampers. They have a hard enough time picking things up off the floor. I didn't want to worry about hearing, "He put his shirt in my hamper." I figured they can sort at the end.
Adjust to fit the personalities of your kids.
4. Require it.
Don't ask if your kids want to do their laundry. Tell them. Unless you plan on doing their laundry forever, now is a great time to teach them. (I know. I didn't believe it myself at first, either.)
Everyone eight and older around here can operate the machines and does a great job of it. My girls are 4 and 6. I wash their clothes; they help move it to the dryer; they fold it and put it away.
(Honestly, I was surprised that they could fold and put away on their own. Goes to show you kids often can do more than you think they can!)
I've done a lot of laundry in my time. And I've changed my systems over the years. This system may not work forever, but I sure hope it does. It's brought a lot of peace to our house.
How do YOU do laundry?