A Day in the Life with Kids Aged 16, 13, 11, 9, 7, and 5
As an Amazon Associate I earn from qualifying purchases. For more details, please see our disclosure policy.
Ever wonder what it's like to homeschool six kids?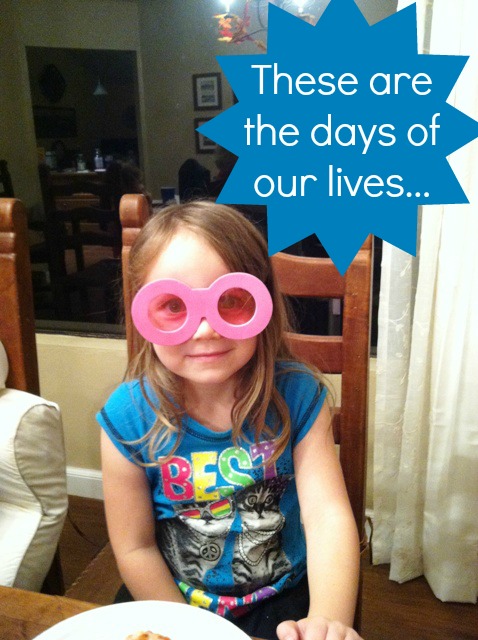 Earlier this month, Simple Homeschool reposted one of my "homeschool day in the life" posts from years back. It struck a chord with lots of mamas in the throes of having new teenagers, young toddlers, and lots of things on the to do list. I was curious why it was attracting so much attention, so I went to reread it.
Oh my goodness! I had forgotten how crazy life was three years ago. Sure, today is pretty busy, but wow! Just wow! Life in 2011 was even crazier. Who woulda thought?
I thought it would be fun to share what our days are mostly like now in 2014. Oh, we still have our "life-is-like-a-box-of-chocolates" days, but for the most part we've found a new rhythm. I didn't even know that we had.
A Day in the Life
5:00 – FishPapa's alarm goes off. He showers and gets ready for the day, leaving at 6 to get to work by 6:30. Awhile ago he was able to change his schedule so he could maximize his time at work. He works at a university, so getting there before most of the staff and students allows him some extra-productive time. It also means that he can be off work at 2:30, meaning he's home about 3, unless he runs errands on the way back to our house.
5:30 – On a good day, I'm out of bed and getting my workout clothes on. Hitting the gym by 6 means that the facility is peaceful and quiet. I love peaceful and quiet.
On not so good days, I bury my head under the covers and sleep longer. As nice as this sounds it also means that I get to the gym later, get home from the gym later, and everything in the day starts and ends later. This usually doesn't work out in my favor.
6:30 – I'm home from the gym and making a post-workout breakfast: usually eggs and vegetables. Skillet Eggs is one of my favorite meals. If I've got the makings of Monkey Salad, I am extra happy. It used to be that I had coffee at this time, but recently, I decided to wait until later in the morning when I actually need it. I don't need it when I'm just home from the gym and energized.
During this little bit of time, I hopefully snatch time to journal and read my Bible. I haven't found a devotional this year that I love. I'd like to find that.
Too often than not I use this time to answer emails or read Facebook. Unfortunately, I think I do that last thing a little too long each day. I think it's the equivalent of what reading the newspaper was for my mom when I was growing up. I'd like to use my time more wisely.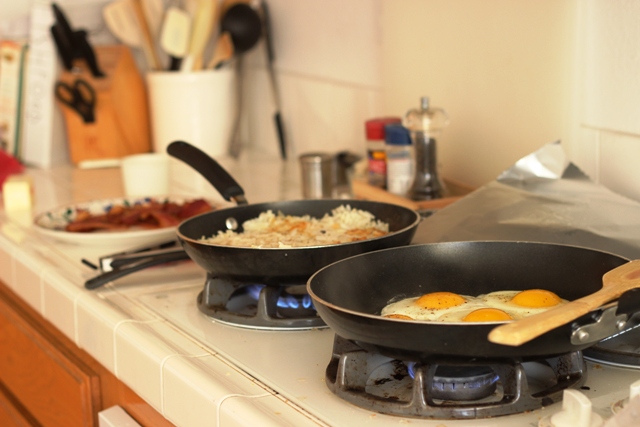 Between 7 and 8, the kids start to trickle downstairs. They have breakfast; some take showers; some read or play. We chat and talk about the plans for the day.
On a good day, folks work on their Morning High Fives. I shower while the girls take a bath in the tub next to the shower, start some laundry, try to figure out a plan for the day.
9:00 – Three days a week, I have a mother's helper come to play with FishChick 5 and FishChick7 when she's not busy with school work. Sarah takes the girls to the neighborhood park, reads stories, plays with them, and works on little projects with my five year-old. Sarah stays until noon.
9:00 to noon – The other five kids and I work on schoolwork. I do grammar and writing with the 2nd and 4th graders, math with FishChick7, and otherwise ride herd on each with his own individual tasks.
My 16yo (11th grade) and 13 yo (8th grade) have lots of independent work: an online writing class, computer math, a local science class, and video latin. They do Bible, history and literature with me. Athletics includes weight training and hockey.
My 11yo (6th grade) also has a fair chunk of independent work: an online writing class and computer math. He's a big reader, so I know he's pretty much constantly learning.
My 9yo (4th grade) is a budding reader which is so much fun to watch. He has computer math, but the rest of his work is with me.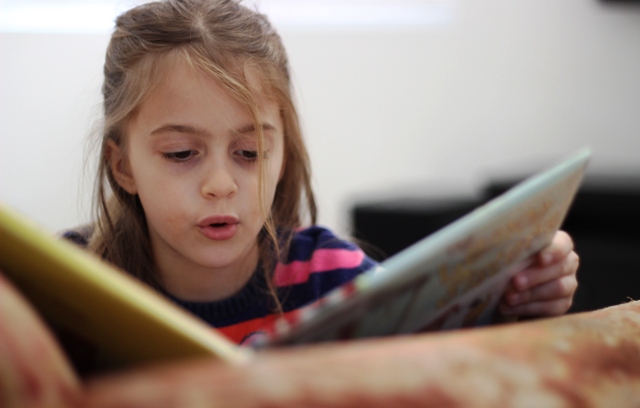 My 7yo (2nd grade) is now reading like a fiend. Again so fun to watch this step. All her work is with me as well.
All the kids not in high school also do spelling and phonics apps on the iPad.
Noon – Sarah goes home and we take a break for lunch. I usually have a meal plan. Sometimes I follow it. Sometimes not.
After lunch and kitchen jobs, we finish up the day: mostly with Bible, history, literature, and science for the younger crowd. FishChick5 and I work on her kindergarten stuff.
Currently, we're reading The Hobbit together as some of the youngers were too young to pay attention last time we read through it.
By 2, we're usually wrapping things up, schoolwise. I head to the office to start my other job, while the kids put away their stuff and tidy zones.
3:00 – FishPapa is usually home at this point. We pull out some kind of snack, hopefully a healthy snack.
The kids head outside to play or disappear to various corners of the house to read or play. There's often about an hour of video game time in these afterschool hours. We're still working on a rhythm that works for us. I've been known to let it go so that I can get somethings done. Sad, but true.
FishPapa and I visit when he gets home while I'm doing some task: kitchen work, editing photos, or folding laundry.
(Despite the fact that the kids do their own laundry, there seems always to be more to fold. I think it's the sheets and towels and the random socks that no will claim. Need to figure out a system for all that!)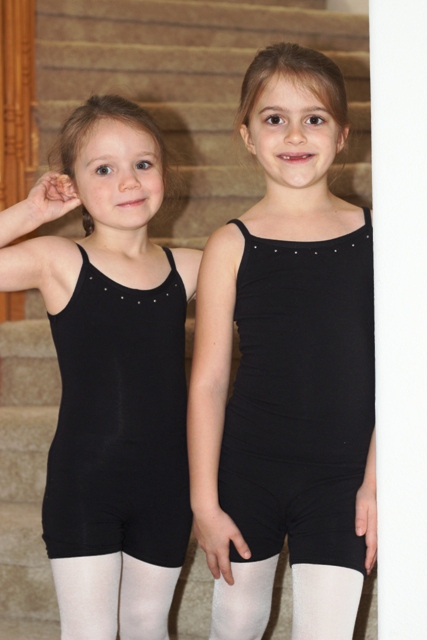 The afternoons vary depending on the day and the season. Hockey season means everything is crazy, and we have to reestablish a new schedule every three months. Currently we break down M-Th this way:
taking myself away to Starbucks to work
taking FishBoy11 to karate
date night
taking girls to ballet
grocery shopping, errand running
5 and 7:30 – This is usually dinner time, but that can vary each day depending on what's going on. Since I've had a steady stream of recipes to test, I'm usually the one to make dinner. Every night is an experiment. Not sure if that is good or bad.
After dinner, every kid has a kitchen job and then we finish up with the gaming or watch one of our two TV shows or a movie.
8:00  – Ideally, devices and game time are shut down by 8, so that we can hit the hay by 9. We've figured out that this is what's best for the rhythm of our household, especially since FishPapa gets up so early.
It doesn't always work like this. Last week, we started Agents of SHIELD (affiliate link!) too late and that meant we were up much later than usual.
(I love that show. Sigh. What a geek….)
9:00 – This is our target for lights out. I try to stagger the kids: girls at 8, middles at 8:30, olders by 9. The weekends are a whole different story, but these are the weeknights.
These days everyone can get his own jammies on, brush his own teeth, get his own water, and climb in bed. I make the rounds to say goodnight. The littles love it when I lie down for a few minutes to chat. I love it, too, though I don't make it the priority that I think I should.
That's the day.
So, there we are, three years later, with everyone potty trained and able to speak in full sentences. Life has a bit more regularity and predictability than it did in 2011. I'm surprised, quite frankly. Three years ago I lamented the fact that there was no rhyme or reason to my days, and here, in a flash, it's back.
Take heart, busy, overwhelmed mama, this, too, shall pass. The things that I worried about in 2011 have not come to fruition. Evidently that was wasted breath. I should have prayed more than fret. Life is still tumultuous, but in different ways than when people are little and physical dependent on you.
Our days are far from perfect, but the new normal is pretty sweet. As are those six kids.
But they always were, weren't they?