6 Ways to Get Help with the Housework
As an Amazon Associate I earn from qualifying purchases. For more details, please see our disclosure policy.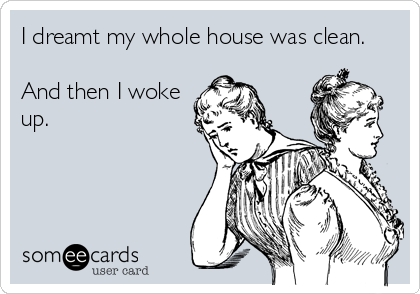 There are some women for whom the dream of an immaculate house is actually a reality. I am not one of those. Even before I had kids, I was an all or nothing kind of gal. I'd be spic and span in my homekeeping and then all of a sudden, life would take over, and I'd be buried in clutter. Every time I got my house in good shape, I'd take a picture, so I could remember what it looked like.
I kid. Sort of.
Since I knew that cleaning wasn't my strong suit, even as a newlywed, I read. I read these books. I was able to handle it on my own for awhile. But, eventually, life caught up with me.
Remember last week when I said you can't do it alone? Well, for me and maybe for you, that applies to housekeeping. Whether you are a mom or dad, grandmother or grandfather, if you're managing a home and caring for a family, you might need some help with the housework.
Here are six ways to get help with the housework:
1. Teach your kids.
Kids today typically don't have quite the amount of physical labor that our grandparents, or even we did. For most of us, there's no wood to chop or fields to plow.
However, regular household chores are a life skill that few of us can escape. Kids can do chores. It's good for them; it's good for you. If you don't already, include your kids in the housekeeping responsibilities.
2. Ask your spouse.
It's possible that your spouse might not understand that you need or want help. Sure there are those who are oblivious to the workings of the household, but in my experience, he may not be helping out more because he can't read your mind. Ask for help.
3. Organize a cleaning swap with your friends.
Years ago, my mom and her friends organized a cleaning swap. You know how it's always more fun to clean someone else's house? Well, they would take turns cleaning each other's houses. The hostess would supply snacks and receive company and help while she cleaned her house.
4. Enlist a professional cleaning service.
If it fits the budget, a professional cleaning service can be a great way to close the gap between what you can do and what you can't.
5. Hire a mother's helper.
If the pros aren't in the budget, consider hiring a teenager to come help out. Fifteen years ago Beth came to my house a once a week to mop the floors and scrub the bathrooms. She enjoyed the extra money, definitely cheaper than a cleaning service, and I got much-needed help.
6. Simplify.
If you can't afford to hire help, your kids are too little, your friends are unavailable, and your husband can't help for whatever reason, then it's time to simplify.
Decluttering may be in order. Are you spending too much time maintaining things that you don't really need?
Alternatively, you may need to lower your standards for a season. If you can't do it all, then figure out what you think really must be done. It probably isn't everything. Shoot for general cleanliness and tidiness. Dusting and windows may need to take a back seat for a season.
These are strategies that I've used over the years to help me maintain our home in a way that makes us all comfortable. Having the messes cleaned up helps me think straight and do a better job caring for my family.
How do YOU manage housework at your house?