Decoupage Candle Holders
As an Amazon Associate I earn from qualifying purchases. For more details, please see our disclosure policy.
Pull together a fun craft with upcycled items and standard craft supplies.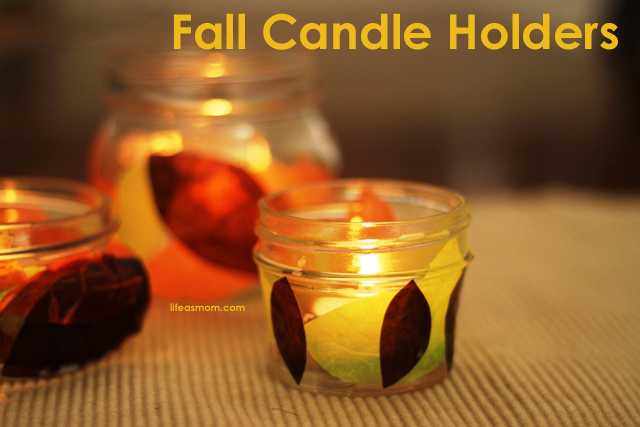 Fall is coming. While we may still be experiencing the heat of summer, the shorter days and chilly nights are just around the corner. At least I'm hoping. Fall is my favorite season of the year.
This decoupage craft is super easy and fun for kids. I was especially pleased that I could find all the supplies rummaging around in closets and drawers. No trip to the craft store for me! That makes this a free craft for me which I call the best kind.
Here's what you'll need: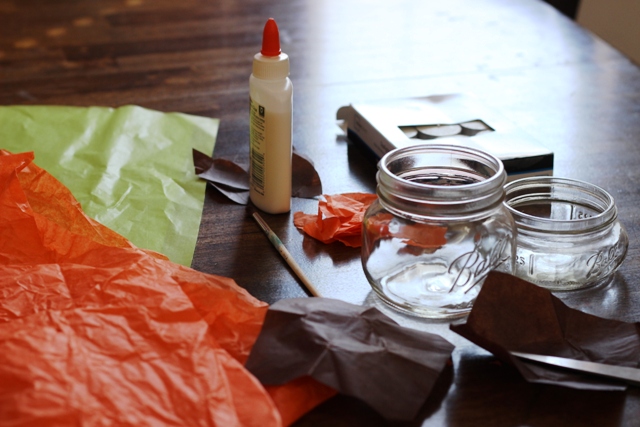 tissue paper – I used random pieces from my gift closet that I had saved to reuse
glass jars – canning jars are fine, but reusing jars that you bought food in is better. We just didn't have any.
glue or Mod Podge
paint brushes
scissors
tea lights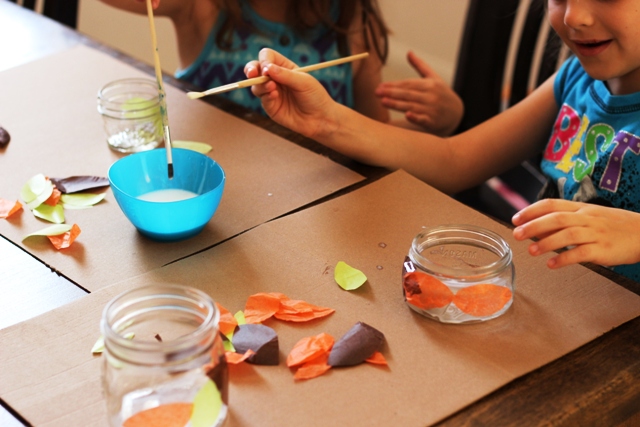 Once I assembled all the supplies, I created work surfaces to catch the drips. You can use pieces of cardboard, newspaper, or an old tablecloth.
Then, I cut the tissue paper into leaf shapes. You could vary the colors and shapes to adapt this craft for different seasons and occasions.
Next, I mixed equal parts of glue and water to make our homemade Mod Podge. It's possible that Mod Podge works better. I dunno. This works for me, though.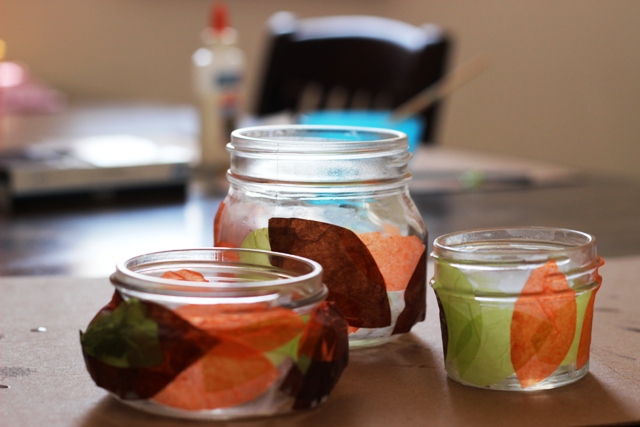 After I demonstrated to the girls what to do, I basically let them have at it. They did a great job painting on the glue mixture, sticking on a leaf, and then painting more glue on top.
I really saw their personalities and preferences come through in the colors they chose and the patterns they created. The hardest part was probably the wait while the jars dried.
(You might want to go over your child's craft with a little more glue when they're all done to make sure every bit is coated. That's what I did to make sure that the leaves don't fall off.)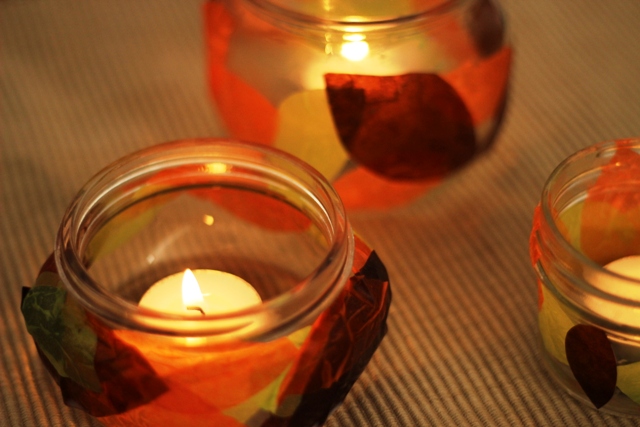 Adding the candles and watching them glow was sweet. You know how excited kids get over candles.
Since the tissue paper wrinkles a bit when you paint the glue on it, it added a really interesting texture to the craft, much like the veins you would see in a real leaf.
Of course, the best part for the girls was blowing out the candles.
I'm looking forward to using these through the fall months. I just love warming up the early nights with candles.
It goes without saying, please use caution with open flames around small children. If your family isn't quite up for it, these jars still make cute decorations to hold pencils, jewelry, hair ties, or money.
Ready to fall for fun?
This post is part of the DIY on a Dime: Falling for Fun series. Check it out for all kinds of budget-friendly, family fun ideas to celebrate one of the most beautiful seasons of the year.