A Frozen Party Menu
As an Amazon Associate I earn from qualifying purchases. For more details, please see our disclosure policy.
Ready to let it go? How about a Frozen screening party complete with a family-friendly menu and a Frozen cake? This party menu works for birthdays and other celebrations as well.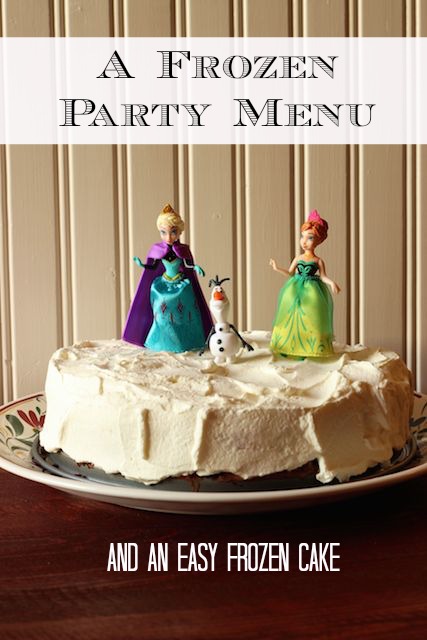 If you've lived on this planet for at least a month, you're well aware that Disney recently produced a hit, animated musical. Frozen, the story of two sisters with a terrible family secret and how true love conquers evil, debuted Thanksgiving weekend.
My dad took us all to see it at the theatre. We all enjoyed it. But, I admit that I was shocked at WHAT a HIT it became — with boys and girls and adults, too! I took the FishChicks back to see it again on New Year's Eve. And the other littles were a little miffed that I didn't take them along.
I'm thankful that I ordered my Elsa and Anna dolls for the girls' Christmas presents in early December because six weeks later, the Elsa doll could not be had for love or money. Well, if you didn't want to spend less than $100 for a glorified Barbie doll.
Almost immediately, the FishChicks and their cousins, Ella and Lucie,were smitten with the film as well as the soundtrack. Yes, I was the wise mother and auntie to buy copies of the Frozen soundtrack for BOTH households. Not only can the cousins drive their parents crazy, but they can also FaceTime with each other, singing the songs all the while.
Yes, really.
It's actually very sweet, especially considering that these two sets of two sisters live thousands of miles apart.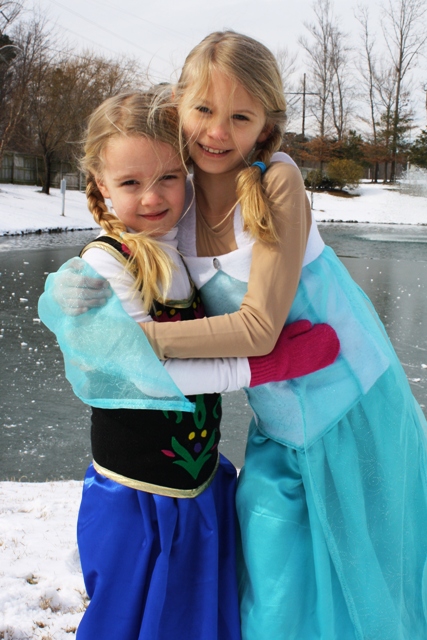 DIY Frozen Costumes for Elsa and Anna
My boys get into the act as well. FishBoy13 does a mean impersonation of Olaf, and the middle guys know all the songs as well.
My nieces, Ella and Lucie, whose birthdays are both in January, celebrated jointly with a Frozen Birthday Party. As you know, Janel created some awesome Elsa and Anna costumes for each of her girls and because she's SUCH a wonderful auntie herself, she will be making costumes for the FishChicks as well. Ahem.
Since you know how much I love a themed birthday party and birthday cake, I couldn't pass up creating a Frozen Party Menu and a Frozen birthday cake to go along with. Whether you're celebrating a little princess, the end of winter, or a home-screening of the film, this menu will take you far.
I texted Janel my suggestions and we went back and forth thinking up ideas. We both ended up buying these Frozen Dolls for decoration. (I love using toys for cake toppers.)
Since the Frozen princesses are from Norway, and my own little girls and nieces are so enraptured with the film, I feel a special kinship to Elsa and Anna. My grandfather, Sigurd Borge, emigrated via Bergen back in 1905.
(I loved the fair, freckled skin of the sisters in the film. I don't recall ever having seen that detail in a Disney film.)
So, what could you serve at your Frozen party that is in keeping with both the film and its Norwegian heritage? Let's see.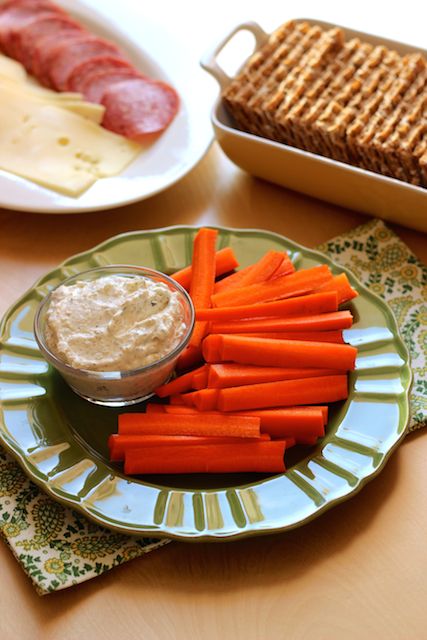 Main Dish Buffet
Now you could go super traditional and serve lutefisk, but I don't recommend it. Instead opt for easily obtainable, kid-friendly items that fall under the category of "snacky". Whether you're hosting a screening party like we will be doing in a few weeks or celebrating a birthday party, your guests will enjoy having familiar types of foods, even if they've got a little Scandinavian/Northern European twist to them.
Set up a buffet with the following:
Jarlsberg Cheese
Flatbread Crackers (aka Crispbread), like Kavli or Wasa
Rye bread or other rustic breads
Ham and Salami
A fruit tray, particularly berries and apples
A carrot tray with a Sour Cream Dill Dip.
All six kids looked at me and asked, "Why carrots?" Sheesh. Didn't any of you people watch the movie?!
Leave me a comment if you know why I included carrots. 😉 Sour cream and dill are common flavor combos in Scandinavian cooking, so there's that.
You can also tip your hat to the film and throw together a platter of tea sandwiches since those are Anna's favorite food.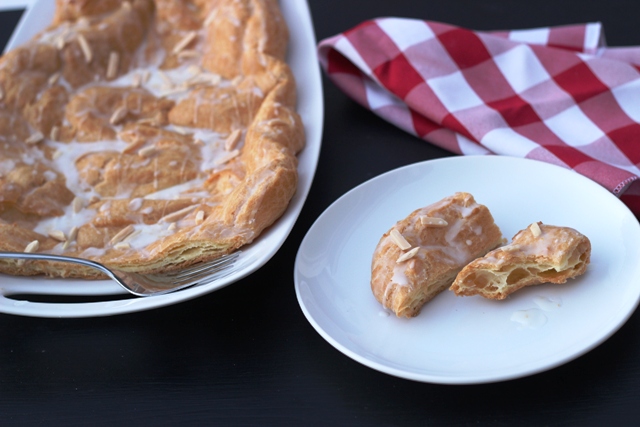 Some Sweets
If you can get your hands on authentic lefse, do so. That would be a fun addition to the party. When my Gramma John, Sigurd's daughter, passed away, my dad gave me her lefse grill and the other tools to go with. But I passed those on to a cousin when I realized I had no one to teach and no idea how to do it. (I think I also had three kids under 6 so I was happy to be surviving, let along making lefse.)
Anyway, our family recipe for Oslo Kringle is an easy and authentic sweet treat to add to your party table. Chocolate Truffles and Chocolate Fondue are a nice nod to the film. And of course, you need a cake.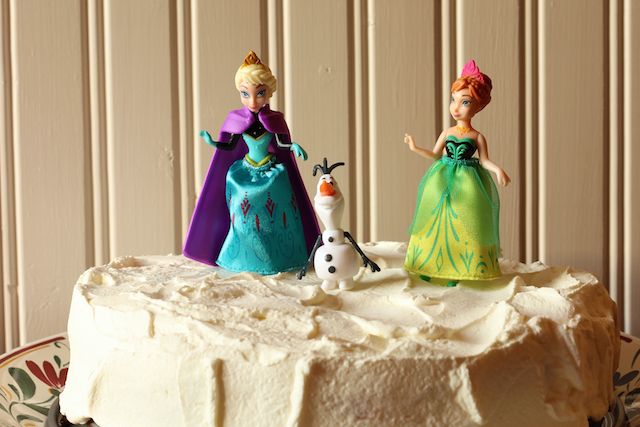 A Frozen Cake
This Frozen cake is perfect for a birthday party or just a fun way to break up this ETERNAL WINTER that some of you are experiencing. I think it was Janel or one of her friends that came up with the idea of an ice cream cake. Brilliant! And so easy.
Just for the record, the whipped cream snow is supposed to look rustic. It's a blizzard. That means that you don't have to make a Pinterest-perfect cake.
(And all the angels sang Hallelujah!)
The following recipe shows you how to make the cake from scratch. If you prefer, you can use a boxed mix, storebought ice cream and commercially whipped topping. But, honestly? This really isn't hard.
Did I forget anything?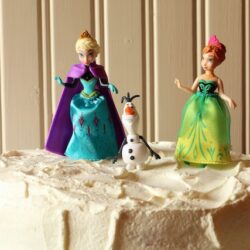 Print Recipe
Frozen Birthday Cake
Ready to let it go? How about a Frozen screening party complete with a family-friendly menu and a Frozen birthday cake?
Equipment
Elsa and Anna dolls

Olaf doll
Ingredients
Brownie Layer
1

cup

sugar

2/3

cup

flour

1/2

cup

cocoa powder

1/2

tsp

salt

1/2

cup

neutral oil

2

eggs

1

tsp

vanilla extract
Ice Cream Layer
1

cup

milk

3/4

cup

sugar

2

cups

heavy whipping cream

2

tsp

vanilla extract
Whipped Cream Layer
1

cup

heavy whipping cream

1

tbsp

powdered sugar
Instructions
Prepare the brownie layer:
Preheat the oven to 350. Grease a 9-inch springform pan.

In a large mixing bowl, combine the sugar, flour, cocoa, baking powder, salt and whisk to blend. Add the oil, eggs, and vanilla. Stir gently to combine. Spread the batter evenly in the prepared baking pan.

Bake until a tester comes out with few crumbs attached, about 25 to 30 minutes. Allow to cool completely.
Prepare the ice cream layer:
In a large mixing bowl, whisk together the milk and sugar until the sugar dissolves. Stir in the cream and vanilla.

Freeze in the ice cream machine according to the directions provided by the manufacturer of your particular machine.

Once the ice cream has thickened, pour it over the brownie layer in the pan. You can also use store bought ice cream, if you prefer. Just soften it until spreadable, spread it over the brownie layer, and continue with the recipe.

Place the cake pan in the freezer until firm. Once firm, remove the sides of the springform pan.
Make the whipped cream snow:
In a large mixing bowl combine the whipping cream and sweetener. Whip the cream on high speed until medium peaks form.

Frost the cake with the whipped cream and freeze until ready to serve, up to 3 days.

Allow the cake to soften just a bit before slicing and serving.
Notes
Nutritional values are approximate.
Variations:
Serve your cake with a raspberry sauce to take it over the top.
Changing up the ice cream flavor gives you lots of options. Consider: chocolate, coffee, fruit sorbet, or mint ice cream.
What would you add to a Frozen Party Menu?