Go Ahead, Have a Third Kid
As an Amazon Associate I earn from qualifying purchases. For more details, please see our disclosure policy.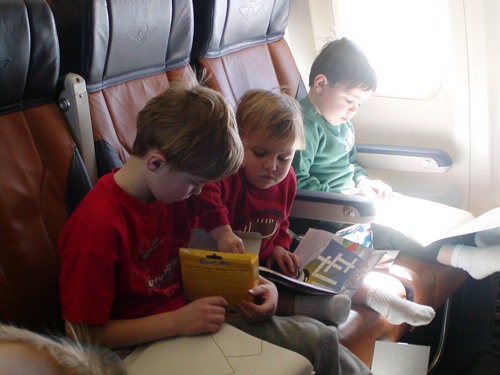 Aren't they sweet?! Oh be still my heart. These are my three sons. Well, my three sons before the rest of the FishKids arrived.
In case you've ever wondered, our eldest was 3 1/2 when our second child was born. We'd had the miscarriages; we hadn't planned on a big gap. Our third son was born a mere 19 months later.
When I was pregnant with our third, I was warned about how difficult everything would be.
Oh my! How are you going to handle two babies?
Oh my! Three is just so, so hard.
Oh my! You'll have your hands full.
You know what? They were wrong. Having a third baby, even a third so close in age to his older brother, was not so, so hard. In fact, it was much, much easier than I expected it to be. (Especially once I got that double stroller!)
Fish and I have talked about this over and over since then. Three is not harder than two. Quite the contrary, we thought the transition from one child to two children was the hardest transition of them all, even after a year of miscarriage and wanting that second child so much.
Having two was sooooooooooo very hard.
I thought I would die. And I think families with two experience that rough transition and they assume that having a third will be that much harder. I think some might even stop there out of fear.
That wasn't the case for us. I'm so glad we pushed past the hard of having two children to see that having three really wasn't all that harder.
You see, my theory is that when you have one child, one parent can be hands free if he or she chooses. With two, either one parent has his hands full or you're both occupied. It took way more effort to transition to two kids than it did to three, four, five, six.
(After three, you're already on zone defense, so it doesn't matter.)
I say this not to convince you to have a large family or even to say that you should have a third baby. I know many families desiring more children and for a number of reasons, they cannot.
But, if you're on the fence, if you're wanting to grow your family but feel swayed by the populace to stop at two, I say go ahead. Have a third.
We're sure glad we did.