Reflections on Pregnancy Loss
As an Amazon Associate I earn from qualifying purchases. For more details, please see our disclosure policy.
This weekend we celebrated our miracle baby's 12th birthday. Every year it gives me pause to see how much time has passed and how our family has grown — in size and maturity — since the evil year of 1999.
For those of you just tuning in, here's the short version of my miscarriage story. We entered 1999 very excited and hopeful over the pregnancy of our second child. Our firstborn was just 18 months; our babies would be about two years apart. By the end of January, I found myself shoveling my garden in a misty rain, tears over my miscarriage mingling with the rain, anger hiding in the thrust of the shovel into dirt.
In May I was pregnant again. By the end of June, the doctor diagnosed a "blighted ovum".
In August we said, "third time's the charm, right?" Wrong. In November, I started spotting and the heart beat was gone. An ultrasound tech went against procedure to show me how she was absolutely positive that our baby was dead. She knew I needed that. A week later, on November 9th, I had a D&C.
I was a lost and bitter woman. My losses defined me. I had such a hard time understanding why this had happened to us.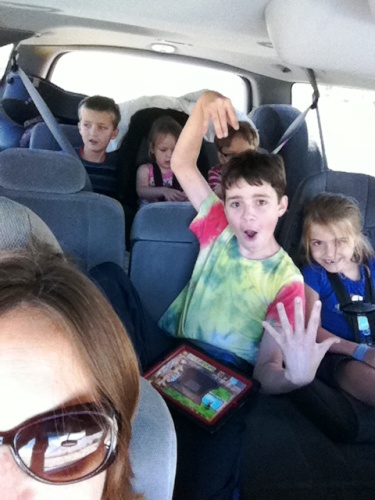 A year later, on November 9, our second son was born. Today he's a clever, witty, fun-loving twelve-year old who makes us laugh on a regular basis. God gave our family four more kids after him.
I still don't understand how God works.
In the last few months I've watched three sweet, yet long-distance, friends lose their own babies, one as far along as 24 weeks. I weep and I shake my head because I don't get it. Again those tears that I cried over a dozen years ago fill my eyes again as I remember the pain of that loss.
I don't get it.
Yet, I don't have to get it. I'm not God. I know He has plans and reasons and mysteries that aren't mine to know.
Do I feel an added kinship with my friends? Yes, I do. Bittersweet, though it is. I hope they know they aren't alone in how they feel, however that might be on any given day. And I pray for their healing as others once prayed for mine.
Even though my houseful of rambunctious children has eased the heartache of losing those earlier babies, I know that I wouldn't have these younger four without having lost those three. We probably would have stopped at two children if life had gone according to my plans.
Now I have six. My cup, indeed, runneth over.
I know that is not the case for everyone. I know that sometimes no other babies fill the void of a pregnancy loss. Maybe that's not even possible anyway. I do know that God heals the hurt. He redeems it in odd, unknown, unpredictable ways.
He makes us more like his son. And that is very, very good.
Consider it all joy, my brethren, when you encounter various trials, knowing that the testing of your faith produces endurance. And let endurance have its perfect result, so that you may be perfect and complete, lacking in nothing. James 1:2-4