Make Your Beach or Pool Days a Breeze
As an Amazon Associate I earn from qualifying purchases. For more details, please see our disclosure policy.
Enjoy your summer and time with your family by heading to the beach or pool. Here are some tips for making it easier.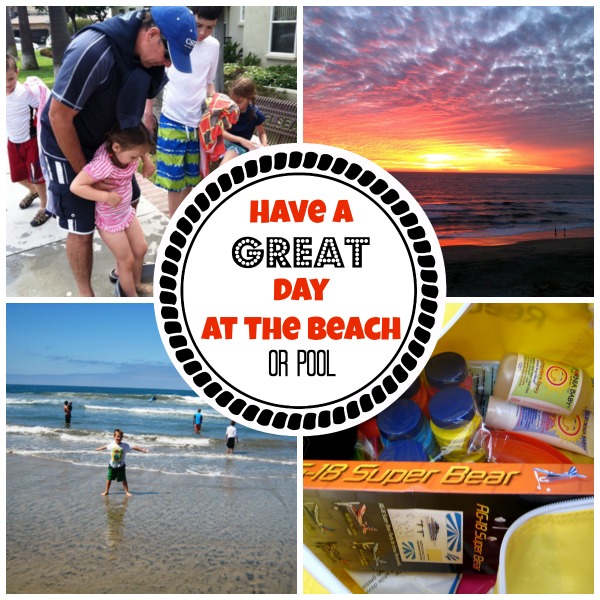 A great day at the beach doesn't just happen. Oh, when you're ten you think it does. But, no, there was a parent or other adult working behind the scenes to plan for something. Even if it was the thought to bring enough towels or change for the parking meter.
But, planning for a day at the beach or pool doesn't have to take extreme forethought. It really can be easy. Here's how:
Beach Planning
Make it easy to have spontaneous trips to the beach, pool, or park by prepping some bags with the essentials so that you just have to grab the bag and go.
It's a bummer when you get the crew to the beach and realize that you forgot something at home. Think through what you need and keep a list. Grab this free printable to make your list-making easier.
Keep the sand in your car and home to a minimum after a beach trip with these tips for getting the sand off little bodies.
Bring Food
Here are some recipes that travel well to the beach or pool.
Snacks:
Cherry Limeade Muffins
Nut-Free Monkey Munch Trail Mix – If you use chocolate chips, you'll want to make sure this stays cool or you'll have a melty mess.
Fresh Fruit — choose things that travel well like apples, oranges, and bananas. Otherwise, pack fruit into hard plastic containers so that you don't have berry or stone fruits squashed all over.
Salads: To make dishing up salad a bit easier, package it to go in individual portions. Mason jars with lids are great for this. Don't forget the forks!
Sandwiches:
Egg Plus Salad Sandwiches – keep the vinaigrette separate in a mason jar until ready to serve so your sandwich doesn't get soggy
Have a plan for dinner.
A day spent in the sunshine at the beach or pool can take it out of you. Have you dinner plan ready to go so you don't have to worry about it when you are wiped out from the day's adventures.
Most importantly, have fun and don't sweat the small stuff. What you put importance on, your child will learn to prioritize. Make enjoying the outdoors and each other your priority.
How do YOU make beach and pool days fun?