Kids, Chores, and Routines – Give them a High Five!
As an Amazon Associate I earn from qualifying purchases. For more details, please see our disclosure policy.
Looking to help your kids accomplish chores and achieve routines? A Morning High Five and a Bedtime High Five can help!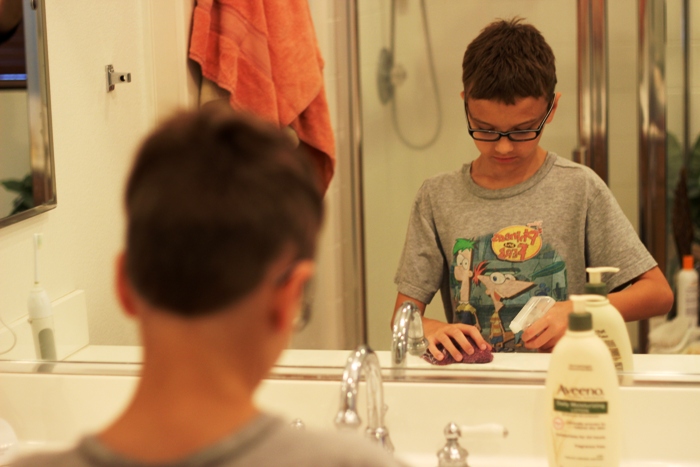 No matter the size of your family, whether you have one child or ten, there will always be work to do.
Dishes to wash and put away, laundry to fold, meals to prepare — those things don't go away. In fact, depending on what interests your teens exhibit as they grow — culinary arts, football, music, social butterfly-ism — these basic household tasks may increase, though your child is no longer a toddler, needing you to help them at every turn.
To maintain your sanity as well as the smile on your face, it's good to have some basic routines and chores that kids are required to do. Not only does this help your workload, but it also helps them learn responsibility and home management. Unless they become multi-millionaires, they will always need to pick up after themselves.
Teach them now and save yourself and their future spouses a boatload of grief.
I feel like I've tried almost every kid chore program in the book. Sometimes with success, sometimes not.
What works in one season and the current developmental stages of my kids doesn't always work with others.
And different kids are capable of varying levels of responsibility. My oldest could be handed a list of twenty chores and get them done by lunch. The others? Not so much.
In my efforts to simplify things for everyone concerned, I made these charts. Each chart, one for morning, one for evening, represents the bare minimum that needs to get done at those times of day. (I did not originate this idea, but I have no idea where I got it. If you do, let me know in the comments so I can give credit where it's due.)
Each child is expected (on a good day) to do all the Morning High 5 by school time each morning and the Bedtime High 5 by lights out.
Morning High Five:
1. Bed = Make it. Change sheets once a week or whenever I remember, whichever comes first.
2. Breakfast = Eat it and clear your dishes
3. Clothes = Get dressed, put away jammies, put away clean clothes.
4. Teeth = Brush and floss.
5. Kitchen jobs = Everyone has at least one of the following: empty dishwasher, load dishwasher, wipe counters, empty trash and recycling, clear and wipe table, sweep or shark floor.
Bedtime High Five:
1. Shower and Jammies = Bigger boys take care of this themselves, my three littler ones need help.
2. Clothes put away = Dirty clothes goes to laundry, any clean stuff gets put away.
3. Teeth = Brush and floss.
4. Tidy Up = General pick up of living areas and bedrooms.
5. Story = The ideal is "bed by 8:30, lights out by 9." Kids can read books in bed during that interval or if we have a read aloud going, I'll read to them.
I know from experience that if I make my expectations clear to the kids and ACTUALLY FOLLOW UP ON IT, then we see great success. Truth be told, I get distracted by other things and these routines often fall by the wayside, only to be picked up again.
Teaching children self-discipline takes self-discipline, doesn't it?
I can certainly grow in that. But, having a little chart to look at certainly helps put it in the front of my mind.
What do you do to help your kids learn responsibility? What routines work well at your house? We'd love to hear it.
Want more ideas on getting your family's act together? Get a copy of my book, Organizing Life as MOM, a 173 page document full of printable planning sheets for every need. Homeschooling and blogging add-on packs also available.