Why You Should Rent a Condo on Your Next Family Vacation
As an Amazon Associate I earn from qualifying purchases. For more details, please see our disclosure policy.
There are a multitude of benefits to rending a condo on your next family vacation, especially if you have more than two children.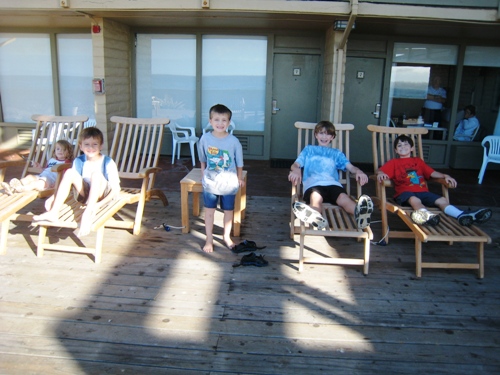 Once upon a time you could squeeze a family with three or four children in a hotel room and it worked out great for a family vacation. I remember. Once upon a time we did just that. The hotel was fine with it since the room actually had enough square footage to legally accommodate us. The children were small. It was the off-season.
When our family member count reached eight, however, we realized that one hotel room would not work, no matter how what wide angle lens you used in your mind. Friends with three children tell me that they are hitting trouble spots with hotels more and more often. The four-person occupancy rules are getting stricter.
Whether this is because hotels have wisened up and know that they can increase their profits by requiring a second room rental or if that's just the way it is regarding fire codes, I do not know.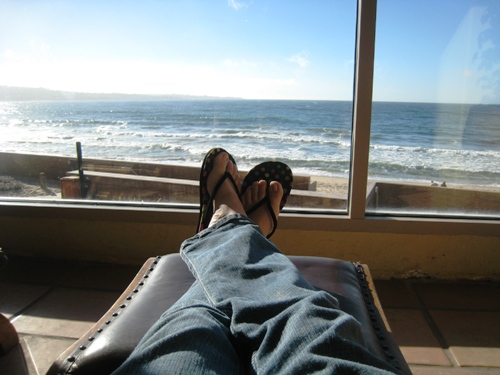 I do know that I am loathe to stay in a hotel with our big family. We've tried to go the two rooms with a door in the middle route, but you'd be surprised how tricky this can be. The hotel won't guarantee that you can get those two rooms. The hotel may confuse adjoining rooms (next door to each other) with connecting rooms (with a door that, well, connects).
We've found our family split in two: one parent plus some kids in one room; one parent plus the other kids in another room. Honestly, it doesn't make the vacation very much fun.
What we've discovered is the beauty of the condo rental.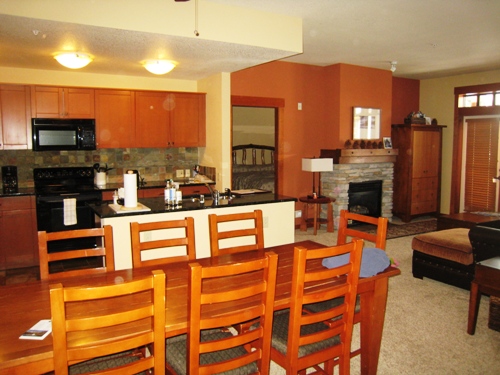 By renting a three-bedroom condo, we find ourselves with a lot of benefits for our family vacation.
1. It feels homey.
Typically, these condos have a kitchen, dining and living areas, as well as bedrooms and bathrooms. This means that our family can spread out and relax without feeling cramped in one or two rooms.
No one fights over the bathroom since there's usually more than one. We've got easy access to laundry facilities. The kids have the novelty of choosing their own rooms.
2. We can cook.
We save a ton of money by cooking our own meals. Sure, you can do some clever hotel room cooking, but it gets cluttered and cumbersome without a real refrigerator.
By renting a condo, we insure that we can buy groceries at a good price and cook our own meals. I often bring freezer meals so I don't really have to cook at all.
While we love to eat out, it's a little difficult to do when you're in a strange locale. You may pay a pretty penny for a meal that's not all that great. If I cook our meals or bring them from home, I know that we can feast like kings for a fraction of the price we might spend eating out.
If you've got food allergies, then you'll definitely love this perk. Read Anne's post about how taking food on the road with them ensured good — and safe — eating for their family.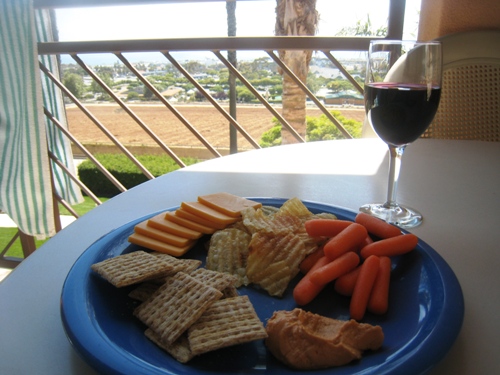 3. Parent time is easier to swing.
When we stay in a hotel, we're all together — or hubs and I are completely separated while we chaperone children in separate rooms. This isn't a "vacation" for us. We want to have down time alone.
By renting a condo, we make that a little easier to achieve. We have our own room. The kids have their own rooms. We can split ways for an evening with the kids watching a movie and the parents drinking wine on the balcony.
Short of paying a strange babysitter in a strange hotel, we can't do the same thing at a hotel. A condo allows for us parents to connect in a special way which is a great bonus since we're finally away from home and a bit off the grid.
4. The price is about the same!
One would think that a condo rental would an exorbitant amount of money. This hasn't been the case for us. We've paid $100 to $200 per hotel room and $250 to $350 for a three-bedroom condo. Obviously, the locale and season matters, but we've found that going for the condo gets us a bigger bang for our buck.
Next year when we take the kids to England and France, we plan to rent apartments wherever we go. With a large family such as ours, we figure it's probably the only way to travel.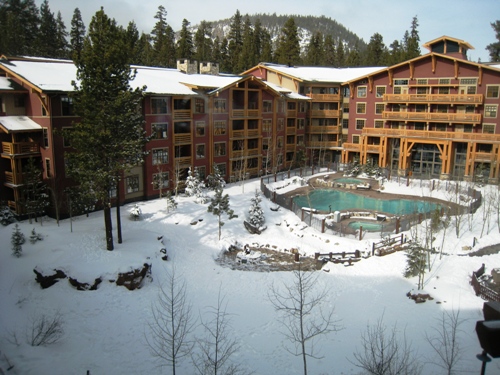 Where to stay
Typically, we've found three-bedroom condos for rent at resorts. These establishments typically offer a time-share or full-share purchase. For members who don't use all their "time" or owners who want to maximize their investment, they offer a service of renting out those units to the rest of us.
We've stayed in three such resorts over the last few years and found the experience to be stellar. Housekeeping and resort amenities are included in our stay.
We've also done the house or cabin rental. One time, before kids, we found ourselves in a luxury vacation home in Cambria. It was a fun, amazing weekend with three other couples. Another time, we rented a cabin in Shaver Lake that turned out to be a giant Mouse Hole. The cabin was outdated and unkempt. And the mouse poison under the beds didn't sit well with this mama of small children.
Your mileage may vary — obviously — when renting a smaller one-family dwelling. It can be great. Or not.
Plus, in a vacation rental, whether from a rental agency or the owner, you will have to pay a cleaning fee or do the cleaning yourselves. The latter can be a little stressful to pull off before checkout.
Certainly, there are pros and cons to both the resort and private home scenarios. At the resort you have access to a pool, vending machines, ice machines, and all the amenities of a hotel. You also have lots of other people. In a private home, you have privacy, but you may not have easy access to "fun stuff". Additionally, you might not have a manager to complain to if something's amiss.
You might also want to read:
Making Road Trips More Enjoyable
Vacation Food Traditions
What's been YOUR experience on vacation?