Read Great Travel Books
As an Amazon Associate I earn from qualifying purchases. For more details, please see our disclosure policy.
Planning a trip? Be sure to check out some great travel books before you go — and make sure the kids get a chance to read along with you.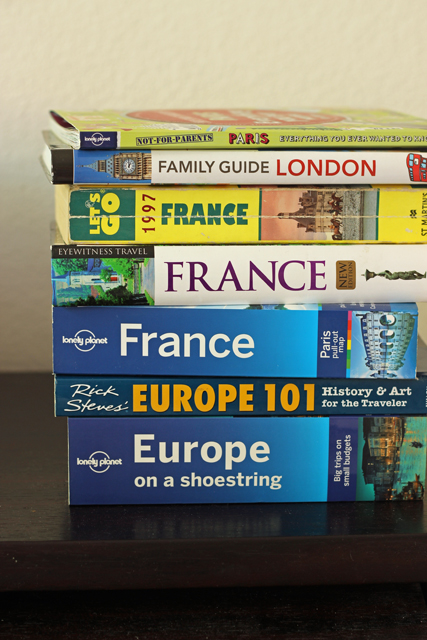 I am a book person. I always have preferred reading as my main form of learning, so it comes as no surprise that I read to plan for travel. Years ago — before the Age of the Internet — guide books were really the main way to learn about a place, besides going there or talking to someone who'd been there.
Even though I can scan many a website, I still like the long narrative that comes with reading a book on the subject. Years ago, my Let's Go France 1992 got very dog-eared. Unfortunately, Let's Go has moved into the internet age and no longer prints a yearly edition. I can't find my 20+ year old copy. My sister lent me her 1997 copy, though, so I'm good. Ha!
Our family has enjoyed reading through a number of tour books over the last few years or so, in preparation for our trips to France and London, and now Ireland.
A Sampling of Travel Books
Europe through the Back Door – Thanks to you all, I was introduced to Rick Steves. Wish I had known about him twenty years ago, but better late than never. I snatched the 2014 version of the book on the Kindle for about $2 a few months before we headed to Europe two years ago. I learned a ton about modern day travel through Europe. I'm thrilled to know that some of my old tricks still hold true, too.
(I'm eagerly awaiting the 2017 version of Rick Steves Ireland. I keep checking out the 2016 version from the library and paying overdue fines.)
Europe 101: History and Art for the Traveler – This is another Rick Steves book that we purchased in paperback. FishBoy14 has read through it at least four times. He is a GREAT museum docent. Love traveling with him! The older boys read it once as part of their Art History homeschool study a few years ago. It was a great complement to seeing the works of art in person.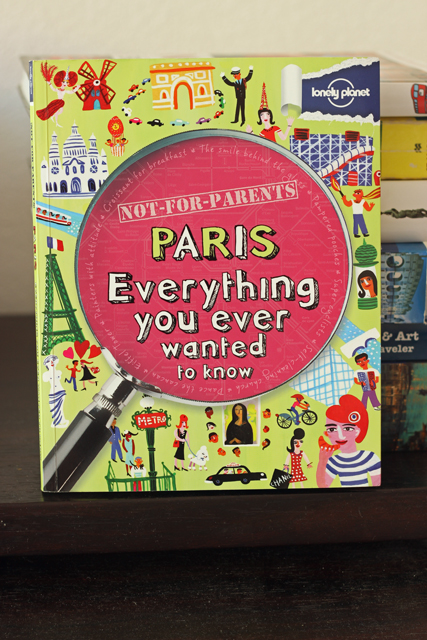 Not For Parents Paris: Everything You Ever Wanted to Know – I bought this book for the kids several Christmases ago. The kids have all read through it at least once or twice and have enjoyed all the tidbits of information about Paris. I ended up buying Not For Parents London: Everything You Ever Wanted to Know also; that book was devoured as well. I highly recommend these kid-focused travel books from Lonely Planet Kids.
Lonely Planet France and Europe on a Shoestring – Lonely Planet sent me copies of these books before our France trip. What a treasure trove! I was shocked to see that hamburgers are all the rage in Paris. Really? And lo and behold! As I was researching Paris restaurants, I came across many menus with "burger specials". Who knew?
Family Guide London – Years ago we had great success using a DK guide for Paris, a wedding gift from a friend. So, I was thrilled to buy this London guide of theirs at a book fair a few years ago. The print is small which makes it a little off-putting, especially for kids, but it's jam-packed with information.
Tips for Using Travel Books
In my research for our trip, I came across a fair number of tips:
Choose books with the year in the title. This means that they update their information on a regular basis. Rick Steves books are updated yearly. Other brands, like Lonely Planet, appear to be updated ever few years. Keep this in mind when you look for specific restaurant and hotel recommendations as things can change quickly. I am obviously not going to lean on my sister's 1997 guide book for where to go eat dinner or which hotels to stay in; they will be ridiculously outdated. But, the information and history of a village or a special location is not really going to change. (I love the quirkiness of Let's Go, so I'm sticking to it for the entertainment value.)
Consider ebooks. If you buy the digital versions of the books, you'll be able to access the information from anywhere without having to carry a load of books. I'm not sure how effective this is for children's books, however. I like my kids to be able to feel and turn the page, whenever time, space, and money allow.
Tear it up. Yeah, I was kinda taken aback when I read that tidbit. Folks recommend tearing up the book and taking only the pages you'll need. In this way, you'll be able to travel lighter, and you won't be as conspicuous as a tourist with a bulky tour book. Some people even go so far as to have their pages bound at the copy shop with new nondescript covers.
Learn as you go. Sometimes guide books are wrong. Using Let's Go 1992, FishPapa and I had some of the best as well as some of the very worst meals of our lives. Some recommendations were spot on and others were not. Keep in mind that every restaurant, hotel, or attraction has a rough day.
I think it's important to find the style of traveler that you are and to find the guide book that matches it. There are lots of different ways to see the world. Find the right fit for you and don't be afraid to divert if necessary.
Do YOU have a favorite travel book?
 Travel with Kids
This is part of the Travel with Kids series. Every day in October, I'm posting tips, tricks, and tutorials for making all your travels fun, frugal, and family-friendly.
Be sure to read through the archives in case you missed a post.
Originally published October 4, 2014.