Planning Ideas for a UK Vacation
As an Amazon Associate I earn from qualifying purchases. For more details, please see our disclosure policy.
Need some planning ideas for a UK vacation? Me, too! Let's chat. Share your tips and tricks for traveling with kids in the United Kingdom.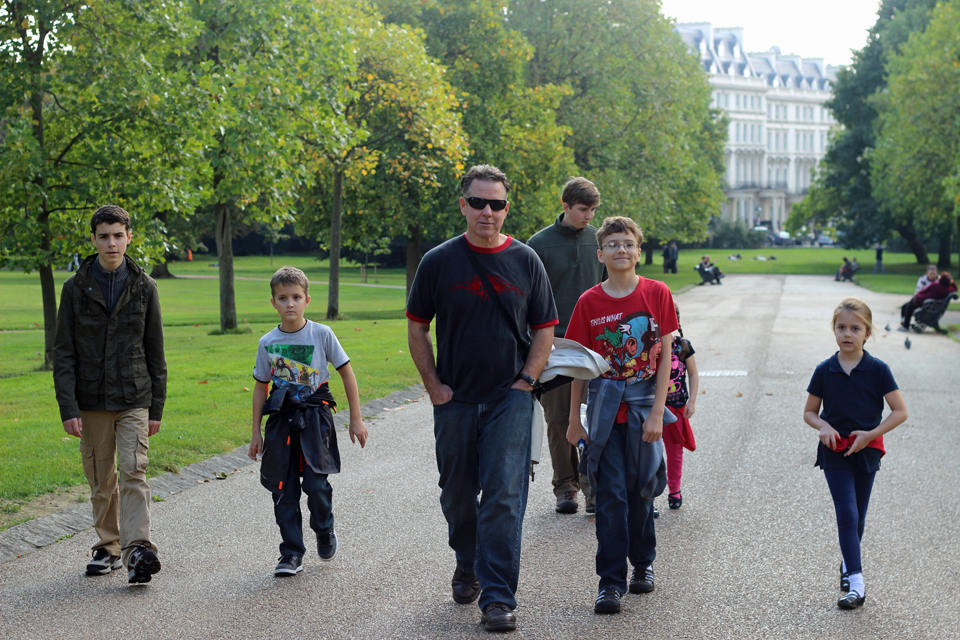 The crew walking through Kensington Gardens, Fall 2014
Today it's Q&A day! Where I give the Q, and you provide the A. 😉
I'm super excited that our family is going to be traveling through the United Kingdom this spring, and while I furiously scan the internet for the best places to visit, I also know that YOU are some of the best people to ask.
I did this years ago when we were planning our first Disneyland trip with kids and again before we took the kids to Europe the first time. How immensely helpful your suggestions have been! Our family has benefitted so much from your hard-earned wisdom. So, today, I'm turning the mic over to you as concerns UK vacation travel with children.
How would YOU plan a UK vacation?
Feel free to plan my family's UK vacation. Hypothetically speaking, of course.
Who: Two parents, Six kids, ages 8 to 19
Our kids have spent a month abroad, with about 7 days in London and another three weeks in western France. They have a small idea of what to expect, but as you know London is not the sum total of the United Kingdom. They will be ages 8, 10, 13, 14, 16, and 19 when we go, though two of the boys will have birthdays while we are abroad.
Where: the United Kingdom, plus Ireland
The boundary lines are pretty wide open. We fly in and out of London and have the ability to hire a car.
When: 4 weeks in the Spring, before summer vacations begin worldwide
Since we homeschool, we can make our own calendar, but we needed to wait until our college son was done with his finals.
How: Budget travel
Let's say you have about $25,000 to cover transportation and travel expenses for eight people. While the dollar has been stronger as of late, in comparison to the pound, we realize this is not a skies-the-limit kind of trip.
Feel free to leave me links, book recommendations, travel spots, things to pack, tips, etc.