Ready to travel with your kids to another country? You all need passports and you need to start that process with plenty of time. Trust me.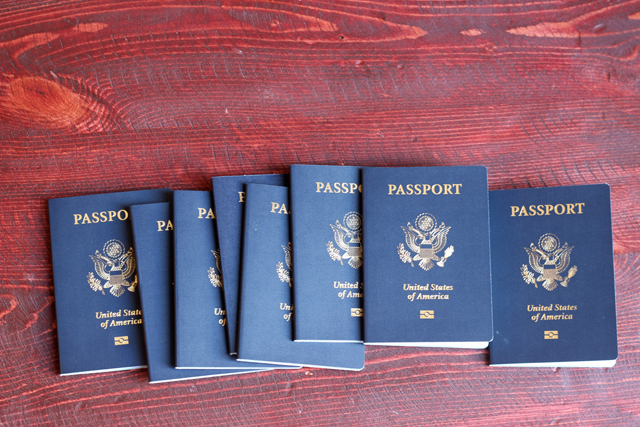 Folks warned me. They said make sure you submit your passport application with plenty of time.
I listened. I really did. But since it was going to cost over $1000 to procure said passports for our family of eight, I didn't jump on it right away. I wanted to be sure that the trip would, indeed, happen, before forking over that money.
Ha! What a saga it has been. It all worked out, but still. I have more gray hair than I did before I started the process. I also have more respect for a government entity, namely the passport office.
One bright sunny day, over four months before our departure date, I stepped into the post office to make an appointment. It doesn't work that way, says the sign on the wall. Call this number and make an appointment.
STEP ONE: MAKE AN APPOINTMENT.
Oh great, thinks I. I will get an automated message and be lost forever. I dialed the number on my way to the car and left my detailed message. Before I pulled into my driveway I got a call back! From a real live person! I was shocked and amazed.
Sitting in the car in front of my house, I took notes on the back of an envelope of all the things we needed to bring and do. For eight people it would be a lot. Rather than me tell you, read the most up to date information on the US Department of State website.
We got an appointment for about a month later.
STEP TWO: FILL OUT FORMS.
The night before our appointment — because I was a night-before-the-test crammer — I started filling out our forms. I was done with three when I read the part about using black ink only. Yes, I was using blue. I printed more forms and started filling them out.
Yes, you can fill in the pdf online and print it out, but you also have to sign some waiver about hackers, so I decided the old fashioned pen and paper way was safer. My hand is not so sure.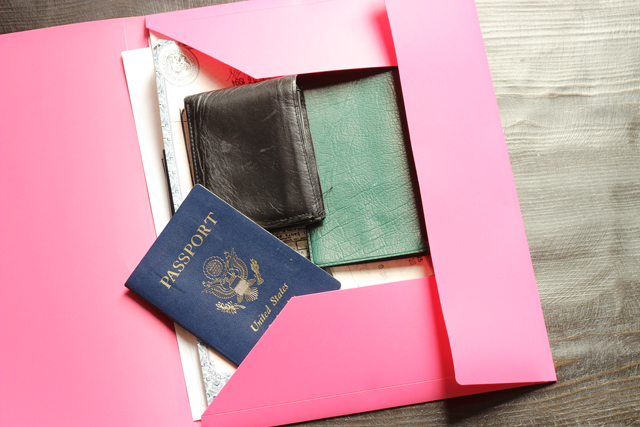 STEP THREE: GET PHOTOS TAKEN.
We decided to take our photos at the post office since they are trained in what gets rejected etc. Picture all eight of us traipsing into a tiny, old school post office. (It was built in the 60s and it is tiny.) Our appointment was late, so while the kids and FishPapa explored, I waited by the desk.
I also had the opportunity to instruct three people on the ways of getting a passport as they, too, thought they'd walk in and apply. Um, no. Make that appointment. Early.
STEP FOUR: SUBMIT APPLICATIONS.
The kids did great standing for pictures, and the clerk who helped us was super nice. It seemed to go off like clockwork.
I was stunned when the mailman arrived at the door two weeks later, saying, "Your passports are here!" Of course, he only had four. But, they came so quickly, I didn't worry.
A couple weeks later I remembered that you could check your status online, so I logged onto the passport website and saw that three of the kids were due to ship that week. A day after their passports arrived, our eighth member received a letter from the State Department: his photo had been rejected because there was a glare on his glasses too close to his eyes.
STEP FOUR-B: RANT AND COMPLAIN THAT THE CLERK AT THE POST OFFICE SHOULD HAVE KNOWN BETTER.
FishBoy12 and I went to Fed Ex Office that weekend to take a replacement photo. Two different clerks at Fed Ex assured me that his photo would pass. I came home and reread the instructions, just to be on the safe side. I got out my ruler to verify that the picture met the regulations.
It didn't. His face was too big in the frame.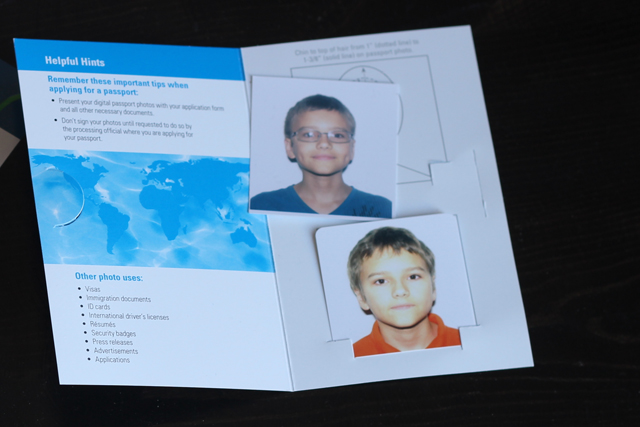 STEP FOUR-C: RANT AND COMPLAIN THAT FEDEX SHOULD EAT THEIR WORDS.
I took several more shots myself of my son in front of the only smooth white door we own. I printed them myself, holding my breath that they would work.
On Monday, I expressed all three photos to the passport office, hoping one would pass.
STEP FIVE: WAIT. AND CHECK STATUS OFTEN.
I spent the next four weeks checking the website often to see if it was ready to ship. I never got that notice.
STEP SIX: DEAL WITH ISSUES.
I ended up emailing and calling the number on the website. I was stunned to talk to a real person right away. She said she'd pass on my info to the office handling our application. I got a call back that day. I ended up calling every week for three weeks until they hunted it down and expressed it to our house. Though I had to be diligent on my end to keep calling, I was pleased to get to talk to the same real person each time, and she always did what she said she would.
Whew. Crisis abated.
(As it turns out, the FedEx photo was rejected and they ended up using one of the ones that I took myself. Go figure. Did I mention that I want my money back — and the hair that turned gray?)
Yes, in the movie The Secret Life of Walter Mitty (affiliate link), Walter gets his passport and boards a plane all in one day. That's not a Hollywood fabrication. There are some cities where you can do this. You can also pay for faster service. These both cost more money.
If you need to go the budget route, allow for plenty of time, PLENTY of time, for your application to be submitted, processed, and corrected, if need be.
Update 8/2019: Since our initial passport application process in 2014, we have acquired new passports for the kids. Children's passports expire after five years, so you need to reapply.
We decided to save some money and take the photos ourselves.
The process was very much the same this time around, however, the photo requirements have changed. There's a new NO SMILE rule. 🙁
The State Department website is a little vague about this. My husband spent hours getting the right shot, griping at the kids, "Don't smile. Stop smiling," while he took their pictures. All to follow the rules.
Who tells their children NOT to smile in photographs? It's completely un-parental!
At the Post office, they said that children under 16 could smile. But we only know this based on testimony from the postal worker who accepted our applications. You already know why I would take this with a grain of salt.
My kids' passport photos for the next five years may look like they're angry prison convicts' mug shots, but at least the State Department didn't reject them!
STEP SEVEN: TAKE OFF FOR PARTS UNKNOWN.
Got any good passport stories to tell?
Travel with Kids
This is part of the Travel with Kids series. Every day in October, I'm posting tips, tricks, and tutorials for making all your travels fun, frugal, and family-friendly.
Be sure to read through the archives in case you missed a post.