Tips for Flying with Kids
As an Amazon Associate I earn from qualifying purchases. For more details, please see our disclosure policy.
Air travel with children can be stressful. Life as MOM contributor Janel has a few tips that can help you make the journey just a bit easier.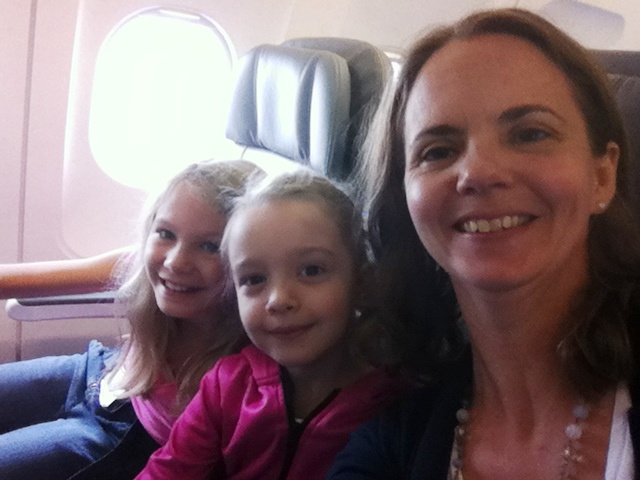 In my nine years of motherhood, I've made several flights with my kids both nationally and internationally. Sometimes my husband has been along for the ride but for the past few years, I've flown solo with our two girls. Although it is a lot of work to prepare for a trip with kids in tow, the benefits of travel for our family have easily outweighed the prep that goes into making it happen.
In August, I made another solo flight with my girls as we began yet another cross-country move. I'm a planner by nature, but I always learn something new with each trip. Here are some tips for flying with kids that I've learned through trial & error.
How to navigate the airport more easily with kids:
Getting kids and your belongings through airports can be stressful. But, it is possible to take steps that can reduce the stress-factor.
Pack wisely and check what bags you can.
The first time I traveled alone with two children (ages 3 and 6), I decided to be frugal and take carry-on bags. Although I packed light, it was pretty miserable getting through security at LAX and then trekking through O'Hare during our layover with two rolling suitcases, a backpack, and two young children.
Now, I still pack as lightly as possible, but check what I can and try to limit my carry-ons to one small rolling suitcase and backpacks that each of us can wear. For me, it's totally worth that $25 baggage fee to move more freely through the airport and have a less-stressful trip through security.
Also, airlines do not charge to check carseats and strollers. If you have babies or toddlers, keep the stroller with you in the airport and then check it at the gate. Whatever you gate-check will be waiting for you plane-side when you land.
Dress with the security check in mind.
Getting through security with children is one of the most stressful parts for me personally. I've got to put my shoes on and off, get our belongings through the x-ray machine without having anything left behind or stolen, and manage to keep my kids safe.
I like to limit accessories that might cause problems with the metal detectors and choose shoes that can be taken off and put back on quickly and easily. As of our flight in August, kids under the age of 12 no longer have to take their shoes off for the security check.
Have children wear easily-recognizable clothing.
When we travel, I usually have my kids wear matching clothes so they are easy to spot in a crowd. This past flight I had them wear bright pink hoodies. It made it so much easier for me to keep an eye on them. If you don't like the matchy-matchy thing, just choose brightly colored tops that you can spot easily.
Teach them as you travel through the airport.
Treat this as a learning experience for your kids. Talk about safety. Explain to them about what the signs in the airport mean. If your kids know their letters, have them read the signs to your gate. Keeping them engaged during the walk through the terminal can help prevent whining and wandering off. Plus, it's a way to train your kids to be competent travelers.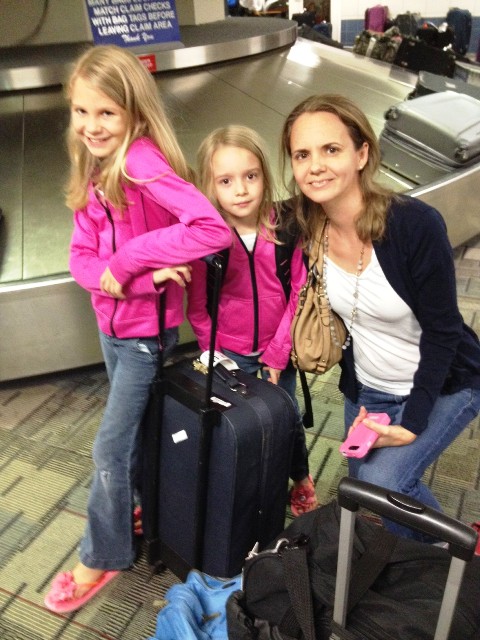 How to stay sane on the plane:
Pack a carry-on bag with the essentials, including a change of clothes for everyone.
Accidents happen. It's a fact of life. Having an extra change of clothes with you on the plane will make you or your kids much more comfortable if a drink spills or someone gets sick or has an accident. Make sure that you pack these in a small bag that you're able to bring on the plane and won't have to check gate-side.
Bring a sports bottle or sippy cup for each child.
I learned this the hard way this past flight when my fully-competent-with-a-cup six-year-old managed to spill a full cup of juice into her lap. Prevent spills and transfer your kids' in-flight drinks to your own spill-proof cup to prevent spills.
Pack it empty so you don't have to worry about getting through security with liquids and then refill it with the complementary beverages the airline provides.
Bring activities to entertain your child.
Your plane may or may not have child-friendly in-flight entertainment, so come prepared. Some things you might want to pack in your child's carry-on:
comfort items like a blankie or stuffed animal
coloring book and crayons
portable electronics, like an iPad or DVD player — don't forget to pack all needed chargers, cords, and of course the headphones!
Kindle (loaded with favorite books)
Have a plan to treat ear-pain.
The change in pressure can be painful for everyone. If you have an infant, try to nurse or bottlefeed your little one during take-off and landing. For older kids, bring along some gummy bears or gum to chew.
Bring some earplugs.
Sometimes kids scream on planes. A lot. Most people with kids understand if your kid starts fussing in flight. Others, well, they just don't get it. If you're worried about nasty looks from annoyed fellow passengers, bring along a few packages of earplugs. If those around you look particularly annoyed, you can offer them a pair.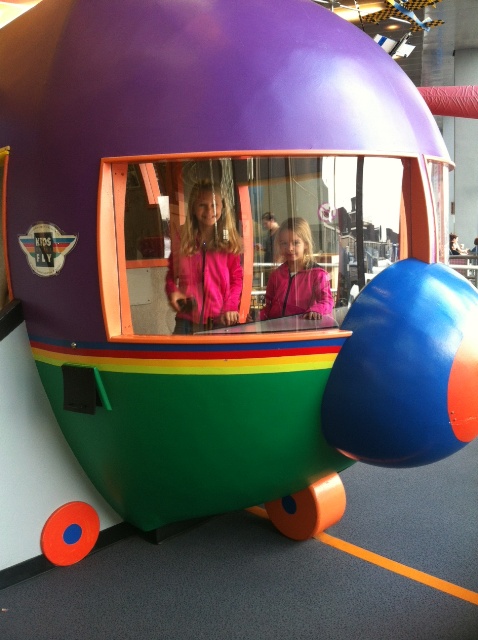 How to Handle a Long Layover:
If you know that you'll be having a long layover, think about what you can do once you get there:
Do research on the airport — some are very child-friendly with playgrounds. My girls had great fun at the Children's Museum at O'Hare during our recent 4-hour layover.
Bring a cheap, plastic tablecloth. It is small, easy-to-pack, and will give you a nice barrier from the airport floor if your kids need to spread out on the ground.
Make sure your child-friendly activities from your carry-on bags are easy to access. You might even pack something extra just for the layover.
If you've got electronics, make sure you find an outlet to recharge them before your next flight.
Although travel with kids can be difficult at times, remember to breathe, stay safe, and enjoy the adventure together.
What's your favorite tip for flying with kids?

– Janel is a stay-at-home mom of two daughters and a former "law school wife" in California. Raised in a budget-conscious and DIY-minded family, she blogs about motherhood, crafts, and living on a budget at Life with Lucie and Ella. You can read all of Janel's Life as MOM posts here.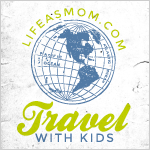 Travel with Kids
This is part of the Travel with Kids series. Every day in October, I'm posting tips, tricks, and tutorials for making all your travels fun, frugal, and family-friendly.
Be sure to read through the archives in case you missed a post.