Why Gift Giving Can Be Good for Kids
As an Amazon Associate I earn from qualifying purchases. For more details, please see our disclosure policy.
Giving and receiving gifts can be important life lessons for children. Life as MOM contributor Prerna explains how.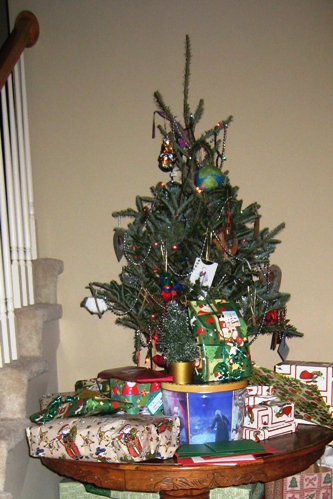 It's the holiday season and there's a lot of shopping happening. However, I hear a lot these days about teaching kids to be frugal by restricting the number of gifts they get or by cutting out gifts altogether and while I'm sure that parents must have their reasons for doing so, I really believe there is a lot of goodness in gift giving.
Here's why:
Gift Giving Teaches Kids About Generosity
My toddler loves to give gifts. Seriously. She gets really hurt when I don't let her "present" the present and I feel that birthdays, anniversaries and other occasions when she gets to give gifts are great opportunities to teach her about being generous and sharing. She learns to give graciously to friends and family and takes joy in their happiness.
Gift-Giving Teaches Children About Thoughtfulness
When buying or even, making gifts for others, you can ask children for options that would be best suited for aunts, uncles, grandparents and cousins. Personalizing a gift by wrapping in kiddie artwork or writing a message inside a book for a cousin are just small touches that go a long way in teaching even, young children about thoughtfulness.
Choosing Gifts Shows Kids the Value of Money
When buying presents either for your own kids or for others, involve them in the shopping process. It is a fantastic and fun way to teach children about the value of money. While this may not be possible when planning a surprise gift, you can easily do it when kids give you a list of presents they'd like. You can browse online stores, scout for deals and show them how to basically shop around for deals and discounts so that you get the maximum bang for your buck.

Receiving Presents Encourages Gratitude
Most importantly, gift giving and getting is a simple but effective way to teach young children about gratitude, about appreciating what they receive and about being thankful. Children learn to express thanks for all gifts, big or small. They learn to appreciate the thought behind the gift.
However, at the end of the day, it is up to you, the parent, to teach them how to turn gift-giving and receiving into an opportunity to learn essential values and life skills.
What do you think gift giving and receiving can teach kids?

— Prerna Malik is a mom, a wife, a writer and woman who believes in parenting with love, being postively productive, and creating a home that invites you to put your feet up and relax. Find her sharing her simple tips and easy-to-do ideas at The Mom Writes or follow her on Twitter.