30 Things You Can Do to Bless Others This Season
As an Amazon Associate I earn from qualifying purchases. For more details, please see our disclosure policy.
This is a great time of year for random acts of kindness. No one will think you're all that weird or random. Plus, it's fun to bless others.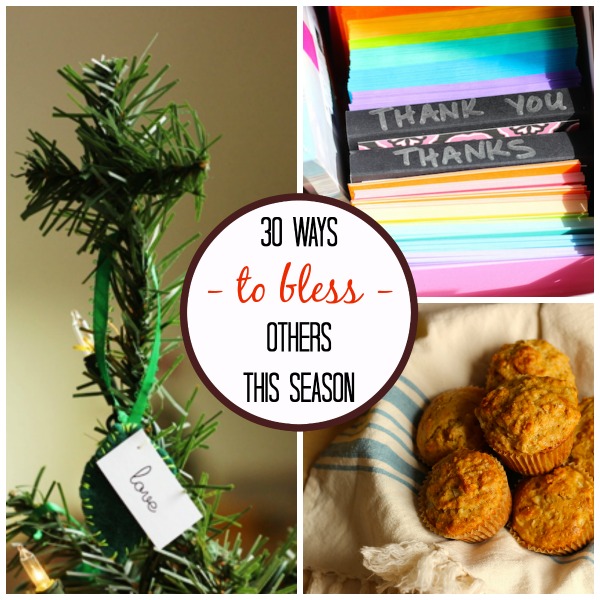 Christmas will be here before you know it, and I bet you've got great plans, don't you? This is my 18th Christmas as a mother and I know all about good intentions. Every year is going to be THE YEAR.
I'm going to rock the family fun. I'm going to have a peaceful, clean, good-smelling house, all month long. I'm going to give awesome gifts. And I'm going to give back to the community because that's what Christmas is all about.
And then the kids get sick.
Or the hot water heater breaks.
Or I just can't summon up the energy and mojo to do all those great things I dreamed up.
Or I'm just stuck in my little hermit-y shell, nervous about taking the neighbors a plate of cookies, let alone doing something crazy like buying coffee for the person in line behind me.
I did that actually one year at the Starbucks kiosk in Target. It was a somber shopping trip on December 14, 2012 but it was the only day we had in our schedule that year where I could go shop for the kids without them along. I was humbled, sad, scared.
I bought myself a salted caramel mocha frap and since they had their BOGO deal going, I asked the lady behind me if she wanted a holiday drink? She, the clerk, and I all three felt a little bit better that day. It certainly didn't change a tragedy, but we were reminded that people can be nice. Just because.
This year I want to give more. I want to be brave about carting that tray of cookies across the street. I want to show my kids that joy in giving to others. Just because.
Now, don't go feeling all guilty that you can't fit my Advent observations this year. I haven't done it yet. But, I'm hoping that I can see outside myself a little bit more.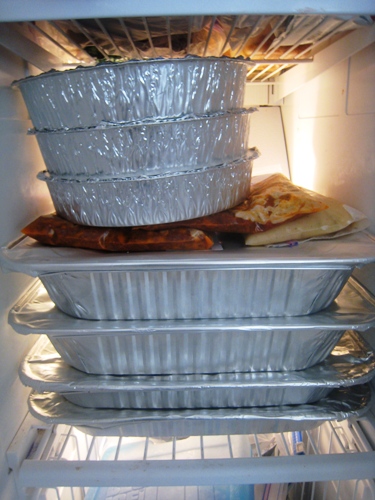 If you're looking for ideas on how you can bless someone else this season, check out this list. You can also download a free printable. If you've got more ideas, please leave them in the comments section. We can never be too kind or love on our fellow man too much.
Leave a basket of muffins on a friend or neighbor's doorstep.
Invite a family over for a cozy dinner.
Bring a Mexican dinner to a friend.
Invite your friend's children over for a playdate so she can have a break.
Offer to babysit so your friends can have a Date Night.
Rake leaves or shovel snow for a neighbor.
Pay for a drive-thru meal or coffee for the customer behind you.
Write a note of appreciation to a friend or someone who serves your family in some way.
Text someone a word of encouragement. She needs to know she's not alone.
Bring flowers to a friend or neighbor.
Donate some canned goods to the local food shelter.
Donate belongings that are in good condition to a local charity.
Plan a time to volunteer for a local charity or school and do it.
Offer to run errands for a friend or neighbor.
Send a thank you note to your child's teacher, coach, or other adult who mentors your child.
Surprise your spouse or kids with breakfast in bed.
Talk to someone you don't know at church, school event, or sports game.
Offer to pray for someone.
Perform a special act of service for someone in your family.
Cut out coupons and leave them by the items in the grocery store.
Donate blood.
Give an inspiring book to a friend who might need its message.
Give a sincere compliment to someone.
Give an unexpected gift to someone.
Leave a larger tip for your server when you dine at a restaurant.
Invite some other families over for a Family Fun Night.
Help someone with a project at their home.
Bake a special treat for a friend, neighbor, or coworker.
What are some of YOUR favorite ways to bless others?