12 Ways to Save on Groceries
As an Amazon Associate I earn from qualifying purchases. For more details, please see our disclosure policy.
Keeping a curb on our grocery spending helps us save money and stay in the black. Here are 12 ways to save on groceries.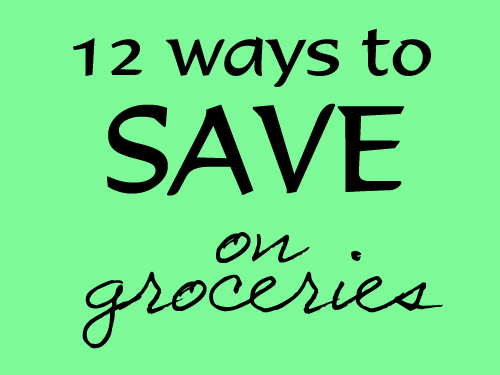 Astute observers will notice I've got a theme going here for Frugal Friday this summer. I'm sharing "12 Ways to Save" in 12 different areas of "Life as MOM". Two weeks ago, I shared 12 Ways to Save on Gifts. Last week the topic was 12 Ways to Save on Vacation.
This week, I've got 12 Ways to Save on Groceries. I am a total grocery geek. Since I love to eat, I love to cook, I love to shop for food. One just goes right along with the others.
Once upon a time, I spent as much to feed my husband and me as I did years later to feed us and five kids! Believe me when I say, I know how to be  extravagant at the grocery store. (It's really not that hard.)
But, neither is saving money at the grocery store all that difficult. It just takes some patience and self-control.
Regular readers of Good Cheap Eats (and Life as MOM before that) will be familiar with my weekly updates about my grocery spending. A few years ago I was deep in the clutches of coupon mania. Still I spent a luxurious $100 a week to feed my family of 7, almost 8. In the couponing world, this was certainly not the lowest budget, not by far, thus my phrase, luxurious.
But, it was far below the national average for our family's size and composition. Today I average about twice that figure, working in more whole foods and organic products than I ever did before for a family of 8, including 4 BOYS. While ours is not the lowest budget in town, I make no apologies as we strive to eat as well as we can without going into hock.
Keeping a curb on our grocery spending helps us save money and stay in the black. Here are some ways that you can do it, too.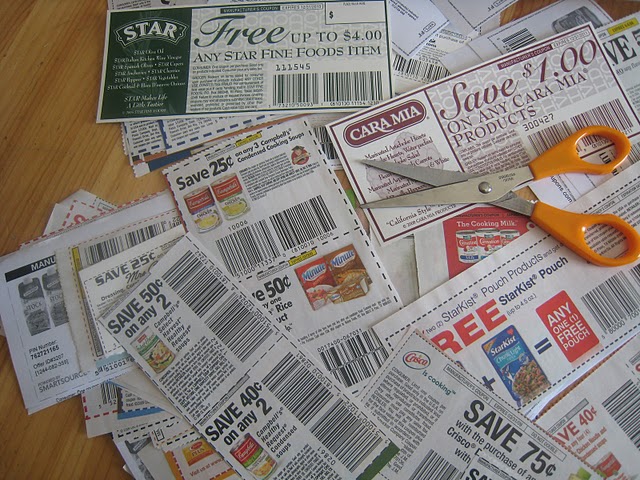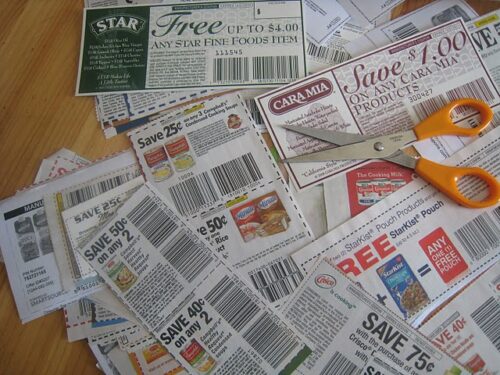 1. Use coupons.
Once upon a time, coupons were my biggest way of saving money on groceries. They were a huge boon to our family! Huge! I don't use them as much as I used to, thanks to stricter California coupon policies and a different diet overall. But, I highly recommend savvy use of coupons and stockpiling to help you save money on food costs.
If you're not sure how to make them work for you, read how to get started in couponing.
2. Buy in bulk.
My local health food store has massive bins and dispensers of lots of bulk foods, including nuts, flours, and grains. Typically I get the very best prices on oats and rice from these bins, as low as $0.69/pound which is amazing compared to their name brand, packaged counterparts.
Plus, I don't have to worry about disposing of all that excess packaging. At purchase, I just scoop the grains into plastic bags, but at home I store them in lidded containers to help them maintain their freshness and keep out pests.
3. Waste less.
Buying massive quantities of food doesn't always save you money, especially if you let it go to waste. Making a concerted effort to use up what you already have is a great way to curb your spending.
I spend two months out of every year (January and July) eating down the pantry, using up what we have and "making do" for a short season. This helps us rotate what's in the pantry as well as make sure we use things up before they go bad.
I also find that I'm at my most creative when I have to be.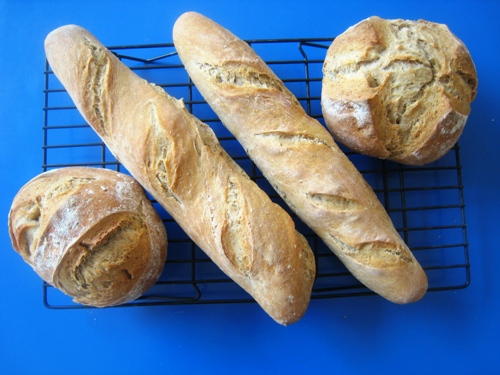 4. Bake more.
A few months ago, I did a grocery spending audit. It was very insightful, revealing that I had been spending a lot of money on bread and other baked goods. By baking my own bread, I am able to shave off a few dollars from our grocery budget, customize our meals more and still eat well.
I even found out that the bread I was baking turned out to be about $0.25/loaf. Talk about encouragement to bake more!
5. Make it from scratch.
Baking is probably the easiest thing to work into your regular kitchen activities. Who doesn't like to bake cookies?
But, making other foods from scratch, particularly expensive, heavily processed foods, is a great way to further stretch your dollar. Homemade mac and cheese or homebaked pizza are easy and so much tastier if you make them at home.
6. Limit your condiments and other expensive ingredients.
Years ago when we moved to one income, one of my first changes was to eliminate expensive ingredients, like packaged sauces and salsa, canned green chiles, olives, salad dressings and other pricey condiments.
I found out that it was easy to make my own and often better tasting than storebought. Chopped fresh chiles add just as much kick as the canned variety. We can live without olives on our pizza and be none the worse for wear. Homemade salad dressing is way better than bottled. Way.
I used to run to the store "real quick" for a missing ingredient and spend lots of money "while I was there anyway." I've found that we can wing it, without the ingredients that I once couldn't live without.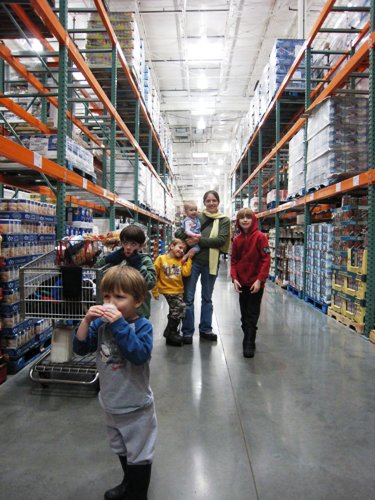 7. Join the club.
Either you love warehouse clubs or you hate 'em. Very few people are lukewarm about Costco. We fall into the first camp. We are Costco fans.
It's important to note that not all Costco stores are created equal. I didn't know this until we moved to San Diego where three different Costco's within a 30 mile radius offer vastly different products and prices.
I'm thinking that may be why you're not yet sold out on Costco.
We find it to be a great source of very inexpensive dairy products, meats, breads, and produce — many of these items are organic, too! I know that we save above and beyond the cost of the membership every year.
8. Use less meat.
Meat, particularly quality meat, is one of the most expensive parts of your menu. If you can go meatless, or at least limit the portion size, you can trim your budget as well as your diet. Beans and rice make an easy, filling meal that doesn't need the meat. There are lots of meals like that: pasta with red sauce, mac and cheese, lasagna. Experiment until you find the right match for your family.
9. Grow your own.
I am not an avid gardener. Once upon a time I was. I look on those days fondly, hoping they will return. Gardening is fun — but it's also a great way to save money on groceries. My dad blesses us with the abundance from his garden and fruit trees, so I get the best of both worlds: free lemons and no weeds to pull!
Consider planting a garden to grow your own food.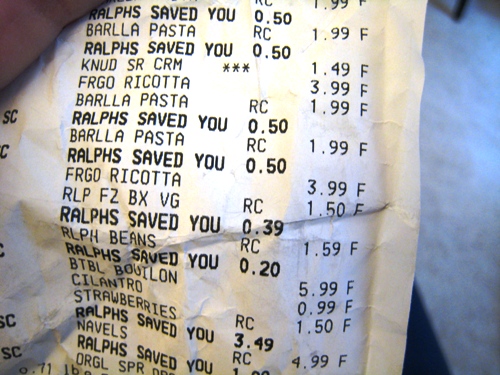 10. Avoid boxed items and processed foods.
For most of my cooking life, I have favored scratch cooking over packaged and processed foods. Oh yeah, there are days when I need the quick fix convenience item, but I prefer to make things myself. I can tailor the ingredients to suit our family's tastes as well as save money.
I've found that boxed mixes and packaged meals are very expensive for what they provide and are better left avoided.
11. Fill your freezer.
Cooking in bulk has been a great technique to help us save money on groceries. If I know we've got a meal waiting in the freezer, I'm less likely to stop for take-out. We eat more healthfully at home and can reap bulk-buying and bulk-cooking savings at the same time.
Not to mention the kitchen stays cleaner.
12. Pay cash.
Yeah, you've heard this before, haven't you? If you pay cash (as opposed to credit or debit cards), you will probably save money. If you have a limited number of green backs and no alternative source of payment, you will be forced to focus on your needs as you throw things in the cart. Impulse buys can't take the place of milk for the children.
Paying cash is a great way to limit what you spend.
Today's Frugal Friday!
Time to swap ideas and inspiration for saving money.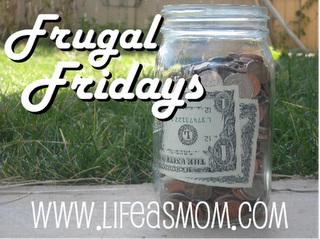 How do YOU save money?
Please remember to follow the Frugal Friday Guidelines or be deleted.
Post a money saving idea and explain how it is helpful in your post.
No giveaways or deals posts.
Recipes are allowed, but you must explain how it saves people money.
Please include a link back to Life as MOM.