This post was originally posted on April 14, 2011. Some things, like being prepared for tough times never become outdated.
We are a participant in the Amazon Services LLC Associates Program, an affiliate advertising program designed to provide a means for us to earn fees by linking to Amazon.com and affiliated sites.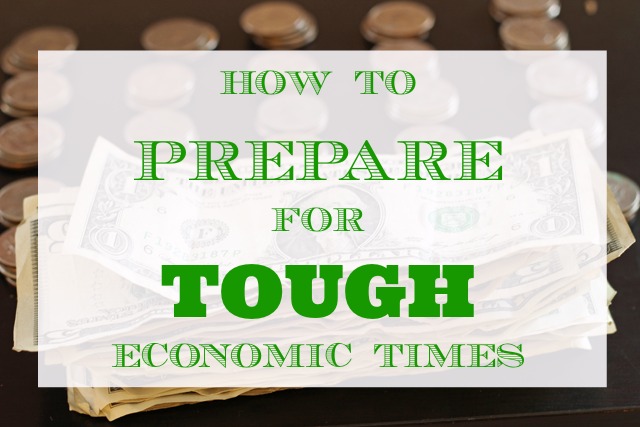 Times continue to be tough for a lot of people. They always have been, really. People have had financial troubles for eons.
But the feeling has been more widespread over the past three or four years. If not you, then someone you know has been hit hard. Some people are ready for it, others, sadly are not. But, there's no better time than the present to get prepared to face a tough economy.
Here are some suggestions in how you can prepare yourself for tough times:
1. Scrape together an emergency fund.
First, define emergency. You need to be clear on what an emergency is. It is not a new pair of shoes — unless every pair you own is threadbare. It is not a new sofa; you can sit on the floor if you don't have one. It is not a trip to the movie theater; you can get movies for free at the library.
An emergency fund is there when nothing else is. It is there to provide for your basic needs (shelter and food) should you get laid off, not get paid, or otherwise be without an income to support you and your family.
Dave Ramsey suggests starting with $1000 that you put somewhere safe where you won't be tempted to spend it. If you've got money coming out your ears, then allot 6 to 12 month's living expenses and place that in an account that is off limits.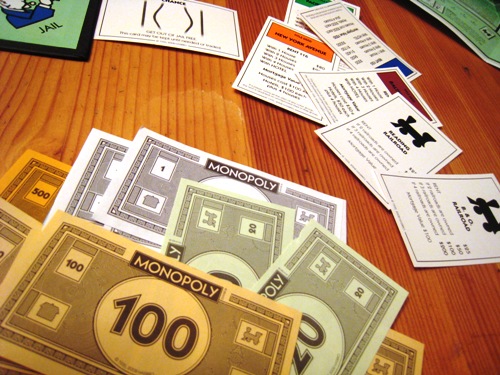 2. Audit your expenses.
We talked about this last week. Look over how you've been spending your money and figure out what you can cut. Maybe you don't need to cut it today, but you do need to know what you could cut. This is important. In the event of an "emergency," you will need to start cutting. Make some decisions now while you're rational and not freaking out.
3. Stop spending money you don't have.
If everyone from politicians to paupers would heed those words, the world would be a much better place. For a light hearted reminder, check out this video:
It's a comical look at how we've come to look at money and spending. And frankly, using credit is just not worth it. Life isn't a game.
4. Pay Off Your Debts.
Listen to me, Young Grasshopper. We hit rock bottom at the beginning of the economic decline, I guess. In 2007 we were out of cash and deep in debt. And we didn't see it coming. We didn't prepare, because, well, maybe we didn't think it could happen to us.
I've told our story before. But, I'm constantly amazed to think of God's goodness and faithfulness to us during very uncertain times. We paid off over $18,000 after fees and interest in 18 months. Today. we are debt-free except a mortgage on a rental property. We hope to stay that way, Lord willing.
If you missed our story, you can catch up:
It was really, really hard. But, God was faithful to help us out of the hole we had dug for ourselves. And He can help you, too. Not having bills for things and experiences that are long since past is an amazing experience. And it will help you rest easier should tougher economic times come your way.
Get Your Financial House in Order
Two years ago we paid off our debts and a year ago, I got to do this: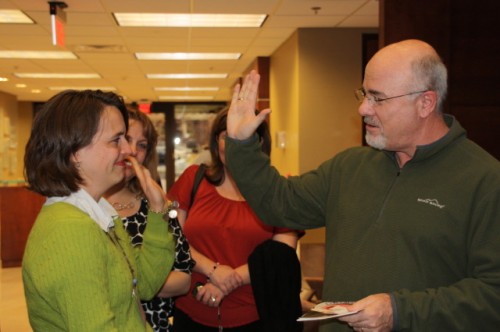 I met Dave Ramsey and got to tell him our story. And he gave me a high five. And I cried.
The emotional feeling of going from debt to debt-free is an amazing one. Similar to having birthed a baby after a long labor.
Except that there are no afterpains and no big medical bills.
Win Read the book that changed our (financial) life.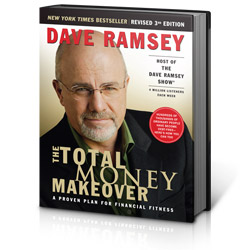 This giveaway is now over, but if you haven't already, I highly recommend your reading The Total Money Makeover. It's an excellent guide to getting your finances in better shape.
If your financial house is not yet in order, I want you to get it that way. And I want to help you. So I wrote my friends at Dave Ramsey.com and asked if they had books to share with LifeasMOM readers. And they said YES. 🙂
So in honor of this official Tax Weekend, 10 LifeasMOM readers will win the book that changed our financial life. And thankfully, Dave Ramsey is helping me do that.
Ways to Enter:

1. Share a money saving post in the linky below.

2. Leave a comment on this post, telling us how you are working to get your financial house in order.
This giveaway will be open until Monday, April 18th, 12 pm PST (the same time your taxes are due!) Winners will be chosen at random and notified via email next week. In the event that you win, you must respond within 48 hours of my sending you an email.
This giveaway is now closed. Congrats to the winners: courtney.guerrieri@, ellenbeth1981@, creceli@, kgrhoades@, joannamattas@, savingandgiving@, spendless2savemore@
The Tomato and the Duck, Saving by Making, 8anniekate@
What's YOUR frugal tip for us? How are you getting fiscally fit this year?
Disclosure: Dave Ramsey provided these books for giveaway. I was not compensated in any way. I truly believe in the message of The Total Money Makeover.