Why We Do School at Home
As an Amazon Associate I earn from qualifying purchases. For more details, please see our disclosure policy.
There are lots of reasons to homeschool. Today I share why we do school at home.
Hubby and I just got home from the California Great Homeschool Convention. I only mis-navigated the adventure a few times during our travels, and we only took a couple wrong turns.
But, it was an overall success because FishPapa and I had a chance to reconnect and revisit some ideas as regards our homeschool. 
We also talked about the why's and what for's of our children's education at home.
I've been meaning to write this post for several years: Why do you homeschool? It's a question that folks wonder about, especially since I was once a public school teacher, raised by public school teacher parents with a mother-in-law who was, you guessed it, a public school teacher.
It's also a good question for us to ask ourselves from time to time, so that we can be reminded of our purpose. And be encouraged when the days are hard. Because, yes, the days are sometimes hard.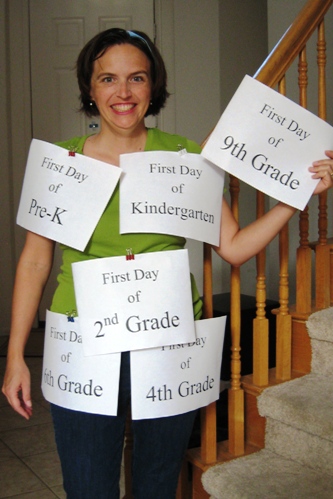 Why do we do school at home?
This question has lots of answers. And the answers have evolved over time. We got married 18 years ago. In that time we've welcomed six babies to our family. We've lived and schooled in two different states. Life has been full of all kinds of twists and turns.
When we married, I was in graduate school getting my teaching credential in secondary school English. At that time I had no vision of ever teaching my kids at home, at least not as their main instructor. Surrounded by other teacher families in our church and community, we took the stance of being as involved as possible in our community and in our local school, but never would we homeschool.
Things have certainly changed since then. Ready to go back in time with me?
1997: Just a beginning of a beginning
In 1997 I was a teacher in a public high school, in my second year, desperate for tenure (read: job security) as I taught  American Literature and Introductory French as well as served as the Yearbook advisor. I was the youngest teacher on campus, a mere four or five years older than some of my students.
The odd thing about that experience was that parents looked to me for advice with their children. Many of them were old enough to be my parents but they looked to me to counsel them, not about French and English, but about parenting and discipline issues. Me?!
All because the state had handed me a teaching credential.
During that second year I was burdened by the parenting and discipline issues more than the teaching of subject matter. In a department meeting I was stunned to hear my colleagues sigh about the parents, roll their eyes about the parents, complain that they were tired of doing what the parents wanted when it came to educating the children.
Many of these teachers really felt that parents were in their way. They wanted carte blanche to do, say, and teach whatever they wanted in the classroom, regardless of what the parents of their students wanted. This sentiment may be "normal" or traditional, but it didn't sit right with me.
I hoped that I would someday have children and I knew that I was responsible for the care of my children. I wanted them to have an excellent education and a strong moral compass. And though I was only a 23-year old teacher at the time, I didn't appreciate my young, whipper-snapper peers dictating what children should or shouldn't learn — or rolling their eyes when a parent "interfered".
Whether it was disdain for the parents' religious viewpoints, values, or literary preferences, these folks wanted to call the shots.
Disclaimer! Now, I know that there are many, MANY teachers who do not take such a cavalier stance about their students. Many of my friends are such teachers. There are multitudes of very fine teachers who really do partner with parents to educate children in the best way they can. And in the defense of teachers, there are many parents who abdicate their responsibilities and leave teachers holding the bag not only to teach subject matter, but also to serve as a child's sole  guide into adulthood.
That said, this was a situation that concerned us. Later that year our first child was born. From the get-go we decided that we would teach him at home. While I don't believe that there is anything wrong in delegating a child's education to others, the climate in California education — and especially in my own community — at that time convinced me that I couldn't completely trust those in charge. I wanted to be hand's on and not give ear to the siren song that says, "Don't worry. The school will take care of it."
FishPapa and I saw the responsibility as ours, not one to abdicate to those who may or may not hold the same values for a quality education or even simply respect our position as parents. At that time, I would say (and still do):
We are choosing home education because we want to be as "hands on" as possible.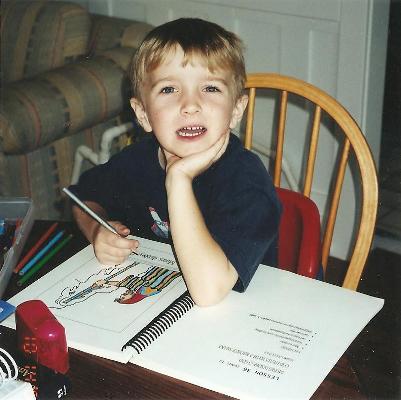 2002: The beginning
Of course, it's easy to say one thing when you're pregnant or holding a newborn. It's an altogether different thing to actually do it. When our oldest was one year old, we moved from Santa Barbara to the small town of Paso Robles. There we bought a house, dug down roots, met a bunch of homeschoolers, and had two more kids.
In those preceding years, I had devoured all the homeschooling literature I could lay my hands on, including but not limited to The Well-Trained Mind and Recovering the Lost Tools of Learning. I was sold out on homeschooling. My love of curriculum and my teaching background made me eager (probably overly so) to get started. I couldn't wait for my son to be old enough to "do school."
We did a preschool program at home, including lots of books and imaginative play. By the fall of 2002, I had three kids, aged 5, 2, and infant. We were well on our way to learning at home together. I couldn't imagine sending my boy off someplace else. We were having too much fun together! And while the days were certainly long, I enjoyed spending them with my kids. At that time, I would say (and still do):
We are choosing home education because we love being together and learning together.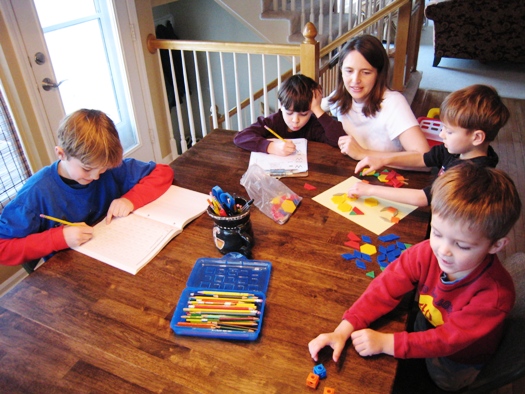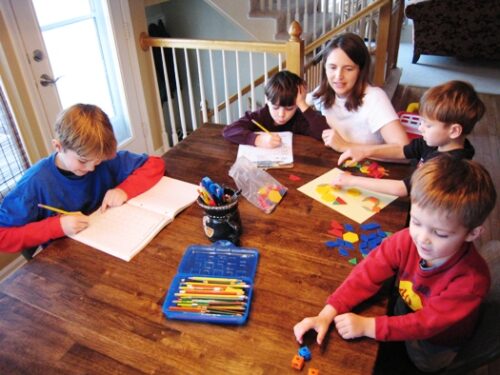 2011: Reassessing
In the years that followed, we moved cross country — twice: To Kansas and Back Again. We added three more children to the fold. Last spring, they were in 8th, 5th, 3rd, 1st, and pre-school. So far I had taught four kids to read, write, and do basic mathematics. We'd reaped a multitude of benefits, including:
a custom-made curriculum for each child
an abundance of field trips and extra-curricular activities
a flexible school (and vacation) schedule
an ability to change a curriculum that wasn't/isn't working
a freedom to take a break when everyone was tired, fussy, crabby
an overall atmosphere of learning and peace in our home that isn't interrupted by school schedules, conferences, or conflicts with people who may or may not love my family the way I do
an independence of thought as we realize that we don't fit the typical homeschool mold (we agree with lots of folks on lots of points, but aren't "lock step" with any one philosophy, method, or denim jumper style)
Yet that spring we did a massive reevaluation. When you take on the sole responsibility of teaching your children at home, there is always that nagging fear, What if you make a mistake? It's there. And there's no teacher or principal to blame.
The flip side of that is that there's no one to blame. The responsibility is ours. And this, really, is what we signed up for. It certainly hasn't been easy. But, it has been good.
And as we reevaluated last year, wondering if we should charter or private school for our son's upper grades, we realized: If it's not broke, why fix it? We'd enjoyed these years of benefits. Our kids were (and are) people who we love to be with. We enjoy learning things together and helping our kids make sense of the world. Standardized testing showed that everyone was on track for his age. And they all know how to look someone (of any age) in the eye and hold a decent conversation.
Again, it hasn't been easy. But, it has been good. And if you asked me last spring and summer, why are you homeschooling, I would have said (and still do):
We are choosing home education because it's working for our family.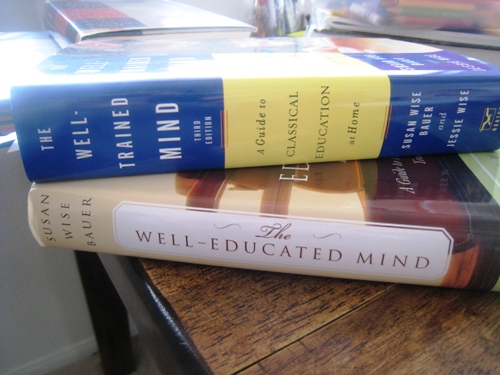 2012: Today
In the last five months, I've done an extreme homeschool makeover, gone on a blogging trip to meet a homeschooling hero, reread one of the guiding influences over my educational philosophy, and now am fresh from two days spent at a homeschool convention listening to speakers, swapping notes with my peers, looking at curriculum, and chatting with my husband about this wild and crazy thing we call life.
I'm excited about the year ahead and feel my confidence renewed that we can go the distance. We may not do it like anybody else. We may be carving a path in the jungle together. We may make a ton of mistakes, but at least they'll be our mistakes, not someone else's.
We enjoy our family, weaknesses and all. We love being hands-on with our kids' education, learning together, spending time with our kids — and it's all working for us (more or less).
Why are you homeschooling? Today I say:
Why not?
We don't have any reasons NOT to homeschool. So far in this wild and crazy life of ours, our kids are literate, sociable individuals who can read, write, and do math. They are fun to be with and can converse with folks of a range of ages and dispositions.
So, that's my story. What's yours?
Disclosure: if you make a purchase through the Amazon links up there, I do receive a small percentage of the sale.