12 Ways to Save on Home Improvements
As an Amazon Associate I earn from qualifying purchases. For more details, please see our disclosure policy.
Home improvements can run you into debt in no time flat. Before you tear out that sheet rock, consider these 12 ways to save on home improvements.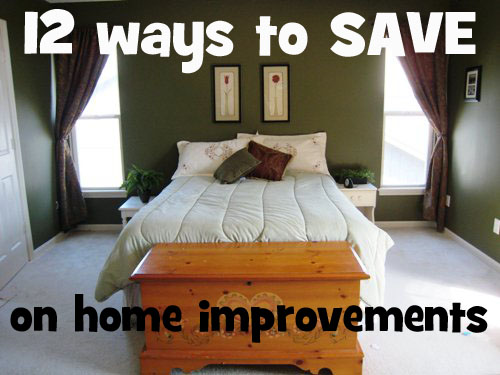 We've purchased three houses in our time. And we've remodeled three houses in our time.
And we've lived to tell the tale.
Home improvements can run you into debt in no time flat. You've got things ripped up; it's a total hassle; you just want things done and you want them done right. So, you spend money so that things can get put back together, cleaned up, and just plain done.
But, before you tear out that sheet rock, consider these 12 ways to save on home improvements.
1. Wait.
Rash decisions often result in spending a lot of money. Take time to think about what improvements you want to make.
2. Tear it out, but live with it for awhile.
I know that this sounds crazy. We did this a couple time. Demolition is cheap! Usually it's free, in fact. When we remodeled our kitchen, we almost gutted it. We put in makeshift counters and rehung the old cupboards in the new configuration. And then we tested it out for several months.
Yes, it was a tad odd, but we got used to open studs. We only noticed when folks came over.
But, we also moved the configuration around several times before we put in fancy new cabinets and counters. If we'd done those things right away, we wouldn't have liked it as much as what we finally did.
The same goes for the stairs that led to our back door. Dog stains had ruined the carpet, so hubs just pulled up the carpet. After walking up and down those wood stairs and mopping up melted snow, we realized we'd rather that it stayed wood instead of recarpeting it. We ended up getting marine paint (heavy duty paint with sand mixed in to keep it from being slippery). We loved the look and the practicality of waterproof steps.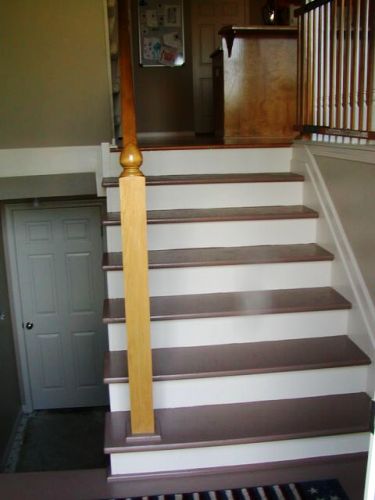 3. OK, well, at least be really sure.
If you don't want to live in a construction zone, just be really, really sure that it's what you want. Check out model homes, friends' houses and showrooms to try out the different things that you're thinking of adding. Be sure you're right, then go ahead.
4. Reuse what you have.
If you're doing heavy remodeling, keep an eye out for things that you might be able to reuse. Even if you're redecorating, don't ditch it until you know you really don't have another use for it. BooMama has a great example of repurposing a coffee table into a book cart. Think outside the box.
5. Buy mistint paint.
It's rare that we've ever picked out a color from a paint chip book. We simply ask to see the mistints. For $3 to 5/gallon, you can save a ton of money by using up someone else's mistakes. Hubs has even mixed several different colors to get our own custom colors for a fraction of the price.
6. Shop the clearance.
You'd be surprised what you can find on clearance at home improvement stores. Check their clearance section before you look at the regularly priced items. We've found sinks, faucets, and all kinds of other pieces marked down for cheap.
7. Ask for a discount.
If you see an item that is flawed or slightly damaged, ask for a discount. You'd be surprised at how much you can save just by asking.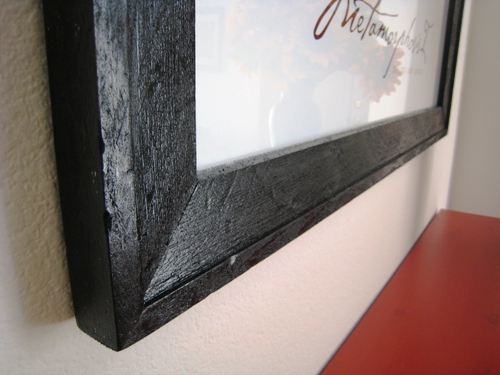 8. Do it yourself.
Now, of course, I married a carpenter/plumber/electrician. FishPapa can build a house from the ground up and has had experience working in commercial building as well.
But, even if you're not Tim the Tool Man Taylor, or not married to him, there are lots of home improvements that you can do yourself. Google it and you're bound to find a video showing you how to do it. This picture frame was super cheap to make and didn't take too much fancy footwork.
9. Pay cash.
Yes, really. You'll find that you actually spend less money when it's your money (and not the bank's) that you're spending.
10. Get thrifty.
I always think fondly to Meredith's gifts at making someone's junk into a treasure. Check out this very nifty wall hanging she made.
11. Browse eBay.
You'd be surprised what materials you can find for cheap on eBay. Hubby build this peg wall with pegs that he bought for pennies on eBay. He recently made us another peg wall in our new house, with more penny pegs.
12. Ask friends.
Chances are you've got a friend or two who loves to redecorate. Talk to her for ideas and see if she is interested in helping. Even just a second brain is helpful to plan out the work and anticipate expensive problems.