A Tangled Birthday Cake Idea
As an Amazon Associate I earn from qualifying purchases. For more details, please see our disclosure policy.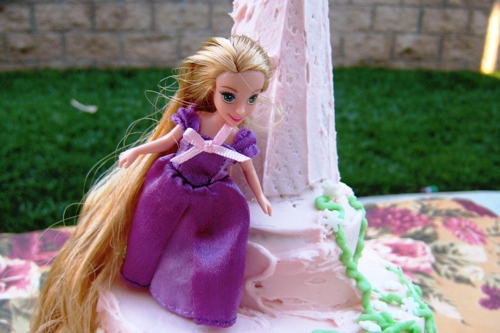 Rapunzel, Rapunzel, let down your long hair….
When I was a young girl, I had long, blondish hair that my mom would brush daily. And my mom would call me Rapunzel. I wasn't really a princess, but in my eyes — and hers — I was.
(Thanks, Mom.)
It's no different with my own girls. They are my little  princesses. And they love Princessy things. So, last week for FishChick4's birthday, we had a Rapunzel cake, tailored after the new Disney release, Tangled.
Adding toys to your children's cakes gives them a gift, party decor, and a cake all in one. FishChick loved playing with the Rapunzel doll that I bought to decorate the cake. But boy! Her hair does get seriously tangled. Oh my!
Believe it or not, a Tangled birthday cake is not that difficult to make. Here's the step-by-step tutorial to make your own Rapunzel birthday cake:
Rapunzel – Tangled Birthday Cake

You will need:

small, round cake pans, greased
prepared cake batter to make four round layers and at least one cupcake
one batch Homemade Buttercream frosting or two tubs of white, store bought frosting
ziploc bag or pastry bag with writing tip
paste food coloring in green and castle color
one sugar cone
one chopstick
parchment paper or waxed paper
flower or snowflake shaped sprinkles
candy rocks
Rapunzel doll
I used four small cheesecake pans for our tower. Since we're testing egg-free recipes, I used a cake recipe from Bakin' Without Eggs, but you can use your favorite cake recipe. Grease the pans well with non-stick spray or your favorite cake lubricant.
Fill the cheesecake pans half full and then use the excess batter to make a dozen cupcakes. You'll need at least one cupcake for this cake.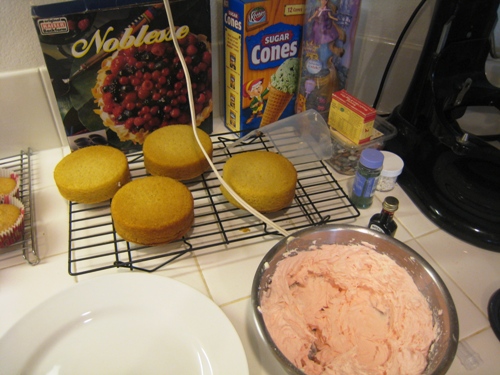 Prepare the buttercream frosting. Reserve about a cup of the frosting to dye green. Die the rest of the frosting to be the color of your castle. My princess chose pink.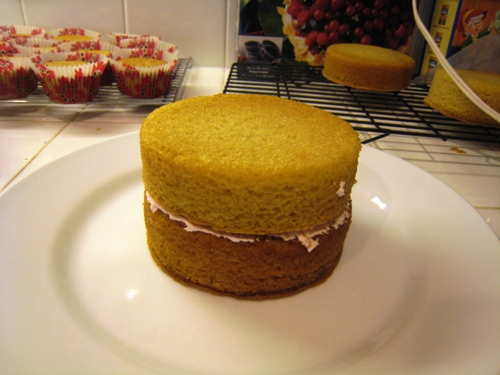 Apply a thick layer of frosting to the first round and stack the next round on top. Continue this "bricklayer" process until all four layers are stacked.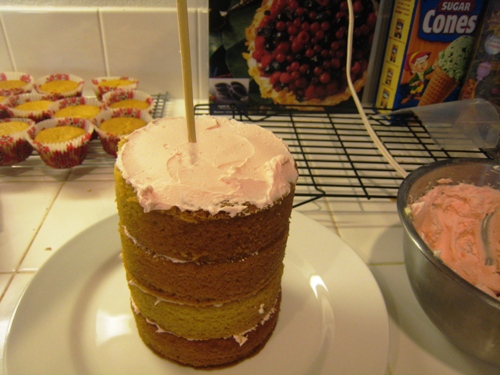 Stick a chopstick through the center of all four layers to add extra stability.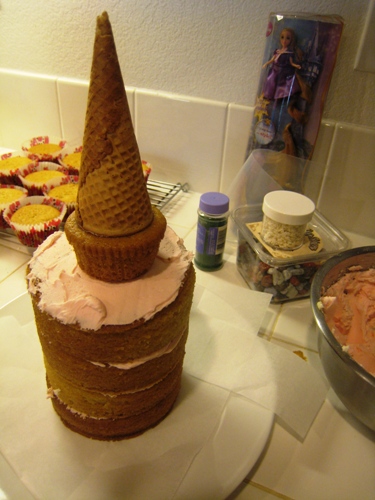 Skewer a cupcake onto the chopstick, frost the top of it and place the sugar cone on top. Place strips of parchment paper around the cake in between the surface of the serving dish and the cake. This will keep the cake clean of frosting blobs.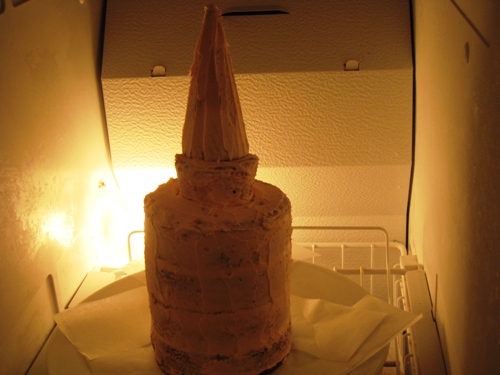 Frost the entire castle with a thin layer of frosting. This is called the crumb coat. It helps to glue down any stray crumbs so that they won't be visible on the finished product. I place mine in the freezer for about ten minutes to solidify the frosting. Then add a thicker layer of frosting all over the cake.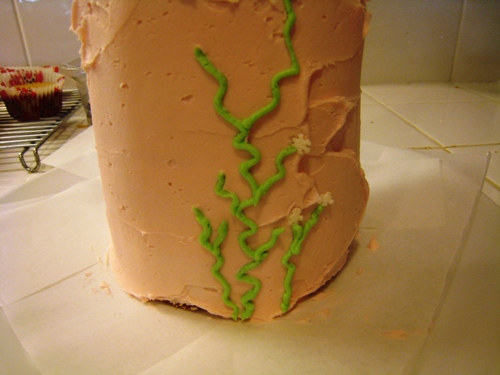 Place the green frosting in a pastry bag fitted with a writing tip. You can also use a ziploc bag with a small corner cut off. The pastry bag, however, will give you more control as you draw ivy. Try this starter set from Wilton.
This is one of the fun parts! It's amazing how this ivy will really transform the cake! Draw squiggly green lines up the sides of the cake. Place flower or snowflake shaped sprinkles in and around the ivy.
Next, place candy rocks around the base of the castle. Not only does this hide any gaps between the cake and the plate, but these candy rocks  are also a huge hit with the kids. These chocolate rocks are available at Walmart and Amazon and bulk candy stores.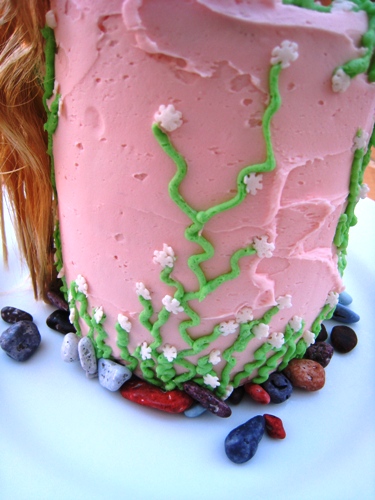 Pose Rapunzel at the top of her tower. Since it was a warm day, I place the whole cake in the freezer for another ten minutes so that her hair wouldn't get all messed up in the frosting.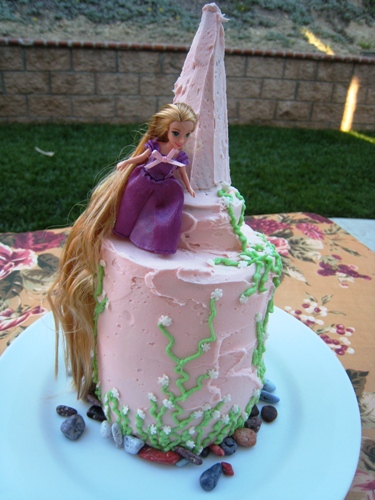 What do YOU do to make birthdays special?